A body was recovered from the sea off Torquay this morning.
Early reports suggest that the person is male.
A member of the public is said to have alerted emergency services around 7.30am.
Police, coastguard, lifeboat, helicopter and ambulance were all called to the scene.
Torbay Coastguard posted on Facebook:
Full team page this morning after a member of the public heard cries for help off Livermead Beach, Torbay ILB was launched and was directed to an object in the water by Coastguard officers on scene. A body was then recovered and taken to Haldon pier where Coastguard officers transfered the body to an awaiting ambulance.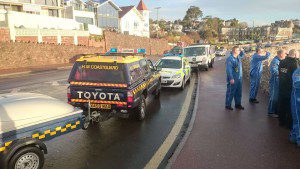 Torbay Inshore lifeboat was launched at 7.50am, they posted to their website:
Tasked following a report of a person in the water in the vicinity of Corbyn Head. Casualty recovered from the sea and transferred to an awaiting ambulance at Torquay Harbour.
Police are now investigating.
Officers from my section have been involved in the recovery of a body at sea near #Torquay investigations are now underway. #Baycops

— 'A' Section Baycops (@SgtSheps) February 23, 2015
To keep up to date with what's happening around South Devon, join us on Facebook:
[do_widget "Facebook like box (jetpack)"]