(Last Updated On: March 7, 2015)
A fire which severely damaged a bungalow in Preston this morning was accidental say the Fire service.
The Fire Service were alerted to the fire on Cecilia Road, at 8.12am this morning after several calls reporting the fire.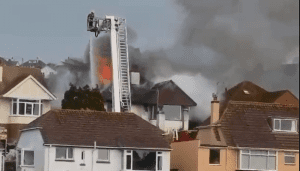 Smoke could be seen from across the bay.
A fire service spokesperson said:
A total of six BA, two main jets, 2 hose reel jets and the aerial ladder platform were used to put the fire out. The fire involved a bedroom within a bungalow which spread to the roof space, severely damaging the property. Crews used a thermal imaging camera and small tools.
The aerial platform can be seen in use here:

No one was hurt in the fire.
To keep up to date with what's happening around South Devon, join us on Facebook:

Error: Your Requested widget "Facebook like box (jetpack) " is not in the widget list.

[do_widget_area sanfrancisco-default-sidebar]

[do_widget id="media_image-29"]
[do_widget id="media_image-40"]
[do_widget id="media_image-38"]
[do_widget id="media_image-18"]
[do_widget id="media_image-36"]
[do_widget id="media_image-44"]
[do_widget id="media_image-43"]
[do_widget id="media_image-23"]
[do_widget id="media_image-42"]
[do_widget id="media_image-31"]
[do_widget id="media_image-28"]
[do_widget id="media_image-41"]
[do_widget id="metaslider_widget-2"]
[do_widget id="metaslider_widget-3"]

[do_widget_area widgets_for_shortcodes]
[do_widget_area wp_inactive_widgets]

[do_widget id="search-2"]
[do_widget id="search-4"]
[do_widget id="archives-11"]
[do_widget id="nav_menu-3"]
[do_widget id="archives-4"]
[do_widget id="archives-6"]
[do_widget id="text-2"]
[do_widget id="text-39"]
[do_widget id="categories-3"]
[do_widget id="recent-posts-2"]
[do_widget id="archives-2"]
[do_widget id="recent-comments-2"]
[do_widget id="categories-2"]
[do_widget id="meta-2"]
[do_widget id="eu_cookie_law_widget-2"]
[do_widget id="eu_cookie_law_widget-3"]