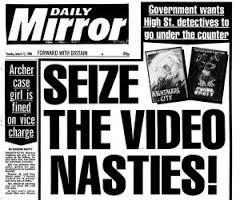 Back in the 1980s – before the internet and multiple TV channels – Torbay had more than a dozen video rental shops. These shops rented out videos for the videocassette recorder, or VCR, an electromechanical device that could also record analogue video from the television on a removable magnetic cassette, and play back the recording. One of these early beasts is seen here below. The VCR was a revolution in home entertainment – for the first time you could actually watch the movies you wanted to, when you wanted to, in your own home.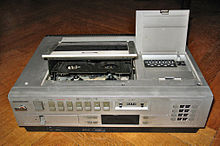 Those optimists who thought that we would utilise the VCR as an educational tool were soon disappointed, however. Due to a loophole in the law when they were introduced during the 1970s, there was no legislation specifically designed to regulate video content, apart from the Obscene Publications Act 1959 which was primarily aimed at erotic films. Also, major film distributors were initially reluctant to embrace the new medium of video for fear of piracy. Into this vacuum predictably came low-budget horror films and pornography.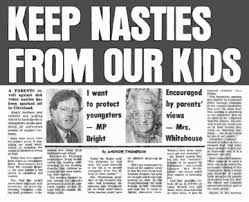 Due to their violent content some videos quickly attracted criticism from the press, social commentators and religious organisations. Yet, real public awareness began in early 1982, when Vipco (Video Instant Picture Company), promoted their 1979 movie The Driller Killer with full-page advertisements depicting the video's explicit cover – an action which resulted in a large number of complaints to the Advertising Standards Agency. Indeed, it was often these movies provocative and misleading cover art that aroused such concerns in the first place – many of the films just weren't that bad. A few months later Go Video, the distributors of the Italian film Cannibal Holocaust (1980), in an effort to boost publicity and generate sales, wrote anonymously to moral campaigner Mary Whitehouse (pictured below) complaining about their own film. This was a spectacular own goal and Mary Whitehouse and the National Viewers' and Listeners' Association launched a campaign and coined the term 'video nasty'.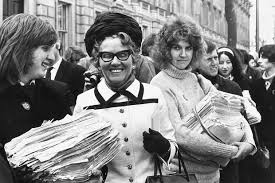 The Sunday Times then brought the issue to a wider audience in May 1982 with an article entitled "How high street horror is invading the home". Soon the Daily Mail and Mirror began their own campaigns. Here was a classic moral panic, with fear spreading among a large number of people about an evil threatening the well-being of our society.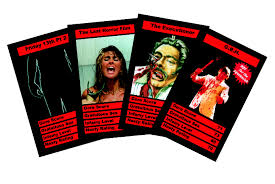 The exposure of nasties to children began to be blamed for incidents of violent crime amongst young people. One piece of evidence seized upon by the campaigners was research whereby under-16s were asked if they had seen any on a list of horror movies. A shocking 40% said they had. Yet, a later piece of research gave young people a list of fabricated titles and found that a similar number claimed to have seen these nonexistent movies. It then became routine for criminals in court to say they had been influenced by a particular movie – and to receive a lighter sentence. Claims of a direct link to rapes, murders and violence have since been proven to be speculative or media fabrication.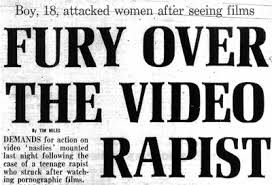 The police began to raid video stores and prosecute some releases for obscenity though they often made mistakes and seized movies they hadn't even seen. In one famous incident the police seized a copy of the Dolly Parton musical The Best Little Whorehouse in Texas (1982) under the mistaken belief it was pornographic.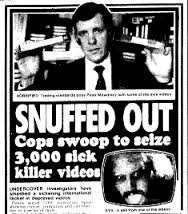 To assist local authorities in identifying obscene films, the Director of Public Prosecutions released a list of 72 films that they believed violated the Obscene Publications Act. Though many of the films were of doubtful artistic or moral value, the list included some movies now seen as classics and which regularly show up on Film 4, the Horror Channel, or which have been remade, including: The Chant of Jimmie Blacksmith; Dawn of the Dead; The Executioner; Friday the 13th Parts 1 and 2; Happy Birthday to Me; The Hills Have Eyes; Martin; Night of the Living Dead; Phantasm; Prom Night; Rabid; Scanners; The Texas Chainsaw Massacre; and The Thing. Of course, the 72 immediately became a must-have shopping list for horror buffs.
At the suggestion of the National Viewers' and Listeners' Association, the Conservative MP Graham Bright introduced a Private Members Bill in 1983. This was passed as the Video Recording Act in 1985. Here's Graham Bright warning of the dangers of video nasties on our pets:
The Act renamed 'The British Board of Film Censors' as 'The British Board of Film Classification' and made it responsible for the certification of both cinema and video releases. All video releases had to comply with the Act and be submitted for classification and the supply of unclassified videos became a criminal offence, as did supplying 15 and 18 certificate videos to under-aged people. The police were empowered to seize videos from retailers if they were of the opinion that the material was in breach of the Act. Police raids on hire shops increased and immediately shop owners and video collectors found themselves in possession of material that could cause them to be fined £20,000 or put in prison for six months. Let's stress that penalty- if you gave someone a video of a movie, that you can currently see tonight on the Horror Channel,you could be bankrupted and go to prison.
The video nasties moral panic was one of the last fight backs against liberal Britain during the 1970s and 80s and some in Torquay took their place in the ranks of those in the rearguard. Leading the fight was the Nationwide Festival of Light, a grassroots movement formed by Christians concerned about the onward march of what they saw as the excesses of a permissive society. As an evangelical campaigning organisation, the Festival was opposed to homosexuality, abortion and other manifestations of the nation's falling away from God, particularly the media's explicit depiction of sexual and violent themes.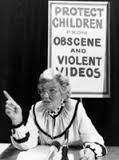 Its leading lights included Mary Whitehouse, the journalist and author Malcolm Muggeridge, and a number of leading clergymen – with Cliff Richard as a leading supporter. Supporting the Festival in Torquay was the Reverend Harold Smith. In a speech at the RAFA Annual Battle of Britain service held at Upton Church, he described the parallels between the Battle of Britain and the fight to stem the tide of social permissiveness. Quoting from a Festival of Light poster, he said that, "Moral pollution needs a solution. Christian people know where the solution lies. Though faith has declined in these 30 years, God has not died – whatever humanists or radical theologians may say. We are concerned at the glorified violence, sadism, incest and perversion invading public entertainment. Our protest is not a rightwing backlash of intolerance. It is a protest, not primarily about sex at all. It is a protest against all that degrades human dignity and destroys human relationships."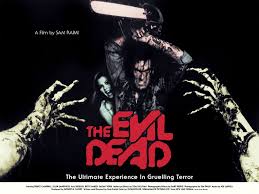 It was during the 70s and 80s that these campaigners saw some success. And it wasn't just extreme horror or pornogaphy that was denied to the residents of the Bay. One victim of local censorship was Monty Python's Life of Brian (1979). For almost three decades the classic satirical comedy remained out of bounds in the Bay. This had gone largely unnoticed until, to many people's surprise, the organisers of the Bay's 2008 comedy film festival had to get special dispensation after discovering that the film was still on the local authority's blacklist, 29 years after its release.
The film had been attacked by Christian leaders when it came out for allegedly lampooning Jesus. It had a particularly bad reception in the West Country: the Bishop of Bath and Wells, the Roman Catholic Bishop of Clifton, along with the Methodists and the United Reformed Church, wrote to every council in the West Country urging them to ban it. Even though the Monty Python team insisted that it was a send-up of religious obsession and 1950s Hollywood Bible epics, cinemas that showed the film were picketed and 11 local authorities decided on a prohibition. A further 28, including Torquay, gave it an X certificate, which meant that it could be seen only by over-18s. As the film's distributors refused to allow it to be shown with this certificate, 'Life of Brian' was effectively banned in Torquay too. Now Life of Brian can be often seen on television, and no longer causes outrage.
By the turn of the century, those moral campaigners that wanted so much to protect us from our own base instincts had faded away and passed on. Inevitably, the BBFC relaxed its standards, especially at the 18 level, in response to a public consultation in 2000. Several official nasties were passed in the early 2000s either uncut or with cuts restricted to sexual violence or where actual animals were being harmed.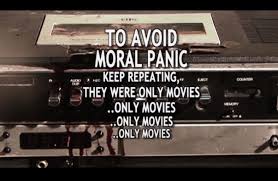 Technology has moved on, making censorship of this type so much more difficult. The video stores in Hele, Torre, Ellacombe and Chelston have long gone. As for the VCRs, millions ended up being recycled or in landfill while the videos themselves can still be occasionally seen at a car boot sale at Gallows Gate, their now faded shock covers still able to tempt and corrupt the unwary.
Here's Mark Kermode's view: