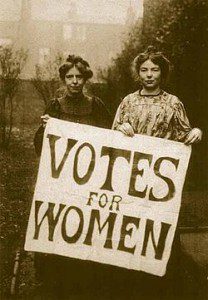 Annie Kenney and Christabel Pankhurst
It wasn't until 1928 that women claimed the right to vote, and the women of Torquay were at the forefront of that struggle.
During the campaign for voting rights for women, Torquay had two organisations with differing tactics. These were the National Union of Women's Suffrage Societies and the Women's Social and Political Union. They were to become known as the Suffragists & the Suffragettes. In 1897 the various suffrage organisations had united into the National Union of Women's Suffrage Societies, which by 1914 had around 100,000 members.
The NUWSS attempted to convert the public by reasoned argument and through peaceful change. Accordingly, they lobbied politicians, collected petitions and held public meetings – in January 1914 a rally with speakers from all three political parties, titled 'Why not give women the vote?', was held at St. Marychurch Town Hall.  To convert men to their cause, the NUWSS welcomed male members – in July 1913 Admiral Sir William Acland motored a Torquay contingent to Exeter to join a large demonstration. The town's Society also organised missionary-like 'pilgrimages' to Totnes, Newton Abbot, Teignmouth and Dawlish.
As the NUWSS was supported by a number of prominent members of society – Lady Acland was their Torquay President in 1914 – it was consequently well-funded and able to open offices at 19 Abbey Road.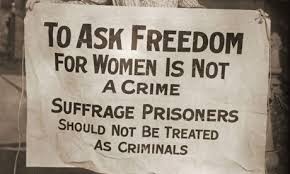 However, despite reasoned debate, Parliamentary bills for female suffrage were each defeated. One Suffragist, Emmeline Pankhurst, was so frustrated that she founded the breakaway Women's Social and Political Union in 1903. Their motto was 'Deeds not Words', and their tactics became increasingly confrontational. The Daily Mail coined the term 'Suffragette' to distinguish these militants from the moderate Suffragists.
The WSPU were very active in Torquay and in March 1911 organised a Torquay Theatre meeting titled 'Votes for Women'. The main speaker was Annie Kenney, a militant working class Suffragette who had undergone force-feeding in prison. Annie commended, "the splendid fishermen of Brixham who were keen supporters of the women's cause". She told her audience: "Some people are inclined to think that an MP is a wonderful man, and that they just bow down to him. Women are not afraid of MPs. I am here to tell you that we women are going to have the vote, and that quickly."
In July 1912, Christabel Pankhurst launched an arson campaign which targeted the houses of MPs and public buildings. Torquay's police warned that Suffragettes were planning to burn down holiday accommodation. In response, the Government banned the WSPU's demonstrations and jailed activists, causing a rapid decline in the Suffragettes' membership.
In May 1913 another Torquay WSPU meeting was held. The hostile local paper reported that "only a score of women were present to hear Miss Mary Phillips, the Devonshire organiser, who does not mince words in her advocacy of militancy".
Mary announced that there would have to be "more secret work and they would be more in the position of outlaws". Also present was the Women's Tax Resistance League, who refused to pay tax until women received the vote. 220 British women participated in tax resistance – one being a Miss Baker who had her goods seized by the Torquay courts.
In June 1914 local Suffragettes took action. Leaflets inscribed, 'Votes for women or ceaseless militancy' were dropped into Torquay's pillar boxes along with ink cartridges designed to damage letters. Local Police began to keep close watch on activists.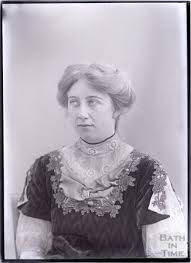 The actions of local Suffragettes illustrate their total dedication to the cause. In March 1909 Elsie Howey (pictured above) was appointed to lead Torquay and Paignton's Suffragettes, and she opened a WSPU shop in Torquay. She quickly achieved national recognition when she headed a demonstration dressed as Joan of Arc. In July she was jailed for disrupting a Penzance meeting and promptly went on hunger strike. On her release she was presented with a travelling clock by Torquay's Suffragettes. In September Elsie was involved in an assault on Herbert Asquith, and arrested again in January 1910 and sentenced to six weeks' hard labour. Taking part in a window-smashing campaign in 1912 led to another jail sentence.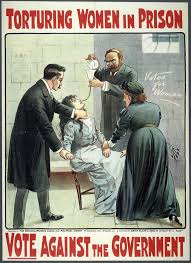 Elsie was imprisoned at least six times, often went on hunger strike and was force fed. This broke most of her teeth – "her beautiful voice was quite ruined". When Suffragette militancy ended in 1914 Elsie left public life but never fully recovered from the sacrifices she made.
Women were partly enfranchised in 1918, but it wasn't until 1928 that the voting age for women was lowered to 21 in line with men. Both the Torquay NUWSS and the WSPU had – in their own ways – played their part in campaigning for change.