Back in 2004 the comedy 'Churchill: The Hollywood Years' was partly filmed in the Bay.
The movie was directed by South Devon's Peter Richardson, who rose to prominence through the 'Comic Strip Presents' series. It features the movie stars Christian Slater, (Scream's) Neve Campbell, and a host of British comedy talent, including Bob Mortimer, Vic Reeves, the late Rik Mayall, Harry Enfield and Leslie Phillips.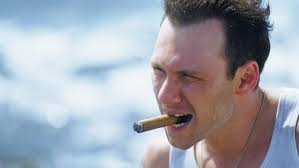 The movie is a satire on the way Hollywood has written Britain out of the Second World War by rewriting Americans in the lead roles – see films such as U571 (which had the capture of an Enigma machine being by the Americans rather than the British) and Pearl Harbour (where Americans appear to have won the Battle of Britain).
The film's other targets are the upper-class pro-Germans who sought a compromise with Hitler.
It has Winston Churchill (Christian Slater) as a US Marine seemingly channelling Bruce Willis. His Churchill is arrogant, all rippling muscles and tattoos in a grubby white vest.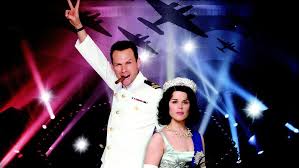 Commendably Christian plays the whole thing straight. This may have something to do with, having first read the script, he confessed that he didn't get it.
After singlehandedly repelling a Nazi invasion in 1940, he dies in the Battle of Britain, leaving Princess Elizabeth (Neve Campbell) pregnant. He is then replaced by a British actor resembling our wartime leader.
While mainly filmed at Plymouth's Royal William Yard, the movie's opening shot features Brixham Harbour as Plymouth Docks. We also see Oldway Mansion doubling as Buckingham Palace, along with Powderham Castle. Cockington appears as Frothington-on-the-Waddle.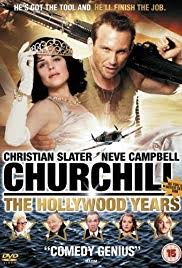 We know that the war wasn't won by Tom Hanks or Jon Bon Jovi in a submarine, and 'Churchill' makes the point well. Whether it needed a good hour and twenty minutes to tell us is debateable.
We all got a bit excited when we heard we had attracted a couple of Hollywood stars, but many of us ended up disappointed.
Has 'Churchill' improved with age? Was it a good comedy? You decide…
Here's the whole movie: