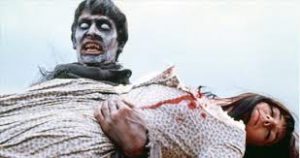 "In this place no one can hide from witchcraft, superstition and fear. A land dominated by men without morals. A writhing hell on earth"
Here at WASD we've said before that when the M5 comes to an end you have a choice. You can either carry on along the A38 and sensibly cut off to join the A380 to the fine town of Torquay, or you can take the A30. This road leads to Cornwall.  Besides pasties, incorrectly-constructed cream teas, and a deep-seated resentment at being colonised by the English way back in the tenth century, our Cornish neighbours have another claim to fame – an important role in the evolution of the zombie movie.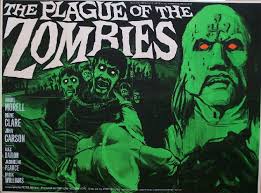 It's often claimed that the modern zombie dates back to George Romero's Pittsburgh-set 1968 classic 'Night of the Living Dead'. However, Romero's film never uses the Z-word and is a loose adaptation of Richard Matheson's vampire novel, 'I Am Legend' (1954). Victor Halperin's 'White Zombie' (1932) is probably the first zombie movie with the shambling figures being depicted as mindless henchmen under the spell of an evil magician. Movie zombies, using this voodoo association, continued through the 1930s to the 1960s, with notable films including 'I Walked with a Zombie' (1943).
The deeply dangerous flesh-eating undead we're now so familiar with are a long way from these exotic zombies of Haitian folklore. They're the consequence of a long evolution. Today zombies are everywhere and a crucial part of their development can be seen in a horror movie set in Cornwall.
This is Hammer's 1966 'The Plague of the Zombies', one of the most important zombie films and a great influence on the genre. Its imagery can be seen in every zombie film since, from 'Night of the Living Dead' to 'World War Z', in TV series such as 'The Walking Dead', and games including the 'Resident Evil' series.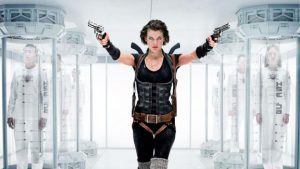 Directed by John Gilling, 'The Plague of the Zombies' stars Andre Morell, John Carson, Jacqueline Pearce, Brook Williams and Michael Ripper. It's set in a Cornish village in 1860 where the inhabitants are dying from a mysterious plague. Even the local doctor, Peter Tompson (Williams), can't combat the disease so he sends for outside help from his friend Sir James Forbes (Morell). Conducting their investigations the doctors encounter zombies near an old tin mine. It's eventually discovered that the local squire (Carson) got the idea of an undead workforce when he lived in Haiti and practiced voodoo rituals. The zombies slave away in the mines, but do seem to be extremely slow and incredibly inefficient. Significantly, the zombies in 'Plague' are clearly dead and decaying, and also a real threat.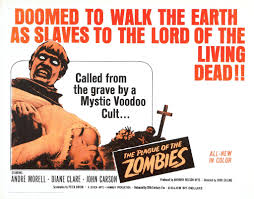 The film's most memorable scene is a dream sequence when the zombies dig their way out of their graves and advance with outstretched hands. This turns up again and again, notably in Lucio Fulci's 'Zombie Flesh Eaters' (1979)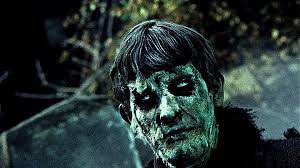 .
The rural Cornish setting is a long way from Hammer's usual Central European castles and laboratories. It's also novel in that 'Plague' focuses on the exploitation of villagers turned into zombies to work the tin mine – they have been reduced to unthinking units of production. This kind of social commentary continues as the squire's huntsmen show their contempt for the villagers by chasing a fox through the funeral of a common man.
'Plague' is a transitionary movie. It shows the evolution of a movie monster from a lone relatively harmless, even comedic, figure to the gut-crunching infected mass of today. On the other hand, it retains some Hammer staple references – for example, in a very similar scene to that in 'Plague', in Terence Fisher's 'Brides of Dracula' (1960), a female vampire emerges from her coffin and is 'killed' by beheading, the standard method used by later zombie-killers. Released two years before 'Night of the Living Dead', 'Plague' prefigures Romero's reinvention of zombie mythology. It reimagines the zombies and the extreme violence required to destroy them. It's this that makes the film important. Here's the trailer:
When watching 'Plague' you may experience a sense of déjà vu. This is due to Hammer's other 1966 production, 'The Reptile', which shares the same director (John Gilling) and an identical Cornish setting. These are two entirely separate and individual films, however.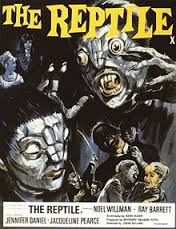 The reason for this parallel development is due to Hammer's corner-cutting. Despite their considerable successes at home and abroad the company remained frugal and to save money Producer Anthony Nelson Keys released a batch of four films in 1966. There were two central features ('Dracula: Prince of Darkness' and 'Rasputin, the Mad Monk'). These were supported by two lesser movies -'Plague' assigned to accompany 'Dracula', and 'The Reptile' supporting 'Rasputin'. The productions were consequently filmed back-to-back and used many of the same sets though, sadly, 'Plague' and 'Reptile' weren't actually filmed Cornwall – the village was created on the back lot of Bray Studios. Other common shots were of Chobham Common with exterior shots in the grounds of Oakley Court (seen burning in the final frames of 'Reptile').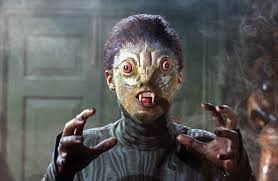 Both films used the same actors in Michael Ripper and Jacqueline Pearce (pictured below right). Incidentally, Jacqueline disliked wearing the striking make-up in 'Reptile' (pictured left) as she suffered from claustrophobia and vowed never to wear "creature" make-up in her future acting projects. For fans of British cult TV it's worth noting that Jacqueline Pearce later appeared in Dr Who but is perhaps best known as the villain Servalan in 'Blake's 7'.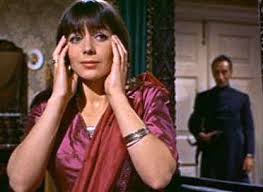 There are a few common themes in the two movies. Cornwall is portrayed as backward, dangerously rural and such a long way from the supposedly sophisticated south east. Both featured a decadent member of the social elite who had been contaminated by time spent in a foreign country. The message appears to be that it's deeply dangerous to be exposed to scary non-Anglican religious practices.
So the next time you see an unfortunate being graphically consumed in 'The Walking Dead', or you're fleeing from a digitised horde in Raccoon City, remember it all began in a fictional village in that not-so-far-off land beyond the Tamar.
Meanwhile, here's the trailer from 'The Reptile':

…