A 6 foot baby is thriving on milk from a top Devon dairy. The Rothschild's giraffe was born at Paignton Zoo on January 11th and, despite being rejected by her mother, is thriving on creamy organic milk donated by Riverford Dairy.
Named Eliska by her devoted keepers, the three-week old is getting through around 50 litres of full fat milk a week, plus nearly 5 litres (that's 17x 300ml tubs) of single cream for added richness. Riverford staff are giving up their own free milk supplies to help feed the growing baby.
Senior head keeper of mammals Matthew Webb, who has been helping to feed Eliska: "She will take in around 10% of her body weight in milk each day and gain weight just as quickly. She was 63 kilos – 139 pounds, 9.9 stone – at birth, but as she grows, so will her milk requirements."
Riverford Dairy's milk may not be from a giraffe but it is treated with the greatest care. The milk is gently pasteurised but not homogenised so it's as close to its natural state as possible.
Julia Collins, from Riverford Dairy, said: "The pastures at Riverford Dairy are sown with nutrient-rich plants and grasses to help soil condition. These plants also help the cows to be in tip-top health and give the milk its rich, delicious taste. Rothschild's giraffes are an Endangered species so we're all hoping that Eliska will grow healthy and strong thanks to the Zoo's expert care and the Dairy's wholesome milk!"
Phil Knowling, from Paignton Zoo, added: "Eliska is going to get through a lot of milk in the next few months. As a charity, we are always grateful for the support of local businesses. Riverford Dairy have stepped up and committed to donating milk to feed our beautiful, gangly baby – it's fantastically generous. The same milk is available in the Zoo's Gibbon Island restaurant, so staff and visitors can enjoy it, too!"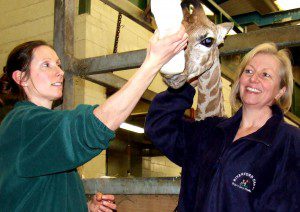 Hand rearing a giraffe is a lot of extra work and commitment for the keepers. Matt again: "She is fed 4 times a day. She could need milk for up to 9 months. We will start weaning her when she is around 5 to 6 months, depending on how she gets on."
Rothschild's (Baringo) giraffes are classified as Endangered – there is a European Endangered species Programme for the species. Paignton Zoo Environmental Park is a registered charity. For more information go to www.paigntonzoo.org.uk or ring 0844 474 2222.