The Celebrating Torbay 2016 calendar, which features 20 rarely seen photos of bygone Torquay, Paignton and Brixham, is now available to buy and you or your family could already be a part of it!
The calendar, which is part of the Year of Local History 2016: Celebrating Torbay project, has gone on sale in time for the Christmas rush and can be purchased at all Torbay libraries. It will be celebrating Torbay's history by displaying a picture for each month of the year as well as a selection of photographs on the back that Torbay Libraries hope locals may be able to help identify.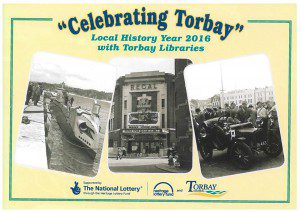 Executive Head of Customer service, Councillor David Morris, said: "The Celebrating Torbay calendar 2016 will be a fantastic addition to any home, and as it may even include a picture of you or a family member it is a great memento to keep for your children and grandchildren. The Year of Local History project wants to unite the community in learning about Torquay's fascinating past and I would urge everyone to volunteer in helping to spot relatives or friends in the photographs and to become involved with future projects."
Torbay Libraries' Year of Local History 2016: Celebrating Torbay is funded by the National Lottery through the Heritage Lottery Fund and is aiming to engage with local residents by learning about and researching Torbay's rich history, whether it's about Napoleon's brief sojourn in the Bay, the story of Torre Abbey or the history of the street where you live.
The project officially launches in January, but in the meantime, if you have an interest in local or family history and have time to give to be involved in the project, the library is keen to talk to you. Each Library will also be running regular Local and Family History Groups and anyone is welcome to come along to find out more or contribute.
The Torquay Library groups already meets on the third Saturday of the month at 10am, whilst a new Brixham Library Local and Family History Group will have its first meeting on Monday 11 January. A similar group at Paignton Library is in the pipeline.
The Celebrating Torbay 2016 calendar is available from all Torbay libraries and costs £5.
For regular updates on the Celebrate Torbay project, follow Torbay Libraries on social media at www.facebook.com/Torbaylibraries and on Twitter @TorbayLibraries.