The energetic and colourful Coco and the Butterfields are set to headline the Occombe Farm Cider Festival on Saturday 5th September 2015. Tickets are on sale now for the festival, which will see thousands of festival-goers entertained by foot-stomping bands including Sound of the Sirens, Paul Henshaw and The Sarah Yeo Band.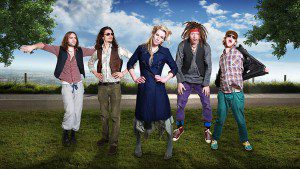 The Cider Festival, little sister to the Occombe Farm Beer Festival, is another vital fundraising event for the Torbay Coast and Countryside Trust, the local charity that cares for over 80% of the Bay's green spaces including Occombe Farm, Cockington Country Park and Berry Head Nature Reserve.
Laura Ballard, Event Manager for Torbay Coast and Countryside Trust said 'We are so excited for this year's Cider Festival. This festival has a very different feel to the Beer Festival, with the focus more on folk and country music. Not forgetting the many locally produced ciders and beers to try! Hunts Ciders and Bays Brewery have both shown us fantastic support over the years and it's a real showcase for their ciders and beers'.
'Don't forget too that every penny raised at the festival supports practical conservation to keep some of the most popular green spaces in Torbay open for everyone to enjoy. People can spend the day at the Cider Festival knowing that having fun on the farm really is doing good for the local area.'
Tickets are £12.50 per person and gates open at 2pm on Saturday 5th September. Full line up information and tickets are available online at www.occombebeerfestival.co.uk or by calling 01803 520022 (Mon-Fri 9am – 5pm only).