For decades tourist guides have been telling visitors that if the Nazis had occupied Britain, the Führer would have used the Grand Hotel as his European headquarters.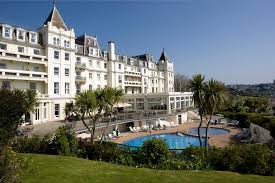 So, is this true and where did the story come from?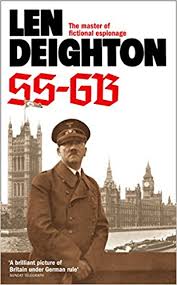 It's an interesting idea, but is shared by many other places. And there was an upsurge in interest in alternative histories in the latter decades of the twentieth century on what would have happened in the Nazis had won.
Certainly plans were in place to occupy British iconic buildings. Hitler himself wanted Blenheim Palace. It may be that he earmarked the stately home as a final insult to Churchill, who had been born there.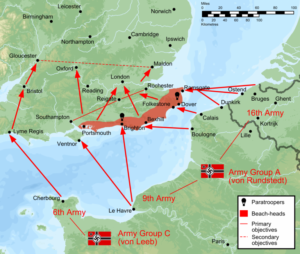 Other lavish homes were to be awarded to various top Nazis, such as in the New Forest, while Eton was to serve as an exclusive public school for the invaders' children. Oddly, the Nazis were also keen on creating a major base in the quiet Shropshire town of Bridgnorth; perhaps because it was geographically in the heart of the country with good rail and communication links.
Indeed, across Britain other iconic buildings have been suggested as being on Hitler's list for local 'Reichstags'. These were assumed to be attractive to the Nazis due to their location and their architecture. Hitler was a fan of neo-classicism, whilst Himmler favoured Gothic Medievalism. Along with The Grand and Meadfoot's Osbourne, they include: Bloomsbury's Senate House; Du Cane Court in Balham; Manchester's Midland Hotel; several buildings in Oxford; and Rochdale Town Hall.
What they all seem to have in common is that they fortunately survived Luftwaffe attacks. As German propaganda claimed 70 per cent bombing accuracy, local mythology then developed the idea that these fortunate buildings were deliberately spared for future Nazi use.
The Grand and the Osbourne were left largely untouched by German raids so that mist have been a conscious decision.
And we have the intriguing Knowstone Manor, near Tiverton, which was rumoured to have been built with money from the Third Reich to host the Nazi leader and his top ten officers if Germany won the war. The house was constructed in the 1930s by a mysterious German bachelor who was surrounded by claims of Nazi associations. From the air, a photograph shows buildings resembling the swastika and the lights were supposedly used as a signal for enemy planes. Knowstone Manor burnt down in the 1960s.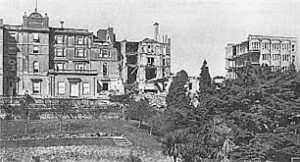 But why specifically Torquay?
Outlandish as it seems there may be an explanation. Hitler did allegedly have his eye on a seaside resort… but not in Devon.
It has been proposed that Blackpool was destined to be one of the most popular places in Nazi England. Documents recovered from a German military base have supposedly revealed that Hitler had a special interest for the town, identifying the resort as a place for the Wehrmacht 's post-conflict Rest and Recreation. And so, despite being a legitimate military target where British troops were stationed and where Wellington bombers were manufactured, Blackpool was deliberately spared by the Luftwaffe. The Führer didn't want its tower and three piers put at risk.
Whether this was just another of those myths is still debated.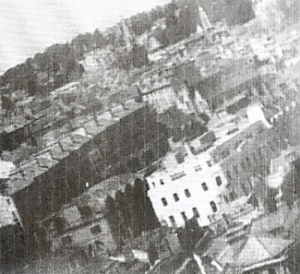 It may be that – as with other Torquay myths – we imported our special status from this similar resort. But, of course, unlike Blackpool, Torquay wasn't spared the attentions of the Luftwaffe. These photos are of bomb damage to the Palace Hotel and Lower Union Street, while the aerial image comes from a German wartime magazine – the caption reads: "Another attack, this time on Torquay 30 May 1943."
So it doesn't look like Torquay was ever going to be a centre for Nazi occupation. However, as in the rest of Europe, the invaders if successful may well have utilised seaside resorts, so our town could have become a focus for recuperating German troops. Thankfully, we'll never know due to the sacrifices of those many thousands who successfully repulsed the German war machine back in 1940.