It's the summer holidays, the kids are off school and whether you are a local or a visitor, you are probably looking for things to do.
We will be looking at the best days out in Devon and we start with Living Coasts in Torquay.
Located near Torquay harbour, the coastal zoo and aquarium is in a great location. There is a car park (Beacon Quay) next to Living Coasts but with limited spaces (118) we found ourselves, like a few others, driving around looking for a space. Some were lucky, we were not. We opted for Meadfoot Road car park, about a 5 minute walk away, which was £5.50 for 5 hours. (For council run car parks, click here.)
Anyway, we're parked and we're in!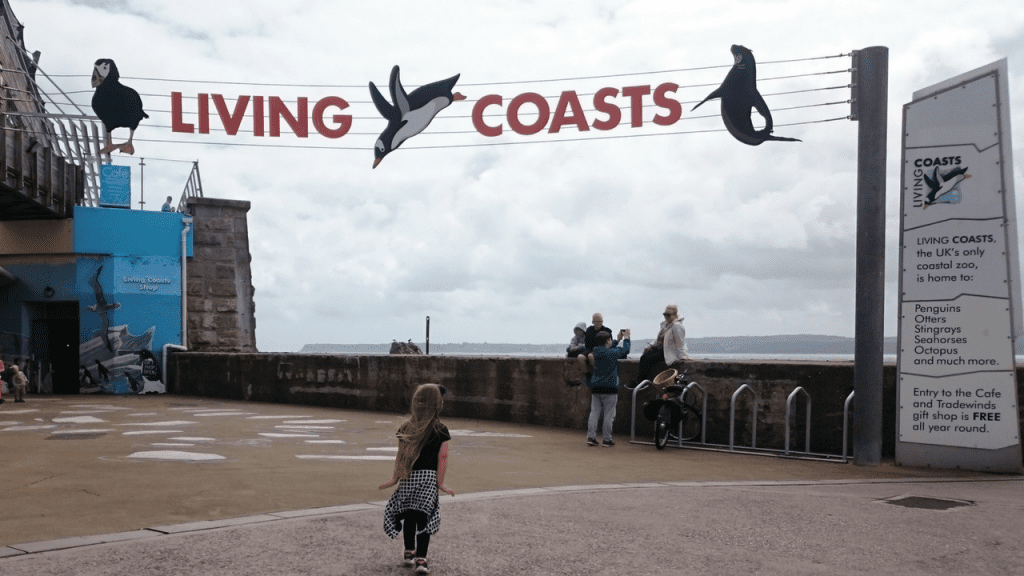 Naturally, as soon as we got there, I realised I had picked up the wrong battery for the camera. On the upside, I had remembered the children and lunch, so I decided that was pretty impressive in itself (is it really another 5 weeks until they go back to school?) and I'd have to make do with the Go Pro and mobile phone.
Thankfully the weather wasn't too bad today. Yesterday, it rained… a lot! Living Coasts is both indoors and outdoors, making it a great place to visit whatever the weather. Luckily, the rain held off today and we were even treated to a bit of sunshine!
We begin our adventure with the Macaroni and African penguins with wonderful views overlooking the sea. There's a member of staff on hand ensuring the welfare of the the penguins and available to talk about these intriguing creatures and answer any questions visitors may have. The Macaroni Penguins have even been considerately afforded the use of a fan for those hot summer days which a penguin could be seen to be enjoying.
Onwards around the coastal zoo and there are plenty of sea birds to be seen from Puffins to Cormorants. Now I can't claim to know a great deal about sea birds however Living Coasts provide very clear and informative boards identifying the different species with background information regarding their habitat, diet, behaviour, breeding and current threats and status in the wild.
Unfortunately we didn't get to observe the otters up to their characteristically playful antics as they were enjoying an afternoon nap. However their enclosure did offer us a close up view of these beautiful creatures resting peacefully together in the afternoon haze.
Onto the Fur seals and Living Coasts can proudly present their newest member of the seal herd being cared for by her Mother. At just two months old this adorable pup stirred many a 'coo' and 'aww' from the onlooking crowds. We were lucky enough to not only observe the pup basking in the afternoon sun close to her Mother but to see her frolick in the water and disturb her Mother's less than peaceful rest!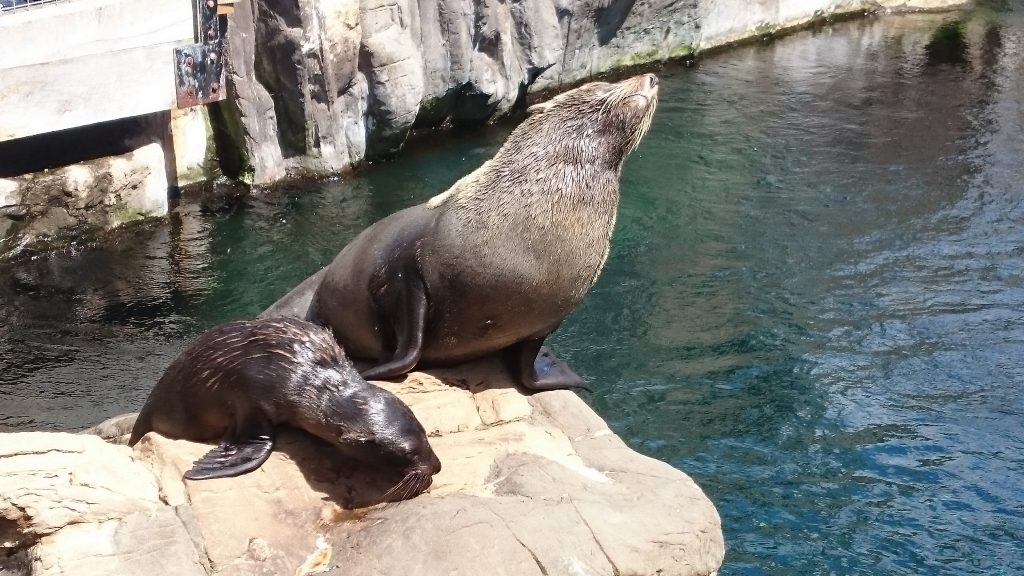 Over in the next enclosure we were able to witness some very vocal and assertive behaviour from two of the seals whilst the third was particularly enamoured with the two members of staff maintaining the enclosure. It was a pleasure to see this seal so comfortably and mischievously interact with the staff and they seemed to know her well and provided her with a cuddly toy at the end or their engagement which was well received!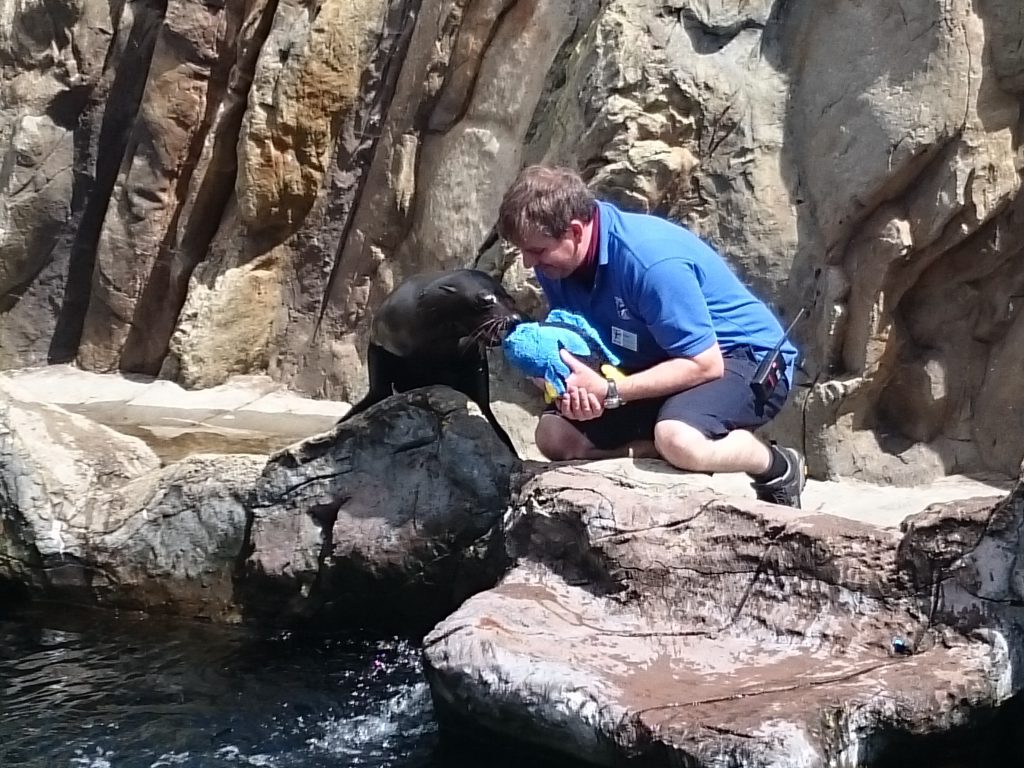 There were numerous seating/picnic areas dotted throughout living coasts and along the way there is a Kiosk with a large seating area serving hot and cold beverages and snacks. We brought along a picnic and enjoyed this whilst watching the fur seals.
We should mention that there are also opportunities to meet the keepers and see the animals being fed at designated times; however if you're anything like our family, just making it to the zoo before lunchtime is an achievement!
With two children to entertain, Living Coasts makes the experience not only interesting and informative, but the design of the coastal zoo offers a very safe environment that makes it easy to supervise eager and inquisitive children making the experience all the more enjoyable.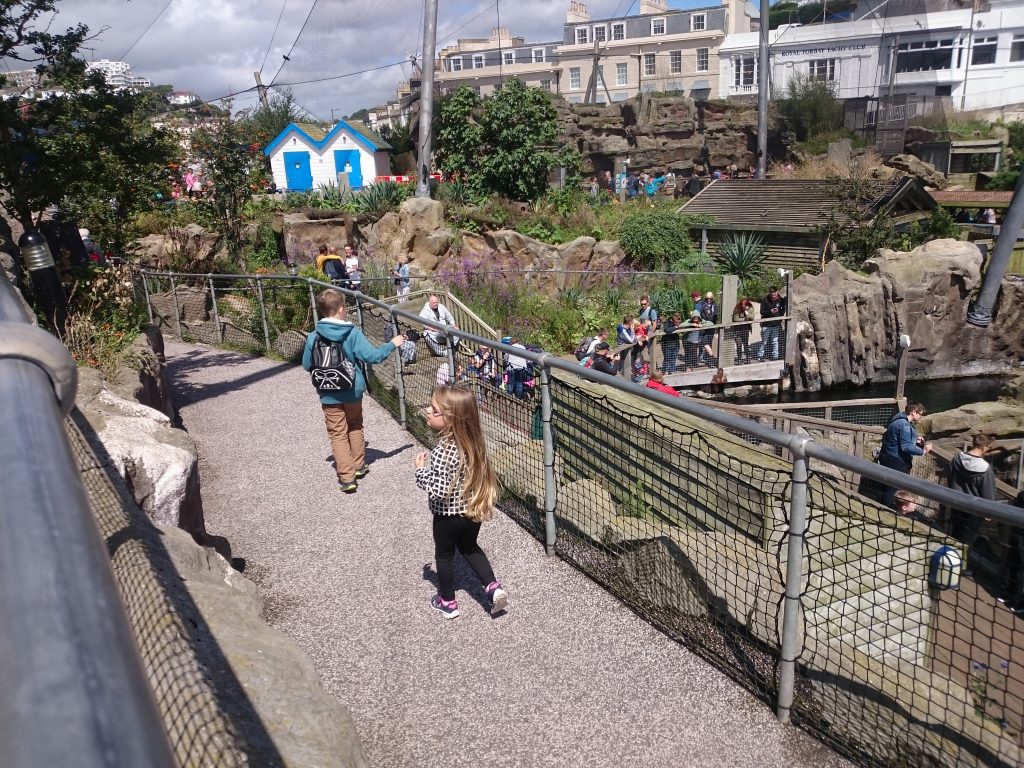 As the visit nears a close Living Coasts have a selection of Marine life to observe including sea horse and starfish and a final opportunity to see any Fur seals taking a dive.
Living Coasts have really catered for their audience, toward the end of the visit there are some final games and activities to engage in for the whole family. Including soft play and a sandpit for the younger children, some traverse bouldering for the older ones and a giant game of snakes and ladders for the whole family.
The giant Animatronic shark received a mixed reception from our brood with us all in awe but the younger ones a little unnerved by it's vast size and animation.
To finish the day we took a wander through the Living Coasts gift shop which offers a vast selection of toys and souvenirs to take home a little piece of Living Coasts and remember our time well spent at this fabulous coastal zoo as a family. All sales help support the excellent and continuous conservation work that Living Coasts are committed to and proud to be apart of.
Living coasts is open daily from 10am – 6pm. Last entry is 4.30pm. These times change dependant on season, please check here for up to date details.
Tickets cost £11.80 for an adult and £8.80 for a child. You can also buy tickets to visit Paignton Zoo as well, costing  £22.50 for an adult and £15.95 for a child.
An annual pass, which includes unlimited entry to Paignton Zoo, Living Coasts and Newquay Zoo costs £56.75 (adult) £39.50 (child) For more information and to book tickets, click here.
Read about our day at Paignton Zoo: https://wearesouthdevon.com/family-days-out-paignton-zoo/
[do_widget id=text-36]
Return to our home page for more local news here.
You can join us on our social media pages, follow us on Facebook or Twitter and keep up to date with whats going on in South Devon. Got a news story, blog or press release that you'd like to share? Contact us