This weekend saw the return of Grinagog Festival. Now in its second year, the festival, held at Torre Abbey and surrounding areas transformed the seaside location into a little piece of festival wonder.
It may be small but it's pretty mighty. Attracting some big names to the stage such as Craig Charles and Big Narstie, the organisers clearly want the festival to make an impression. It did, and it was a good one.
We went as a family. Two adults, two children – eldest six, youngest four months. This was the first time either had been to a festival. Before children, we never missed Glastonbury. The days of no planning, chucking a few things in a backpack, hoping that the tent had dried up after the last festival and that we had packed the tent pegs have long gone. Fortunately, this weekend, we'd be returning to our own beds, a mile down the road. Perfect but could are six-year-old be entertained all day and would we cope if it rained?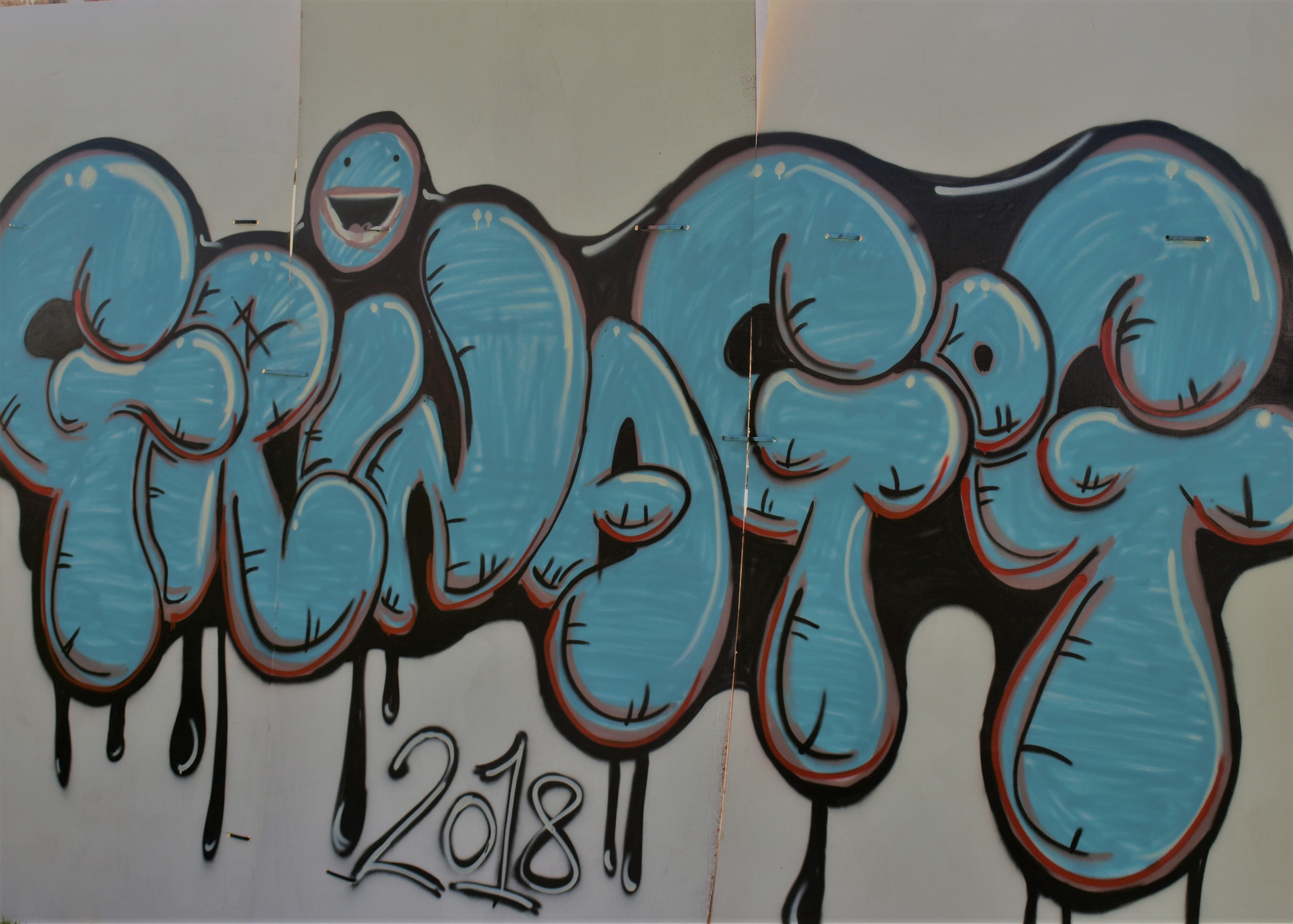 The festival is very accessible. We had a pushchair loaded up with all the essentials (12 changes of clothes, 6 bottles of suncream, bumper pack of nappies and enough food to feed a small army for the 6-year-old. You know 'just incase'.) The site was mud free and easy to navigate even with the buggy and a 6-year-old dragging on it.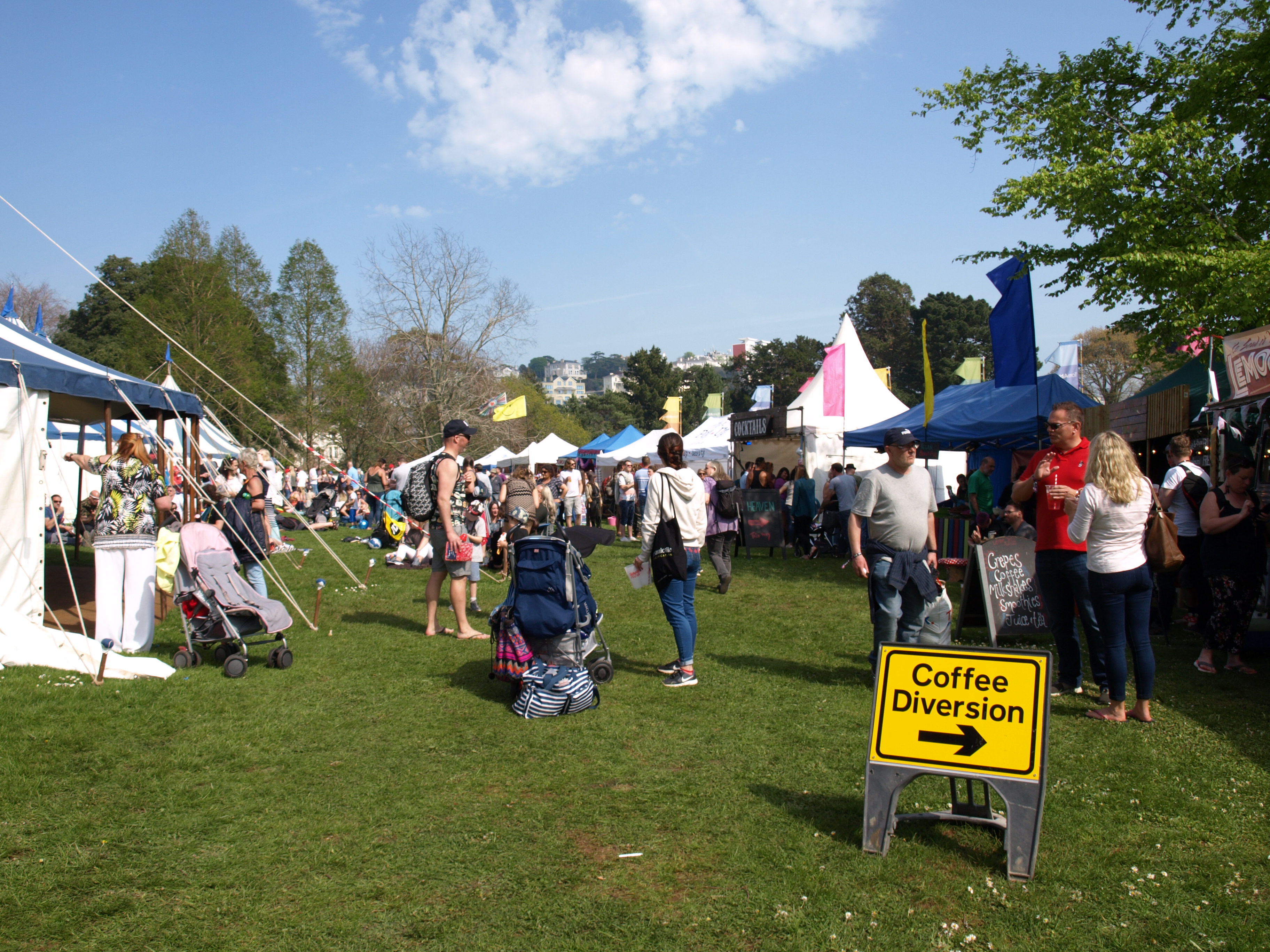 For us what makes a festival a festival and not just a party in a field is the quirky pieces of art and creativity that surprise you on a bimble around the site. Grinagog had this touch of wonder with a large mechanical horse to interact with in awe (or if you're our 6 year, to avoid in fear you may be eaten alive).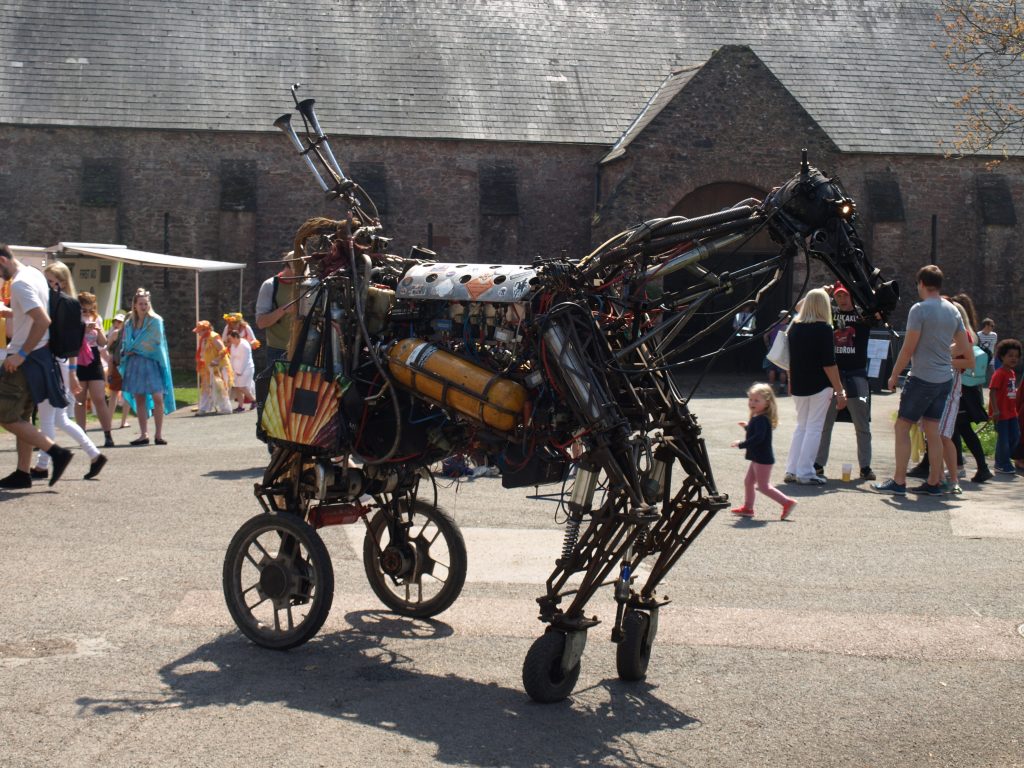 The festival certainly utilised all the space around the area with tents, stalls, food vans, rides and an activity trail around Torre Abbey gardens for the children. It was bright, colourful and there was plenty to keep children of all ages entertained.
Hidden in the gardens was a story-teller ready to delight you with a tale or two. A man dressed appropriately colourful for the part with a deep toolkit of personal animation ready to engage and lose you in another world.
We couldn't have asked for better weather for the occasion and created an environment that is usually reserved for our idealism (which is most uncharacteristic of the UK). This meant we could find a spot of grass on which to congregate with friends, the baby got to feel grass on her toes for the very first time (she was far less phased than I was) and the big one got to have an uncensored run around.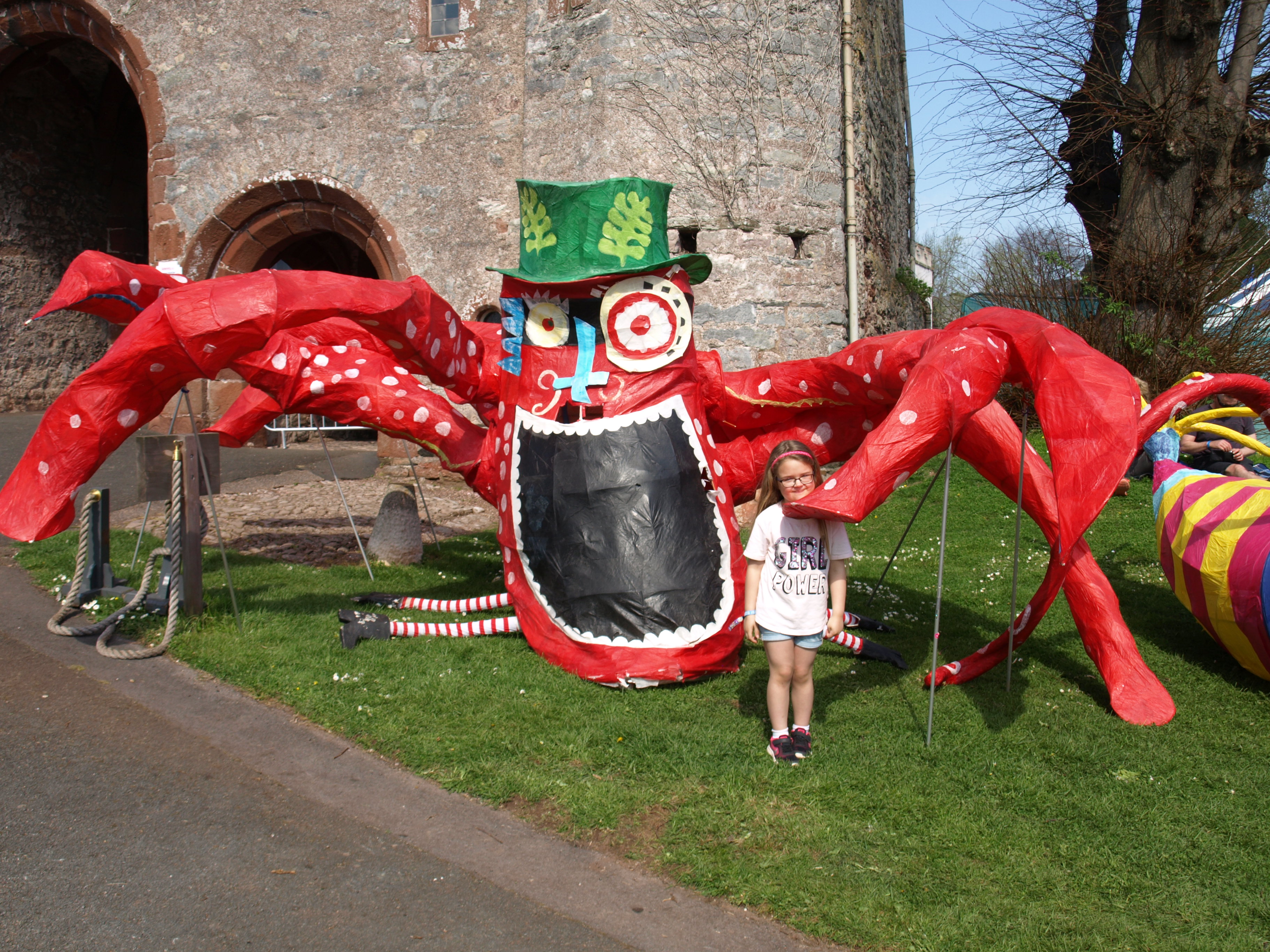 Here we could soak up the sun, the music and the general great feel that danced in the air. To get a little respite from the sun, inside the Spanish barn there was a children's rave ready to steal our rhythm and inspire a dance off. Grabbing our glow sticks, we busted out our moves as a family and naturally I had to show off how awesome I am at the floss much to the disdain of my 6-year-old. If the music didn't offer the inspiration it offered us, there was some arts and crafts underway to keep the children entertained and some soft play. Whilst these activities are always a hit in our household, the pull of the festival and the outdoors was too much so I never got to get elbow deep in pva glue and tissue paper!
Torre Abbey made for some quirky music venues. The chapel is an amazing venue on its own, we have enjoyed the recent comedy nights there, but add lights and a band and this place really does come alive. The crypt offered an intimate venue with a laid back atmosphere, perfect for solo artists to capture the attention of all who entered.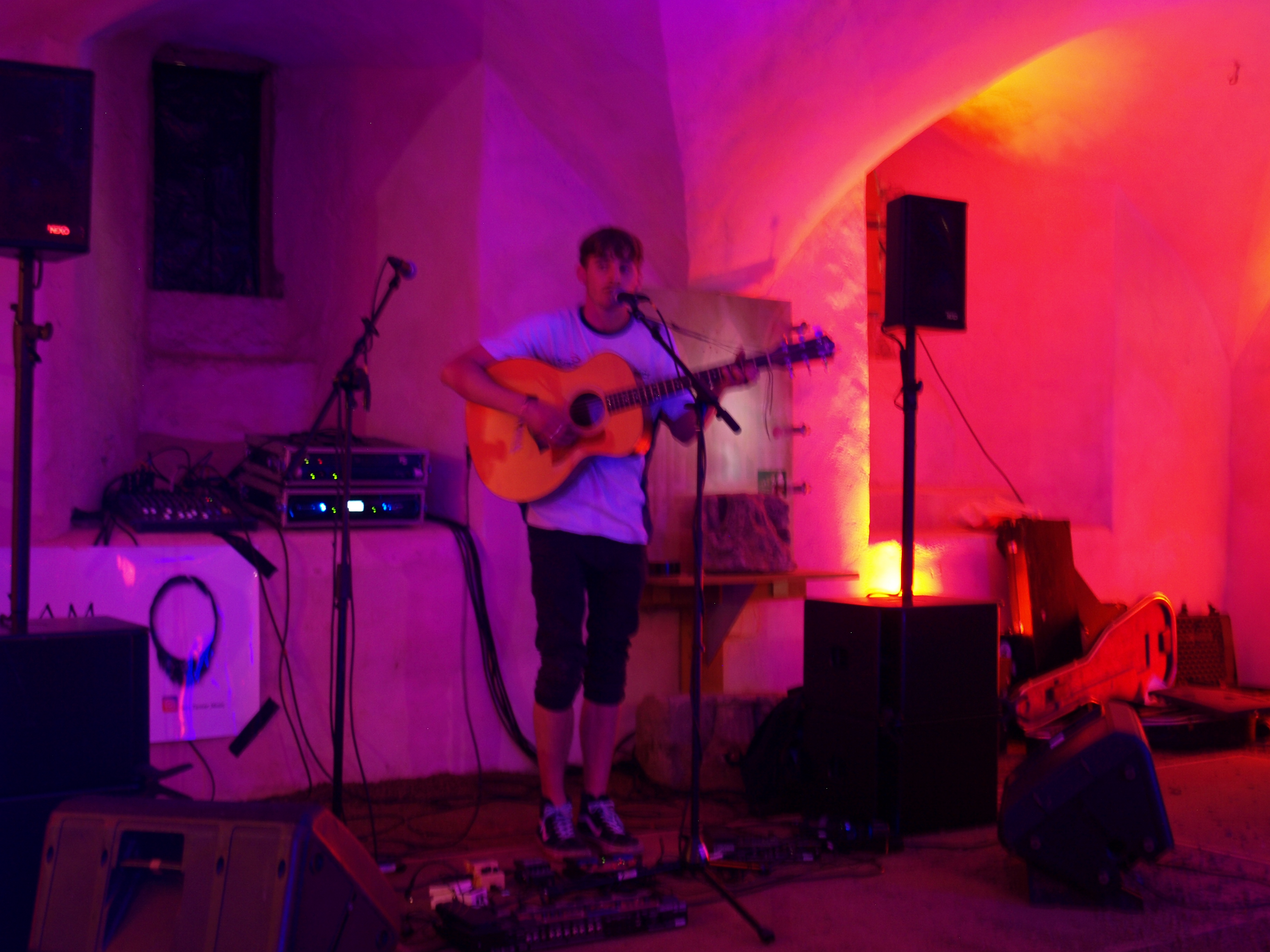 There was also the opportunity to view the tattoo exhibition that is currently on at Torre Abbey museum. With the sun shining and so much to do outside, whilst we took the opportunity to have a quick browse, we'll head back without the children and have a proper look soon (The exhibition is on until Sunday 3rd June. More here).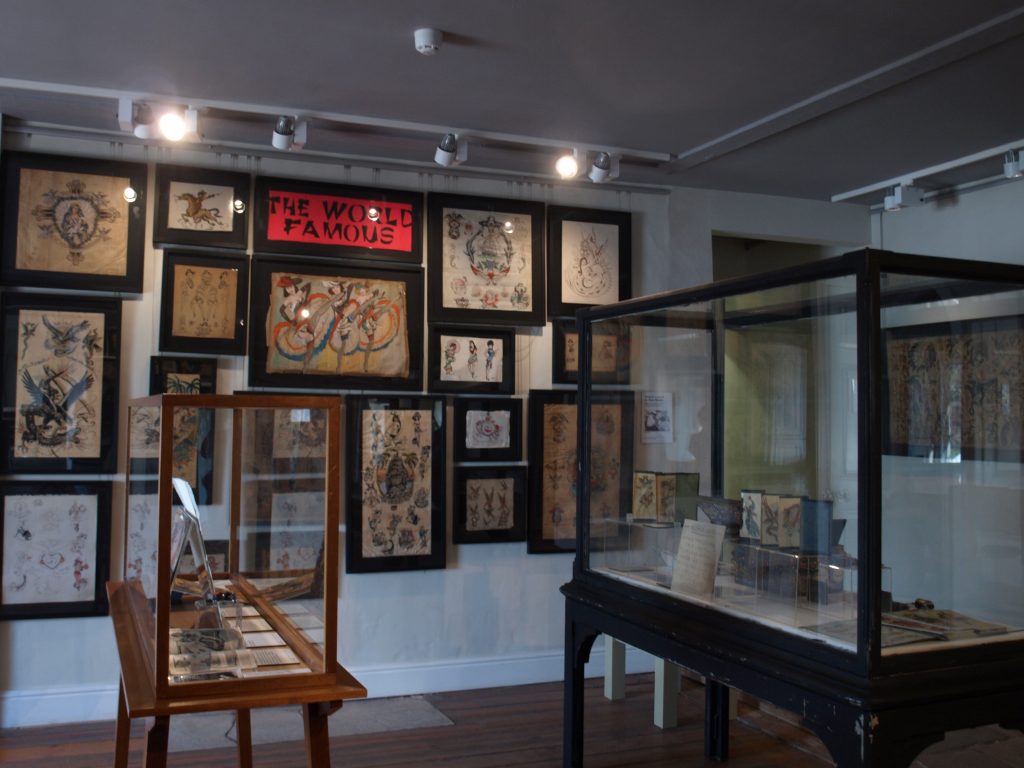 A festival wouldn't be a festival without the traditional trilby Hats, flower hair pieces and a menagerie of colourful people in colourful clothing. If you didn't bring your festival A game there were enough stalls so one could 'suit up' in classical festival attire!
Of course, like these guys, you may well have prepared well in advance. Awesome!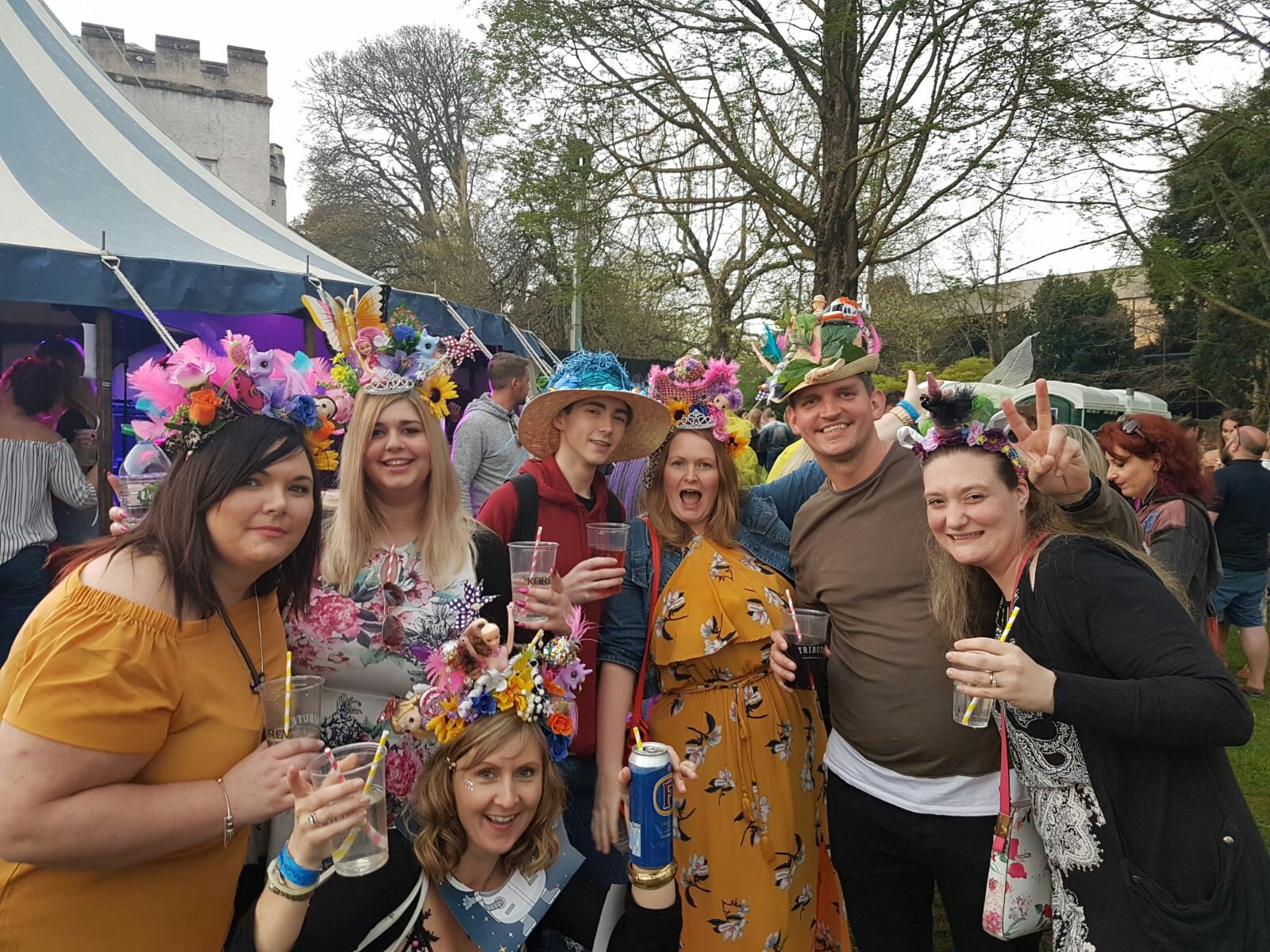 The festival was definitely geared up for families, with Saturday being 'Family day'.  A good call to have children allowed on site until 7.30pm. For me, it was then time to wave goodbye to the children for a few hours….
Starting with a drink at One World Cafe.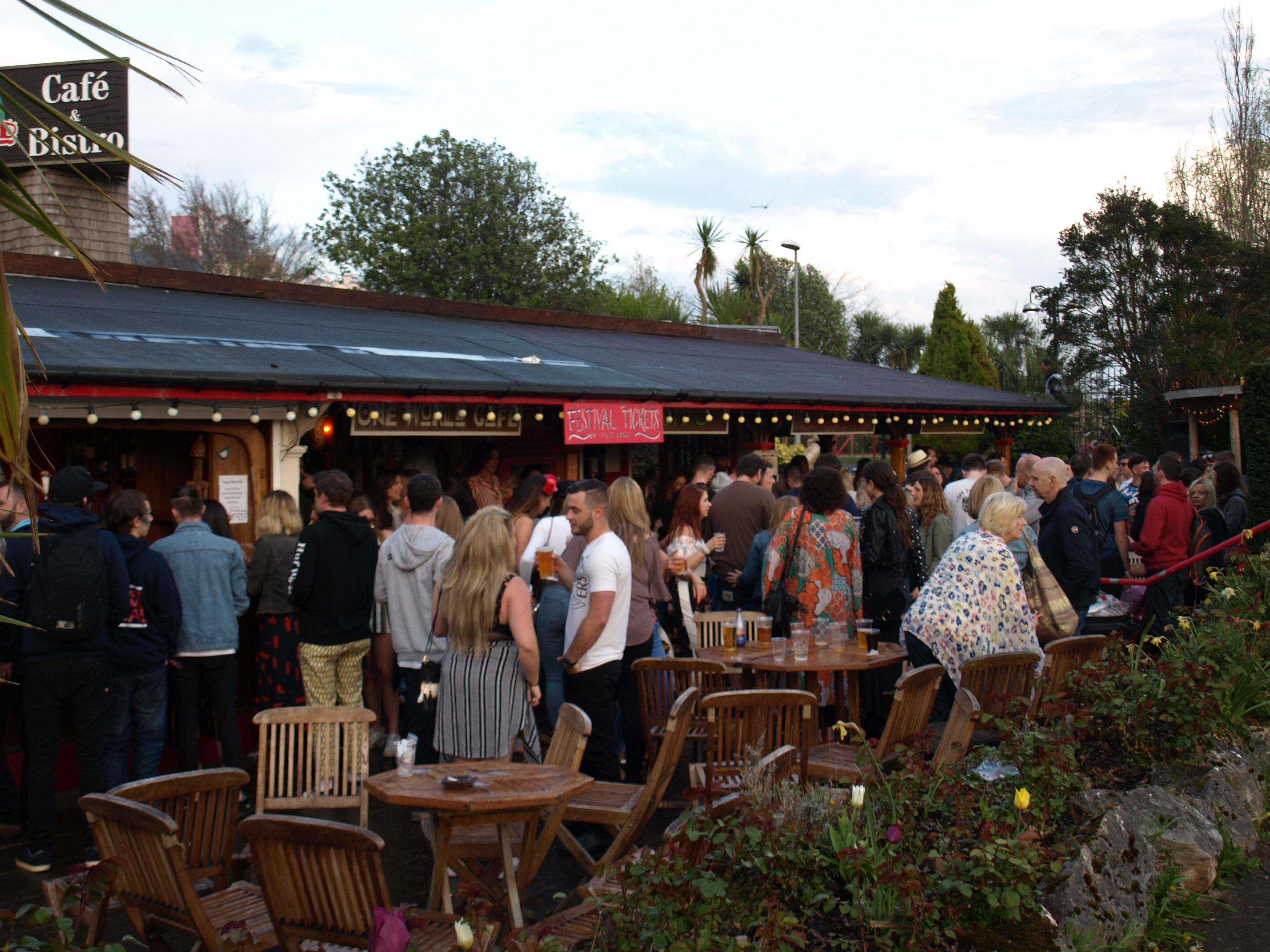 We spent most of Saturday evening within the outdoor festival site soaking up the atmosphere – a warm evening, sat outside with a beer, music and friends. It's been a long winter!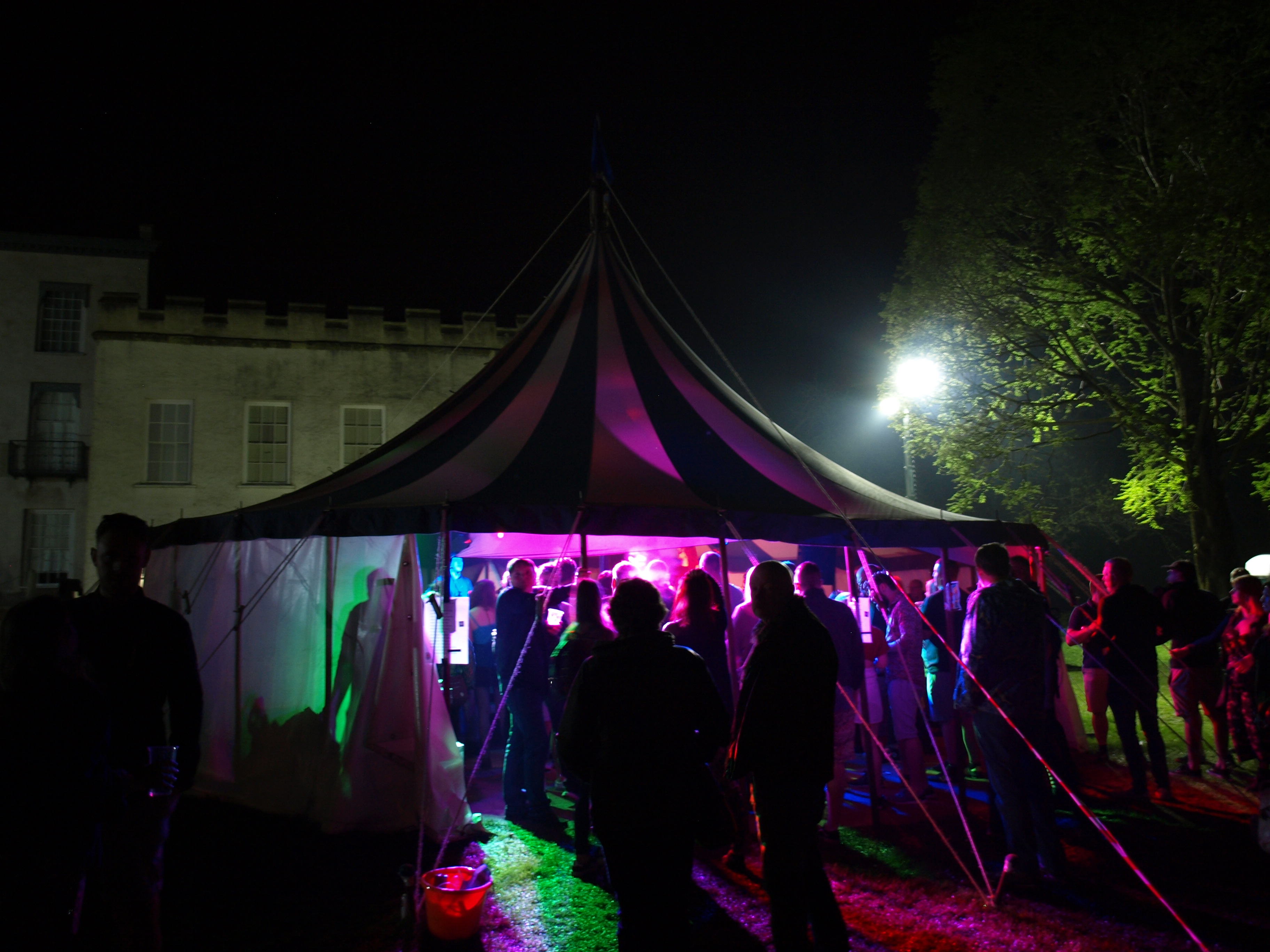 We did venture over to the Riviera International Centre, which was offering a larger stage for the festival, ready for Big Narstie – a performance, I was informed that should not be missed.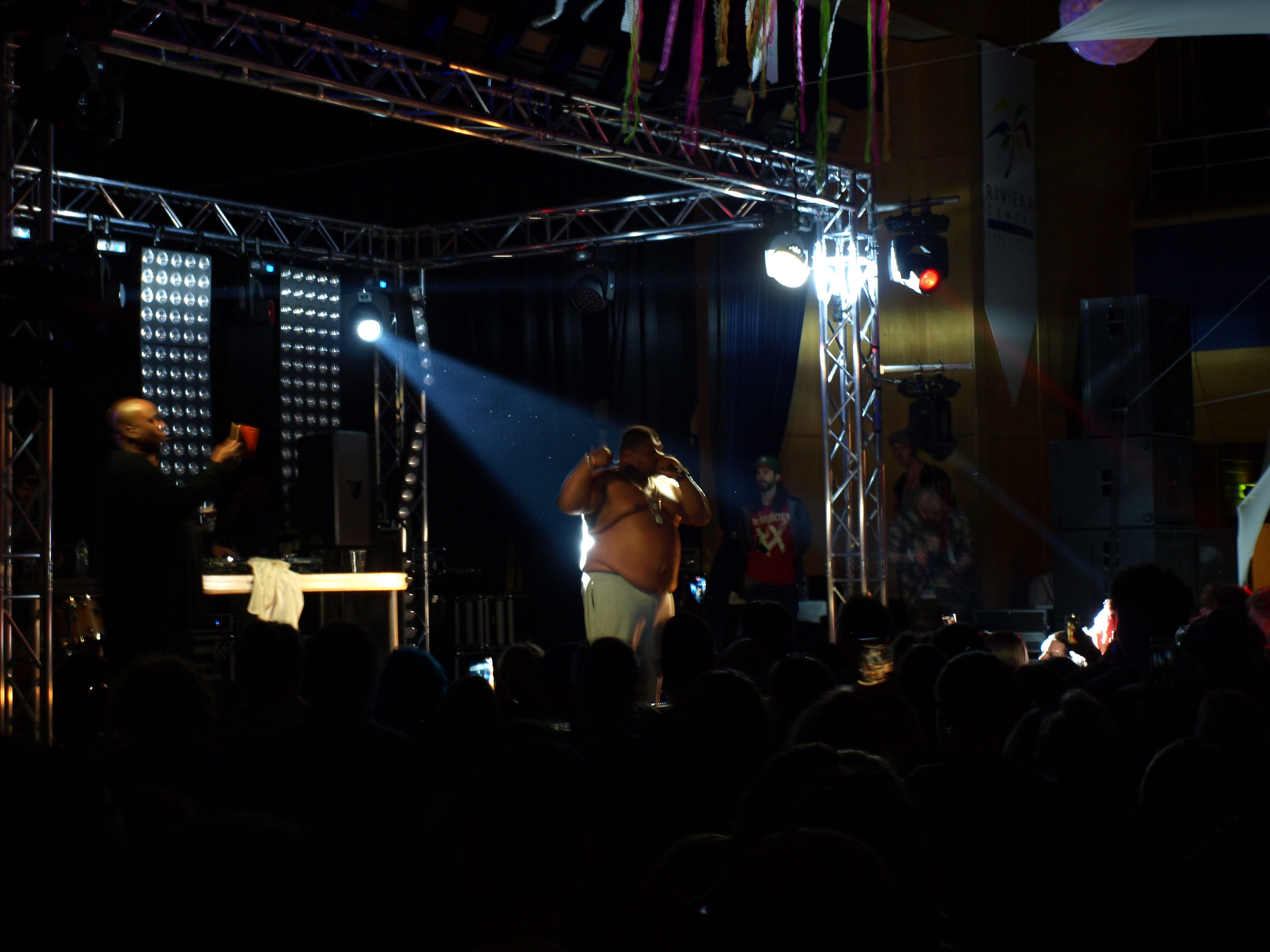 The crowd loved this guy, everyone was jumping and lapping up his words (which I will not repeat. It was rather fortunate that the kids were at home in bed).
So back to the children. What did they think? Well, the baby was calm, alert and happy people watching, dancing and having a nap in her buggy. We couldn't have asked for more. Our six-year-old hasn't stopped talking about it, reliving the weekend and eager to get to school to tell her friends.
A child who will happily sit at my desk and write 'articles' whilst I work, she is currently preparing her own review. Look out for it on our Facebook page later.
The location of Grinagog Festival is pure genius, it is helping to revitalise the spirit of Torre Abbey by engaging a younger audience with an iconic historical landmark of Torbay.
An electric mix of artists, with genres of music ranging from Reggae to Rock and Soul to Electro Swing – there was something for everyone.
Grinagog Festival offered plenty of pockets of fun to explore. Definitely worthy of a festival title. Great festival, great venue.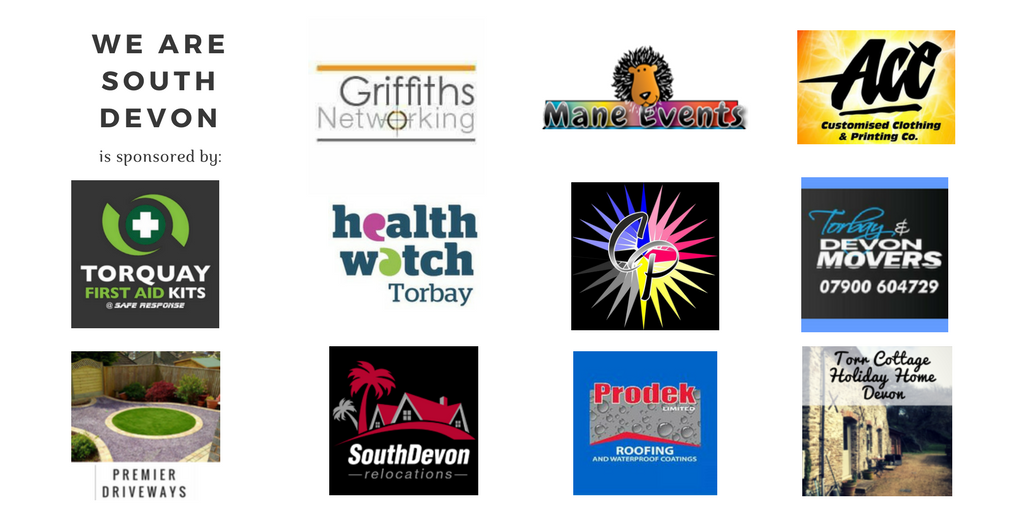 You can join us on our social media pages, follow us on Facebook or Twitter and keep up to date with whats going on in South Devon.
Got a news story, blog or press release that you'd like to share or want to advertise with us? Contact us