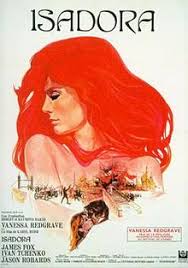 Here at WASD we like movies that are made in the Bay. And we especially like movies that are based on real local incidents and characters. This time it's Isadora (also known as The Loves of Isadora), a 1968 biographical film which tells the story of celebrated American dancer Isadora Duncan. It stars Vanessa Redgrave, along with Jason Robards appearing as Oldway owner Paris Singer.
Isadora was nominated for the Academy award for Best Actress (Vanessa) and was also up for the Palme d'Or at the 1969 Cannes Film Festival where it won for Best Actress. Here's the trailer:
The movie tells the story of Isadora Duncan (pictured below), a legend as the innovator of modern dance, a temperamental bohemian, and an advocate of free love.
It's when she was living in Berlin that Isadora met Gordon Craig, a young stage designer. After bearing the already-married Craig a daughter, Isadora moved to Paris where she quickly made her mark in the Parisian salons which were frequented by the finest composers and writers. One of these elite meeting opportunities was offered by the Prince and Princesse de Polignac. The maiden name of the Princesse was Winnaretta Singer who lends her name to the Winnaretta Room at Oldway. Winnaretta was a lesbian whose 'Lavender Marriage' of convenience to the gay Prince we've discussed on WASD before – both are buried in the Singer vault up at Torquay Cemetery.
When the Prince died in August 1901 Isadora had her first brief meeting with the Princesse's brother. This was Paris Eugene Singer (1867-1932), the wealthy heir to the Singer sewing machine empire. Named after the city where he was born, Paris Eugene Singer was patriarch Isaac Singer's third son and (probably) his 23rd child.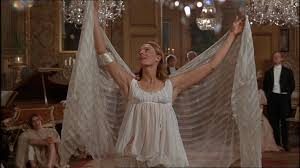 Vanessa Redgrave as Isadora Duncan
Isadora had long been searching for financial support for her Berlin dancing school, and often joked about finding a millionaire sponsor. She wrote, ''He entered, tall and blond, curling hair and beard. My first thought was: Lohengrin. I realized that this was my millionaire, for whom I had sent my brain waves seeking." Paris later appeared at Isadora's dressing room with the words, "I have come to help you. What can I do?" With Paris' marriage failing they embarked on an affair and he gave Isadora jewels, yachts, a magnificent chateau in which she could launch another school, and in 1909 a second child.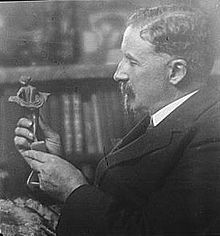 Paris Singer
In 1910 Paris and Isadora spent their time at Oldway. This was the magnificent family home. When Paris was two, the Singer family had fled to England to escape the Franco-Prussian War and had purchased Fernham estate in Paignton. Here in May 1873 the family laid the foundation stone of a new 115-room residence to be named Oldway. As Oldway's interior was near completion, Isaac died on 23 July 1875, leaving a fortune of around $13,000,000. Paris later bought out his brother Washington Singer's interests in Oldway and remodelled the Mansion on the Palace of Versailles.
In 1912 Singer bought Isadora a property overlooking the Seine. This was the scene of the greatest tragedy of Isadora's life. On 19 April 1913 the couple met for lunch in Paris. Later, as the chauffeur was driving the two children home with their governess, the car plunged over a bank into the Seine – all the occupants were drowned.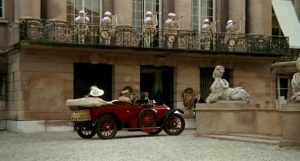 Filming of Isadora at Oldway Mansion
In 1917 Paris and Isadora's relationship came to an end. Paris offered to buy Isadora Madison Square Garden. "What do you think I am, a circus?" she replied. "I suppose you want me to advertise prize-fights with my dancing!" Paris walked away, his relationship over. Paris then divorced his wife in 1918 and married Joan Balsh, senior nurse of the military hospital at Oldway. He took American citizenship for tax reasons and developed property around Florida – where there is still a Paris Singer Island.
The same week that Isadora broke up with Paris, the Russian Revolution began. That night she "danced with a terrible fierce joy." Sympathetic to the Revolution, she moved to Moscow where she married the volatile poet Sergei Essenin. Following the disintegration of that marriage, in 1925 she returned to France, where she began writing her memoirs while still receiving anonymous financial support from Paris Singer.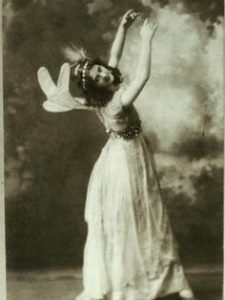 Isadora Duncan died in Nice on 14 September 1927 when her scarf caught in the wheels of a moving car. Her ashes were placed in Père Lachaise cemetery in Paris, following a funeral attended by thousands.
Here's the full movie of Isadora:
You can join us on our social media pages, follow us on Facebook or Twitter and keep up to date with whats going on in South Devon.
Got a news story, blog or press release that you'd like to share or want to advertise with us? Contact us