A little under 10 months a go I wrote an article about the state of Torquay's apparent coffee shop over saturation, the article went viral. It was shared over 550 times and was viewed over 150,000 times. Of course this sparked a flurry of comments from both sides of the argument, bringing in business owners to the conversation and angry locals.
Here is the previous article incase you didn't see it: Previous Coffee Shop Article
Today, 10 months later we review the towns coffee shop drama with our latest instalment. The reason behind this article is, we are about to see another coffee shop open it's doors and surprise surprise, it's the usual suspects. It is now the third store the company has opened in the town.
Say hello to your newest coffee shop, Costa Coffee. Below is a picture of the Newly built, award winning Torre Abbey, Palm Court building. The £12M Torre Abbey sands complex is the location of the new coffee house.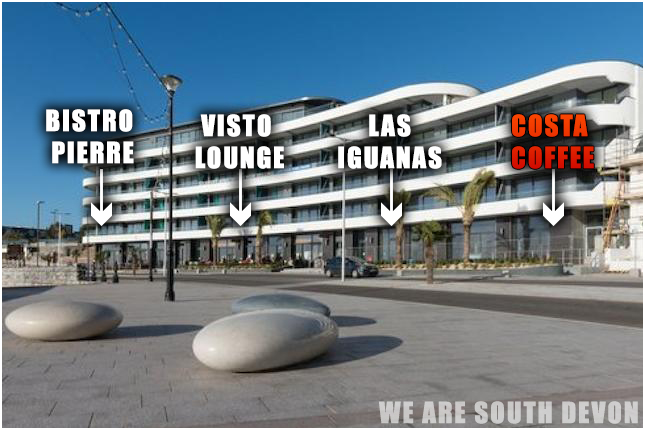 The New Costa Coffee opens in a few weeks and the shop fitting process is due to start in the coming weeks. Oversaturated or not I believe this isn't a problem for Torquay, there are far more important issues in this town like the evident lack of attention on the town centre.
For example, the town is at it's most promising stage since 2007, some might say it's at it's peak. This is surprising, but is fact, with new places like the Palm Court building breathing a new lease of life to town, we have to be hopeful and open minded.
If Costa didn't open, we wouldn't be looking at another 10 jobs and a new portion of rates (business income) for this countries coffers.
The big problems this town needs to address should be on the cards first, like the evident homeless problem, the parking issues and the state of the empty units in the high street.
It is reported that the huge international coffee chain Starbucks is opening at the Riviera International Conference Centre in Torquay.
There are some simple ways of getting around these issues and now is the time to stand up and make a change. If you really want to see an improvement in this amazing town, follow the page below, join in the campaign and help to create a community inspiring change.
If you have any questions, please don't hesitate to ask us. Leave us a message, join in the discussion and don't forget we are on Facebook and twitter!