Seven year old Katie Burke has designed a flavour of Italian ice cream (gelato) to be made and sold at Antonio's in the Strand, Exmouth to raise money to save lives at sea. Katie was announced the winner on 23 March at the café with all five finalists and their parents present.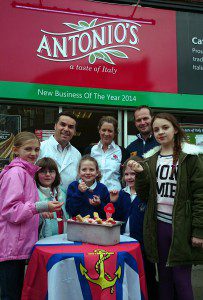 This is the second year running that Antonio's have asked local school children to design a special flavour to help raise money for the lifesaving charity. This year the competition was open to Exeter Road Community Primary School and The Beacon Church of England Primary School pupils. The competition attracted around 120 entries, which cover the wall of the café in The Strand, Exmouth.
'Katie's Strawberry Shortcake' was short-listed with four other entries and was chosen as the winner by owner, Tony Badcott. Tony explains;
'I chose Katie's flavour as it uses two classic flavours: strawberry and shortcake. It's a really simple, imaginative flavour which will ultimately raise a lot of money for Exmouth RNLI. Last year's winner, 'Darcy's Doughnut Delight' helped raise £350 and was consistently in our top five popular flavours throughout the year.'
The new flavour will be on sale from the beginning of the Easter holidays and will be available all year. The Beacon pupil, Katie will be awarded a 5 litre tub of her design to enjoy with her family. The four other finalists will also be treated to gelato prizes.