South Devon babies and children now have access to a much improved hearing test system thanks to a generous donation of £6,450 from the Torbay Hospital League of Friends.
The donation has enabled South Devon Healthcare NHS Foundation Trust, which runs Torbay Hospital, to buy four new visual response audiometry (VRA) cabinets. VRA cabinets work on a reward system – these newer models with multiple rewards mean the test results are likely to be more accurate and successful, which is particularly important when it comes to fitting hearing aids for those with a permanent childhood hearing impairment.
The VRA cabinets can be described as a tower of three separate compartments each containing soft toys or animated toys such as a bus or fire engine.  One cabinet is positioned either side of where the child sits for the test. This gives a total of six different toys, all of which remain unseen in the darkened cabinet until the child hears a sound, turns in the direction of that sound and is rewarded with a cabinet lighting up and displaying a toy.
Before these new cabinets were bought by the League of Friends, the Trust used single VRA cabinets but an improved system was needed, especially for children who use hearing aids and attend regularly as they would tire of repeatedly seeing the same toy.
Infants with permanent hearing loss will attend every three months for a hearing assessment and hearing aid update, and so they learn very quickly what to expect to see in the cabinets, which can lead to fatigue during the test.  The new cabinets have a wide variety of toys so that the session can be prolonged and enable much more accurate information to be obtained at each test.
Head of Audiology at Torbay Hospital, Claire Rockett, said:  "Having four of these new cabinets will really help us to cope with the number of referrals into our children's hearing service.  Already both patients and staff are enjoying the new system; we are so grateful to our wonderful League of Friends for making this possible.  We can also continue to use the existing single VRA cabinets for the more routine hearing tests."
David Rogers, Chairman of the League of Friends said: "We are delighted to have been able to provide funds for this equipment.  We know it will be an immense help in diagnosing early hearing problems in our children."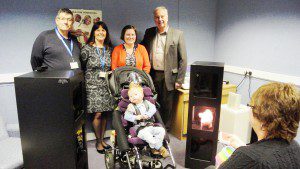 This is the second piece of good news for Torbay Hospital's Audiology Department in recent months.  In November, the Trust announced that the department was the first service in the South West to receive the internationally recognised UKAS (United Kingdom Accreditation Service) accreditation; a standard of assurance that the service given is compliant with the latest international standards of practice.