A seal at Living Coasts has received crucial medical treatment from South Devon veterinary experts.
South American fur seal Grace was first given slow-release implants in 2011 to control her immune system, which causes problems with her eyes. These implants were replaced in September 2014 – and now she has had the procedure again.
The implants, under each eyelid, help dampen down her immune system, which is thought to cause white patches on both eyes. The procedure was carried out at Living Coasts' sister zoo, Paignton Zoo, which has full veterinary facilities, including operating theatres..
She was checked and anaesthetised by zoo vet Christa van Wessem and vet nurses Celine Campana and Kelly Elford. The eye examination and implant placement was carried out by specialist veterinary ophthalmologist Jim Carter and his resident, Goran Kosec, from South Devon Referrals, based at Abbotskerswell Veterinary Centre. Living Coasts keeper Libor Mach was also present.
The old implants – tiny pieces of plastic impregnated with hormones – were removed and replaced with fresh ones. The wounds were sutured using thread 0.05mm in diameter, as fine as a human hair. All the instruments were standard ophthalmic instruments used in human surgical cases.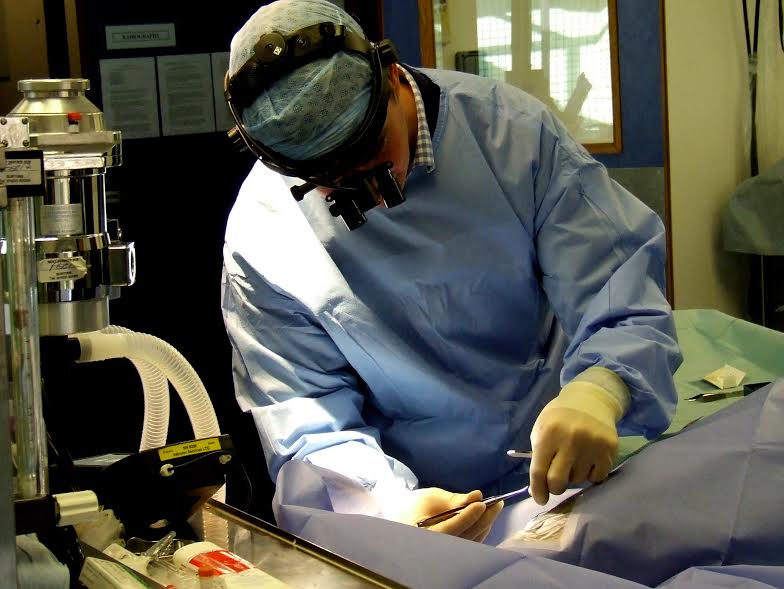 Living Coasts Operations Manager Clare Rugg said: "We knew that the implants would run out in about three years. The operation was very quick – Jim simply replaced the old implants with fresh ones. But if he hadn't done the work, Grace's condition would have deteriorated again. The whole procedure went well. She ate as soon as she was back at Living Coasts. The next day Grace was clearly a little uncomfortable but eating well and taking her medication."
Vets used the opportunity to carry out a full health check and take blood samples, doing as much as they could without extending the length of the anaesthesia too much.
A seal under general anaesthetic needs careful monitoring: they can be prone to hyperthermia, they are very sensitive to small changes in anaesthetic gas and their natural dive response – evolved to cope with deep dives in cold waters – can cause their breathing and heart rate to slow dramatically and their blood circulation to reduce.
Grace is a fourteen-year-old South American fur seal and weighs 44 kilos. She has been at Torquay's coastal zoo for twelve years. She developed a corneal ulcer in her right eye when she was a pup at Bristol Zoo and this left a scar. The vet team performed an examination of this scar tissue in 2008 and placed the first implants in 2011. Living Coasts is a registered charity. For more information ring (01803) 202470 or go to www.livingcoasts.org.uk.
You can join us on our social media pages, follow us on Facebook or Twitter and keep up to date with whats going on in South Devon. Got a news story, blog or press release that you'd like to share? Contact us