All eager concertgoers, such as myself, would have been eagerly awaiting this. MTV Crashes Plymouth has returned! Though there seems to be fewer acts performing this year compared to last year, we don't know if more are due to be announced. Either way the lineup looks pretty sensational.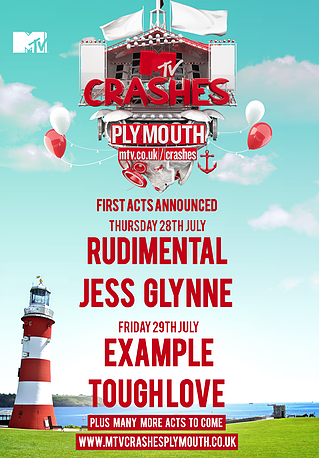 Day one takes places on the 28th July kicks off with performances from Jess Glynne and Rudimental. Jess Glynne was scheduled to perform last year but was 'heartbroken' to cancel due to damaging her vocal chords, forcing her to undergo vocal surgery, meaning she couldn't talk for three weeks. Therefore it is a welcome announcement she will be singing on the Hoe this July- even if it is a year overdue! Rudimental will surely blow all of us South Devonians away as they are decorated with a Brit Award, number one singles and a number one album, being nominated as the BBC's festival band of the Summer and a MOBO award for Best Album.
The following day we have yet more live, chart-topping music! Day two's acts that are confirmed are as follows- Example, Tough Love, Afrojack and Sub focus. Example also has enjoyed great success with number one singles and albums and the Kickstarts singer tweeted his excitement at playing the venue saying "I can't wait to be to be performing in front of a massive crowd and looking over the sea!", going on to say: "I was there in 2014 and it was an incredible line up and I had an amazing time and I'm really excited to do it all over again!".
Tough Love were described by Annie Mac of BBC Radio 1 as "one of the production teams we're excited for in 2015" and BBC Radio 1's Danny Howard as a duo 'you need to look out for'- they achieved two top 40 hits in 2015 and will keep the crowds going late into the night.
One of the two later announcements, Afrojack, has worked with Snoop Dogg, Chris Brown and Sting, showing they have a diverse talent which will thrill everyone and anyone who attends. Finally, there's Sub Focus, who has the daunting task of getting the crowd warmed up and the party in swing- though he doesn't seem too fazed as he has stated "I'm really looking forward to playing MTV Crashes in Plymouth. It's a fantastic show with a great line up and I hear you can't beat the crowds on Plymouth Hoe!"- clearly he is in his element due to his explosive remixes and performances at Reading and Glastonbury festivals.
So you don't miss out on the night of the Summer in South Devon book your tickets fast by the official website- don't let yourself be disappointed!