There's been a royal birth at Paignton Zoo.
The king colobus monkey was born on Saturday 7th March to father Martin and mother Ivy. A single youngster is born after a gestation of around 180 days (6 months). Pure white at birth, it develops black markings at one month.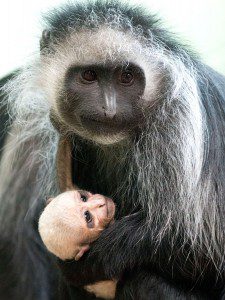 The new arrival is important, as there are only six collections in Europe holding king colobus. The species is listed by the IUCN as Vulnerable. It is threatened by habitat destruction and hunting for food. There is a European zoos' Endangered species Programme (EEP). Paignton Zoo Environmental Park is a registered charity. For more information go to www.paigntonzoo.org.uk or ring 0844 474 2222.