Patients across Torbay and South Devon took part in a Worldwide Afternoon Tea event last week when they were treated to tea and cakes to celebrate Nutrition and Hydration Week 2015.
Staff at Torbay Hospital and many of the community hospitals dug out their best china cups, saucers and cake stands and decorated the ward day rooms with bunting and balloons.  Extra volunteers came in on the day to help out with serving the treats to patients and their visitors.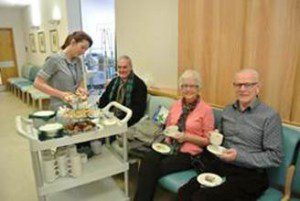 Nutrition and Hydration Week, which ran from 16 to 22 March this year, is an annual event run jointly by Patient Safety First, the Hospital Caterers Association and the National Association of Care Catering.  The aim is to raise awareness of the fact that food and fluids are just as important as medication for some patients and to try and encourage malnourished people to eat well.
Jacquie Phare, Interim Director of Nursing and Professional Practice for Torbay and Southern Devon Health and Care Trust, said:  "Approximately one in three people* who are admitted to UK hospitals and care homes are found on arrival to be malnourished or at risk of malnourishment. 
"Providing appetising and nutritious food and fluid must be an absolute priority for all patients every day, and all patients should look forward to meal times. We should never underestimate the impact nutrition and hydration has on patient treatment, well-being and recovery."
Jane Viner, Director of Professional Practice, Nursing and People's Experience at Torbay Hospital, added:  "We run a Mealtime Companions scheme at Torbay Hospital and we've found that having someone to sit and chat to makes eating a much more pleasant and social experience for many patients.  Also offering them something appealing to the taste buds is often a good kick-start to regaining their appetite."
As part of the Nutrition and Hydration Week, health professionals from both trusts worked closely with home care agency Bluebird Care to develop a hydration leaflet, which is being distributed by Bluebird Care staff on their home visits and also by District Nurses across the community.
Focussing on the hydration message, Alexander Allan, Director of Bluebird Care said:  "We were delighted to be able to sponsor the production of this leaflet.  Water is well known for its revitalising properties and the medical evidence for good hydration shows that it can help prevent and treat many conditions including dizziness and confusion which can lead to further problems such as falls, and ultimately admission into hospital.
"As a community we need to understand the increased vulnerability of older people to dehydration.  Our message is 'Stay hydrated, stay at home, not hospital' a simple message but one with a disproportionate impact."