Newly-hatched African penguin chicks at Living Coasts are being named after stars and constellations.
Staff at Torquay's coastal zoo and aquarium are using the pattern of spots on the belly of a young penguin – unique to each bird – to help find names.
Keeper Chris Dunn: "The idea is to take photos of the young birds' spot patterns and compare them to star constellations. It's not always easy to find good matches, however one chick has a row of four spots that matches the basic pattern of the constellation Aries. Conveniently, that's quite a nice name for a penguin, too!"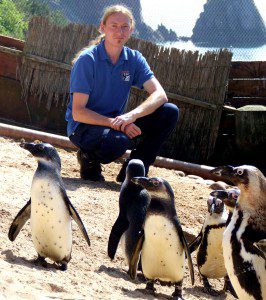 The charity is now launching a citizen science project and inviting people to help. Chris again: "I think people on Facebook and Twitter will have a greater knowledge of constellations and astronomy than we do. So it's a bit of a citizen science challenge – we'll take the photos and they can suggest constellations. It could go global on social media!"
Staff expect up to 20 African chicks to hatch in a typical year. For more information go to www.livingcoasts.org.uk or ring 0844 474 3366.