Police in Torquay are appealing for information following a series of arsons involving vehicles.
The series involves four incidents where vehicles were either destroyed or badly damaged by fire between Sunday 17th May and Monday 25th May.
The first occurred on Sunday 17th May, sometime between midnight and 12.50am in St Vincents Road, Torquay when a Caravan was set alight and destroyed. Two parked vehicles were also damaged as a result.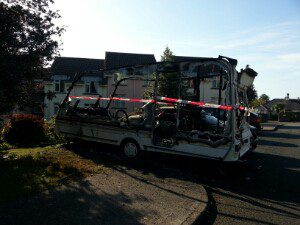 The following day, Monday 18th May, there were further vehicles destroyed after being deliberately set alight:
At around 2.15am, a Kia Sedona vehicle parked in Halsteads Road, Torquay was also badly damaged after being set alight
Shortly after, between 2.50am and 3.05am, a Ford Transit vehicle parked in Moor Lane Close, Torquay was destroyed and a silver Hatchback parked next to it was also damaged.
Finally, sometime between 1.50am and 3.00am on Monday 25th May, a Chrysler Voyager vehicle parked on a driveway in Salisbury Avenue, Torquay was set alight which caused substantial damage to it.
Police are becoming concerned regarding this series of arsons and are appealing for witnesses or anyone who has any information regarding the incidents to come forward.
Anyone with information is asked to contact police on 101@devonandcornwall.pnn.police.uk quoting police reference CR/034278/15 or alternatively call Crimestoppers anonymously on 0800 555111 or report online at www.Crimestoppers-uk.org
Keep up to date about what's happening around South Devon,
join us on facebook.
[do_widget "Facebook like box (jetpack)"]