Teignmouth's RNLI Atlantic 85 class lifeboat The Two Annes and Exmouth RNLI Shannon class lifeboat R and J Welburn both received a request to launch on the evening of Tuesday, 28 June to help two men in difficulty aboard a 28ft yacht.
 
The Coastguard request for Teignmouth RNLI was received at 7.14pm and the volunteer crew launched at 7.29pm to help the men who were located six nautical miles east of Teignmouth in rough conditions.
 
The casualties were on their way to Plymouth and had checked the shore weather forecast, but not the sea forecast and encountered rougher conditions than envisaged. The two men had become tired and called for help in the 40 knot squalls.
 
Upon arrival, the Teignmouth crew assessed the situation and asked for support from Exmouth RNLI, who had already attended an incident 15 minutes earlier. HMS Echo was positioned in Babbacombe Bay and also responded, assisting The Two Annes by creating a lee during the tow to Teignmouth harbour. R and J Welburn launched at 7.40pm, arrived on scene within 15 mins and stood by for further assistance.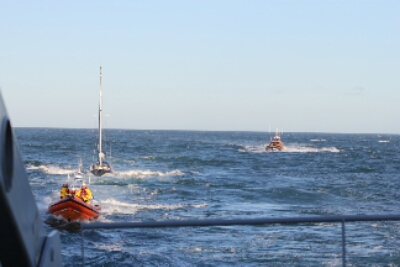 Exmouth Coxswain, Steve Hockings-Thompson said:
'We are tasked to assist as there was a possibility Teignmouth's Atlantic 85 class may not be able to tow the casualty into Teignmouth in these rough conditions. We were lucky that HMS Echo was in the area to assist the work of both our stations' volunteers.'
 
The casualties were taken to Teignmouth boathouse for after care and spent the evening aboard their yacht on the visitor's pontoon. Teignmouth lifeboat was refuelled and ready for service at 9.30pm, Exmouth's Shannon class lifeboat was ready for service at 10pm.