Torquay visitor Rudyard Kipling (1865-1936) was one of the Britain's most popular writers in the late 19th and early 20th centuries. In 1907, he was awarded the Nobel Prize for Literature, and is still its youngest recipient. Amongst others, he wrote 'The Jungle Book', 'Kim', 'The Man Who Would Be King', and many short stories and poems including 'Gunga Din' and 'If'.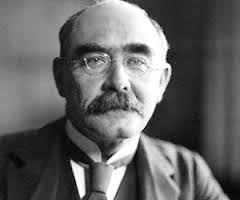 .
It was between 1896 and 1898 that Rudyard and his wife lived in Rock House in Maidencombe. Kipling wrote in his memoirs, 'Something of Myself', that when they first moved in, the house, "seemed almost too good to be true. It was large and bright, with big rooms each and all open to the sun, the grounds embellished with great trees and the warm land dipping southerly to the clean sea under the Marychurch cliffs".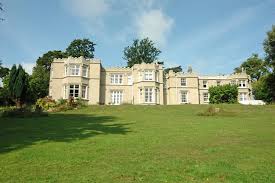 The Kiplings used a tandem they had brought back from America and, for several months, explored the area – one day they skidded, fell off and vowed never to ride again. Kipling, however, wasn't too impressed by Torquay's conservatism: "Torquay is such a place as I do desire to upset it by dancing through it with nothing on but my spectacles. Villas, clipped hedges and shaven lawns, fat old ladies with respirators and obese landaus."
It was at Rock House that the author began one of his most well-known poems 'The White Man's Burden'. This caused controversy when published as it was regarded by some as Empire-building propaganda – George Orwell called  Rudyard a, "prophet of British imperialism".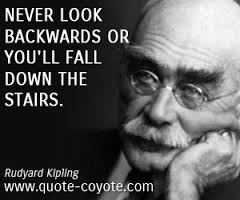 From The White Man's Burden:
"Take up the White Man's burden
Send forth the best ye breed
Go, bind your sons to exile
To serve your captives' need;
To wait, in heavy harness,
On fluttered folk and wild
Your new-caught sullen peoples,
Half devil and half child."
Soon after taking up residence at Rock House, the Kiplings began to complain about, "a gathering blackness of mind and sorrow of the heart" whenever they entered. At first they attributed it to the "soft" climate of Torquay. Then Rudyard decided that it was Rock House itself: "It was the Feng-shui – the Spirit of the house itself – that darkened the sunshine and fell upon us every time we entered, checking the very words on our lips."
The couple used the pretext of a faulty cistern to end the lease. They then left for Sussex where, in 1902, they bought Bateman's, a house which now belongs to the National Trust.
Rock House wasn't forgotten and featured in Rudyard's short story 'The House Surgeon' in 1909. The story is set in a house called Holmescroft, which – like the Torquay house – is a, "large, two storied, low creeper-covered residence", pleasant but for a "dumb Thing". As with Rock House, an overwhelming sense of gloom descended upon anyone who visited. The depression was found to be caused by the unquiet sprit of a woman who had fallen from an upstairs window. She died accidentally after tripping over a window sill, "which doesn't come much up above one's knees", yet haunts the house because her family believes that she committed suicide. Once her family accepts that the death was accidental, her spirit finds rest and the house becomes a happy one.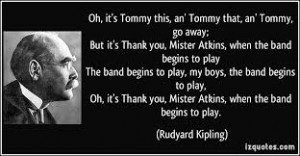 Yet, for Rudyard, Rock House remained uneasy. Thirty years later, he and his wife paid a visit, finding the house, "quite unchanged, the same brooding spirit of deep, deep Despondency within the open, lit rooms".
Returning to Rudyard's writing, in 1892 he wrote 'Barrack-Room Ballads', a series of songs and poems dealing with the late-Victorian British Army. The collection helped consolidate his early fame as a poet and contains some of his best-known work, including the poem 'Tommy':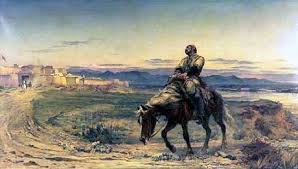 Written in 1895 another famous poem was 'The Young British Soldier' which described the conditions British forces faced while in Afghanistan in the 19th century. This was the second Anglo-Afghan War which began through fears that Russia would move dangerously close to India through Afghanistan. It resulted in 2,500 British deaths between 1878 and 1880 and has relevance even today:

…