Sky field engineers from across Devon converged on Paignton Zoo to make some hefty treats for the larger animals.
The team of 18 engineers from Plymouth, Tavistock and Torbay made environmental enrichment devices for different species, including big balls for the rhinos and big cats.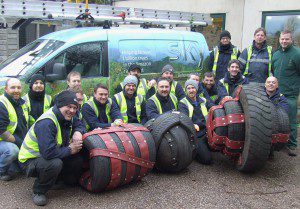 As you can imagine, any toy that a rhino is going to play with needs to be tough. A rhino ball is made out of car and tractor tyres bolted together. In this instance, they have metal brackets inside so they make a noise when rolled, making them even more interesting.
Paignton Zoo fundraiser Jenny Paton, who organised the day, said: "Sky staff are encouraged to take two days a year to volunteer with charities. They wanted to help a conservation project because it links so well with Sky's conservation ethos, which was perfect for us.
"One big advantage with the Sky field engineers is that they brought their own tools and came ready kitted out in their regular safety work wear including hard hats, steel toe capped boots and hi-vis jackets. They are also used to working outside.
"To make a rhino ball you first cut your tyre apart and then fix the bits firmly together using old fire hose and bolts. It's important to make sure that all the bolts are really tight and that there are no holes in which the animals can get stuck. We don't know, but this could be the only rhino ball in the UK."
Paignton Zoo's senior head keeper of mammals, Matthew Webb, explained: "Environmental enrichment aims to stimulate mental and physical activity and provoke curiosity. We take a scientific approach and it is very much evidence-based – we need to know that it works – but it can be a lot of fun at the same time!"
Enrichment in zoos can range from puzzle feeders and wind chimes to unusual scents and cardboard boxes with food hidden inside. Paignton Zoo has won awards for its enrichment work and hosted regional and international conferences on the subject.
Matthew again: "This is what we call a manipulative enrichment – it's something for animals to move about in any way they can."
Paignton Zoo Environmental Park is a registered charity. For more information go to www.paigntonzoo.org.uk or ring 0844 474 2222.