We've discussed before the legend of the Demon Hunter of Daddyhole Plain, and briefly mentioned his accompanying "two savage hounds with eyes of fire". These dogs were the local manifestation of the ancient and mythical Hellhounds.
These Hellhounds were described as large animals with glowing eyes, mangled fur "as black as coal", glowing red eyes, super strength and speed, and a foul odour of burning brimstone. Often with their master, the Devil, they hunt lost souls or guard supernatural treasure and seeing a hellhound or hearing it howl may be an omen or even a cause of death. Indeed, dogs have long been associated with death and are often the guardians of the underworld – the most famous hellhound being Cerberus from Greek mythology, the massive, three-headed black dog that guarded the entrance to Hades.
On the other hand, dogs could be allies. There's a tradition that when a new churchyard was opened the first person buried there had to guard it against the Devil. In order to prevent a human soul from having to perform this duty, a black dog was buried often alive in the north part of the churchyard as a substitute. This was the church's guardian spirit, called the Church Grim.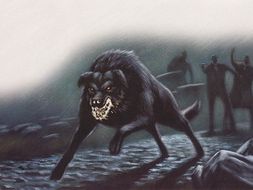 Hounds also appear in folklore as a part of the Wild Hunt, led by Herne the Hunter or the god Odin. Seeing the Wild Hunt was thought to presage some catastrophe such as war or plague, or at best the death of the one who witnessed it.
The hounds haunt lonely paces such as gallows sites, crossroads, and ancient pathways – such a link may be due to the scavenging habits of dogs. Accordingly, it shouldn't be a surprise that they turn up on a windswept plateau in the Torquay legend.
And they're a very old English tradition – the earliest record being in Walter Map's 'De Nugis Curialium' (1190) and the Welsh myths of 'The Four Branches of the Mabinogi' (tenth to the thirteenth century).
Since then these canine apparitions have acquired different names: Moddey Dhoo in the Isle of Man; Gwyllgi in Wales; Barghest in the north of England; and Black Shuck in the east of England. In Devon they are the Yeth Hounds, said by some to be the spirits of unbaptised children, where they ramble at night making wailing noises.
The various manifestations turn up in literature. For example, Charlotte Bronte in 'Jane Eyre' wrote in 1847: remembered certain of Bessie's tales, wherein figured a North-of-England spirit called a 'Gytrash,' which, in the form"I of horse, mule, or large dog, haunted solitary ways, and sometimes came upon belated travellers… I heard a rush under the hedge, and close down by the hazel stems glided a great dog, whose black and white colour made him a distinct object against the trees. It was exactly one form of Bessie's Gytrash – a lion-like creature with long hair and a huge head with strange pretercanine eyes…"
Dartmoor is one of the last places in the county to still retain a memory of a demonic pack. These are the Wisht Hounds, led by the Black Huntsman himself, known as Dewer – note the similarities to the Daddayhole story.
In 'A hand-book for travellers in Devon and Cornwall' (1851) it's recorded, "On stormy winter nights the peasant has heard the whist hounds sweeping through the rocky valley, with cry of dogs, winding of horns and hoofs thick – beating on the hollow hill."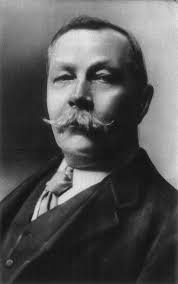 Of course, the most famous evil hound of them all features in a book by Arthur Conan Doyle.
In March of 1901 Doyle holidayed in Norfolk with his friend Bertram Fletcher Robinson (pictured). Bertram was a sportsman, journalist, author and Liberal Unionist Party campaigner. Between 1893 and 1907, he wrote nearly three hundred items, including a series of short stories that feature a detective called Addington Peace. However, Robinson is perhaps best remembered for his literary collaborations with his friends Doyle and PG Wodehouse. Pictured is Bertram's grave at St. Andrew's Church in Ipplepen.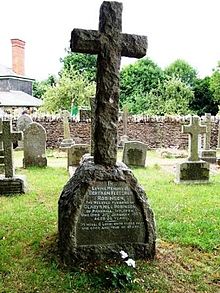 While the men played golf, Robinson told Doyle about growing up in Devon and the local legends. Doyle was particularly interested in the tales of the ghostly hounds of Dartmoor.
Would Conan Doyle have been aware of the Daddyhole hounds? As a visitor to the Bay with a fascination for the occult, it's certainly possible. He also lectured on his interest in Spiritualism at Torquay Town Hall where he complained that the bells of Upton Church were being rung to deliberately disrupt his speech.
Conan Doyle realised that a spectral hound would make a good focus for a novel and he already had an ideal central character in Sherlock Holmes. Though the detective had already died in a previous book, he decided not to bring Holmes back to life, but wrote a novel that takes place in an earlier time period, before the incident at Reichenbach Falls.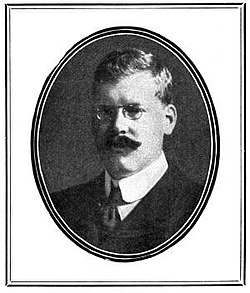 Later that month Bertram (pictured above) took Conan Doyle on a tour of Dartmoor. They visited Brook Manor, Grimspound, Childe's Tomb and Fox Tor Mires.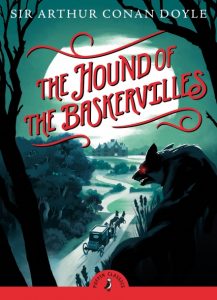 Incidentally, the driver employed by Robinson was called Harry Baskerville. In November 1894, Henry 'Harry' Baskerville and Alice Perring had been married at the Wesley Church in Torquay. Robinson later gave Baskerville a copy of 'The Hound of the Baskervilles' that was inscribed, "To Harry Baskerville, with apologies for using the name."
The Hound of the Baskervilles has never been out of print since, and rarely off the film and TV screen, since its first serialised publication in 1901-2 in 'The Strand Magazine'. Consequently, that Torquay driver's name is now known throughout the world.
You can join us on our social media pages, follow us on Facebook or Twitter and keep up to date with whats going on in South Devon.
Got a news story, blog or press release that you'd like to share or want to advertise with us? Contact us