Torquay has its Green Ginger; Paignton has the Talk of the Town and the Isaac Merritt, Brixham has the Vigilance. A bit further afield, Newton Abbot has the Richard Hopkins while Teignmouth has the Jolie Brise.
They are all, of course, Wetherpoons, or 'Spoons, and they're big business, very big business. For instance, last year across the UK Wetherspoon's sold: 16 million Full English Breakfasts; 50 million coffees; 4.5 million curries; and 100 million pints of lager. Remarkably, Wetherspoon's pays 0.1%, or 1/1,000th%, of the UK's total tax revenue.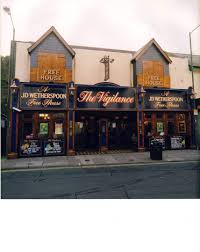 JD Wetherspoon PLC was founded in 1979 by 6ft 6ins, mullet-sporting, Tim Martin and now owns just under 1,000 outlets, including the chain of Lloyds No.1 bars and 34 Wetherspoon hotels. You'll even see Wetherspoon bars in the passenger terminals of many UK airports.
Tim Martin – who now estimates his own wealth at around £350m – opened his first pub in 1979 in north London, taking the name J D Wetherspoon from two early influences. The JD comes from JD 'Boss' Hogg in the American TV series The Dukes of Hazzard while the Wetherspoon originates from one of Martin's teachers: "I decided to call it Wetherspoon's after a former teacher – not because the teacher in question at my primary school in New Zealand had said I would never make it, as some people think, but because he was too nice a fellow to be running our particular class and he couldn't control it. So I thought: I can't control the pub, he couldn't control the class, so I'll name it after him."
The inspiration for the pubs layout and manufactured ambience came from George Orwell's ideal of what a pub should be. Writing in London's Evening Standard in 1946, Orwell believed that beer was not the most important quality of a great pub, but "what people call its 'atmosphere'." Orwell called for his pub to have architecture and fittings which were "uncompromisingly Victorian" and not be what he called "modern miseries." Orwell's fictional pub, Moon Under Water, would always be "quiet enough to talk" and not have "a radio, nor a piano". The Wetherspoons chain is accordingly known for not having any music, having space between the tables, and, crucially, cheap drinks. Orwell's vision was such a significant influence, Wetherspoon's came to own 14 pubs called Moon Under Water.
The Wetherspoon's pubs are often situated right at the centre of a community as many are conversions of existing much older buildings that have lost their usefulness, including theatres, cinemas, opera houses, banks, post offices, swimming pools and – more controversially – churches. Many Wetherspoon properties are accordingly in listed buildings, arguably preventing decay and eventual demolition.
Drawing on its location, building and name, each Wetherspoon has a unique carpet, produced by Axminster Carpets. They have more than the usual six colours, and so have to be handmade on old fashioned looms, costing up to £30,000 – twice as much as stock designs. There's even a website dedicated to its carpets and a book by author Kit Caless.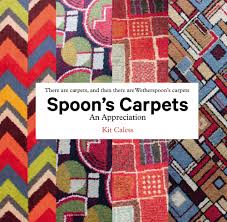 We're now all familiar with its weekly food promotions such as the Curry Club on Thursday. Indeed, Wetherspoon's claims to be "the only large pub firm which opens all its pubs early in the morning", serving breakfast and coffee. The full food menu is available well into the late evening. Wetherspoons hosts two Ale Festivals in March/April and October each year, when a larger range of guest ales is available, along with a Cider Festival in the summer.
Within the industry, Tim Martin is seen as an innovator. It was Wetherspoons which pioneered non-smoking areas in pubs a year before the smoking ban was introduced in the UK by the 2006 Health Act. Not all experiments succeeded, though. In 1998, Wetherspoon's introduced the oversized pint glass to promote the 'full pint'. This initiative was soon withdrawn, officially because customers still asked for top-ups. Others have suggested it was because rival pub chains didn't follow its example.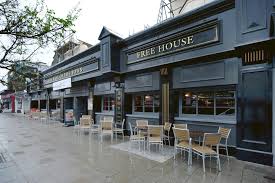 As is often the case in Torbay, the Agatha Christie industry enters our narrative. It was announced in November 2009 that a new Wetherspoon's was planning its opening in the former Bar Med in Torquay's Wintergarden, so creating 40 jobs after a £600,000 refit.
It was planned to name the pub the Agatha Christie until the company controlling Dame Agatha's estate became aware. Wetherspoons further intended to theme the pub, using photographs and literary history about the celebrated Torquay author. However, Agatha Christie Limited raised objections and the idea was dropped. Eddie Gershon, for Wetherspoons, said: "We have named numerous pubs after famous people around the UK for many years. We have named them after well known people without having to get permission. If Agatha Christie Ltd were happy for the pub to be called the Agatha Christie because of her associations with the resort we would have been proud to use it, but we won't pay for the privilege."
Torbay's tourism project manager Carolyn Custerson warned at the time that inappropriate use of the 'brand' could jeopardise plans to develop the Bay's Christie links, including a yearly festival and an official Agatha Christie Centre. Carolyn said her main reservation with the naming of the pub was that Dame Agatha did not drink alcohol.
The fall-back name comes from the pub's location. The Wintergardens site was originally Abbey Place, a parade of businesses and hotels. One of these businesses was the grocer Slade and Sons, established in 1837. In 1846 an advert in the Torquay Directory announced to "The Nobility, Gentry and Public" that Stiven's & Co had appointed, "Mr JJ Slade as sole agent for their Green Ginger Wine … a most delicious, safe and cooling beverage in spring water, superior to any mixture yet introduced". Hence, apparently, our new Wetherspoon became the Green Ginger.
Of course, Torquay once had more than one Wetherspoon's – alongside the Green Ginger there was the London. Then came a process of restructuring as the company pulled back. At one time Tim Martin believed that Britain could sustain 1,500 Wetherspoon's. Now he thinks the figure is more likely 1,000-1,200. During the early 1990s, Wetherspoons had a policy of routinely closing its smaller or less profitable outlets, often replacing them with larger nearby premises. But in 2016 it began to sell 45 of its establishments across the country. There are now around 100 ex-Wetherspoon pubs, the London being one of those casualties. Accordingly in February 2017 the London Inn became a Yates. It was launched with, "a VIP weekend featuring Celebrity Big Brother's Calum Best." As the brilliant Peter Cook was born in Torquay, it's good to see that we retain our love of satire.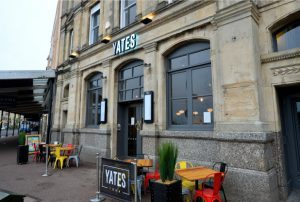 As a bit of Torquay trivia, the Strand was the original site for inns before Torquay began to explode its population and drinking venues in around 1800. One of the earliest was the Bird in the Hand which became the London Inn and then Wolfinden's London Inn in 1840, and eventually the Royal Hotel. On around the same site as the original London Inn, we had the Wetherspoons London. It's now just Yates'. Our pubs change and evolve as does the town.
It's now not long to Wetherspoon's 40th birthday. While pubs around the country are closing at a rate of 30 per week, the brand is still going strong having consolidated its position in the Bay. Yet, some won't drink in Wetherspoons due to Tim Martin's politics, knowing that Wetherspoon's profits are used to further his campaigns – as one of the most prominent voices backing Brexit he gave £200,000 to Vote Leave.
There was also criticism in 2013 when it was revealed that close to 80% of the company's employees were minimum wage and zero-hour contracts. Tim Martin defended this practice, saying Wetherspoon's staff on zero-hours contracts were still able to claim holiday pay, sick pay and maternity pay, as well as being able to claim free shares and bonuses. We'll probably leave it to Wetherspoon's past and current staff members to tell us what they really feel about their jobs…
Operating on paper-thin margins and with a high turnover of staff, Wetherspoon's comes in for a lot of criticism. Some of us see them as pub lite, soulless, cavernous town-centre drinking pits, the McDonalds or Tesco of the pub world, the haunt of older gentlemen eager to tell you where Britain went wrong and the spring board for young binge drinkers. Much hostility is also focussed on the purchasing power of Wetherspoons which undercuts the traditional pub, drives Bay hostelries out of business, so reducing choice.
On the other hand, perhaps those Bay pubs that serve the same expensive drinks week after week, and which employ surly staff, may not deserve to survive. At least Wetherspoons are free houses and have supported smaller brewers. Others see them as Britain's best-value restaurant chain, a cafe that serves a wide range of inexpensive beers, from well-managed venues that are safe for women.
So, if you're a devotee or a critic, do let us know what you think about the irresistible rise of the Torbay Wetherspoon?
[do_widget id=text-36]
Return to our home page for more local news here.
You can join us on our social media pages, follow us on Facebook or Twitter and keep up to date with whats going on in South Devon. Got a news story, blog or press release that you'd like to share? Contact us