Paignton Zoo's rare Sumatran tiger cub has had his first injections and made his public debut.
Paignton Zoo Curator of Mammals Neil Bemment: "Shakira is being an attentive mother and at first she may choose to take the cub to the far end of the paddock for some privacy, but no doubt when she carries it about or it ventures away from her side, visitors will get some good views. There are also screens showing video footage at the tiger viewing area and in the main entrance hall."
This is the first tiger cub born at Paignton Zoo since 2009. Mother Shakira gave birth to three cubs on 31st May. Sadly, two subsequently died.
The tiger cub had the same routine check-up as a domestic kitten and received the same vaccinations – but at around 10 weeks old this cub is the size of a large domestic cat and destined to get much, much bigger… He could be a handful for even the most experienced of animal keepers. Luckily, this one is tolerant of people, at least until they start sticking needles into him…
Zoo vet Ghislaine explains: "He had a normal cat vaccine to protect against diseases such as cat flu and feline enteritis and, like kittens, was wormed and treated against external parasites. I did as much of a clinical examination as is possible; checking heart, lungs, skin, eyes, teeth and mouth. We also micro-chip, as you would a pet."
The final challenge is to weigh the cub; he's a very acceptable 7.62 kilos.
"I've had more bites and scratches while treating domestic animals than I ever have in the Zoo," laughs Ghislaine. "Vet checks are a vital part of the cub's progress. We maintain a hands-off approach as much as possible, but we need to vaccinate, and it is useful to find out as much as we can whenever we get an opportunity to handle him. He appears to be very healthy."
Female tigers typically give birth to between 2 and 4 blind cubs after about 103 days. The cubs can weigh about 1 kilo (2 pounds) at birth. They live on their mother's milk for 6 to 8 weeks before moving on to meat, but remain dependant on their mother for about a year and a half; they can start hunting on their own at this age.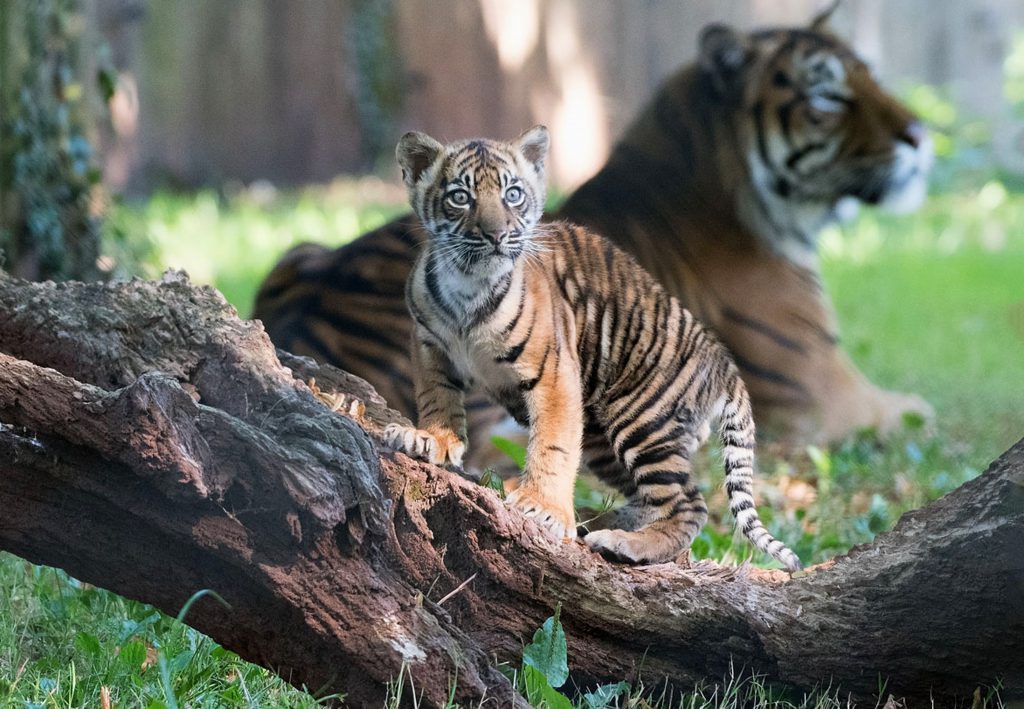 Paignton Zoo is a member of the European Endangered species Programme (EEP) for Sumatran tigers, which means it is part of the global effort to save this endangered species from extinction. Captive and wild populations are protected and managed in an attempt to prevent Sumatran tigers following the Bali and Javan tigers into extinction. Paignton Zoo Environmental Park is a registered charity. For more information go to www.paigntonzoo.org.uk or ring (01803) 697500.
For more local news and info, go to our home page or you can join us over on Facebook or Twitter.