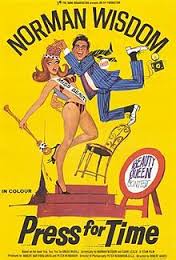 Here at WASD we like to recognise movies that have been filmed in South Devon. This time it's the Teignmouth and Shaldon-set Norman Wisdom 1966 comedy 'Press for Time'.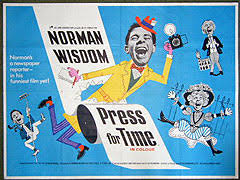 The screenplay, a slapstick tale of political incompetence and corruption, was written by Eddie Leslie and Norman Wisdom, and based on the 1963 novel 'Yea Yea Yea', by Angus McGill.
The plot has Norman Shields selling newspapers at the underground station near the Houses of Parliament. However, his grandfather (Norman again) is the Prime Minister and believes that his grandson should have a more suitable job as a provincial newspaper reporter.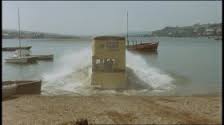 Accordingly, Norman takes on the role of reporter for the Tinmouth Times and gets himself into all sorts of trouble, including causing chaos in a council meeting. A 'highlight' is a bus commandeered to chase Norman's supposedly stolen bicycle and driving into the sea/River Teign. Of course, since this was a 1966 comedy, it had to feature a seaside beauty contest.
Some WASD readers will recognise Norma Wisdom from his later appearances in Last of the Summer Wine and Coronation Street. Yet, Sir Norman Wisdom OBE (1915-2010) was, in his day, a hugely famous actor, comedian, and singer-songwriter. He was best known for his comedy film series produced between 1953 and 1966 featuring his hapless onscreen character, often called Norman Pitkin. Charlie Chaplin once referred to Norman as his "favourite clown".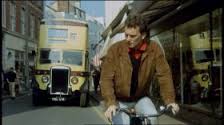 Bizarrely, Norman gained celebrity status in South America, Iran and many Eastern Bloc countries. He was particularly famous in Albania where his films were the only ones by Western actors permitted by dictator Enver Hoxha to be shown.
'Press for' Time was Norman's final movie in the style that had made him such a huge success. His style of comedy was going out of fashion so the movie seems from a passing age. Is it actually funny? Probably not or did we perhaps laugh at different things in the 1950s and early 60s? On the other hand, it does give us a glimpse of Teignmouth in 1966.
The double decker bus chase around Teignmouth and across Shaldon Bridge is 24 minutes in: