While Zimbabwe collapses economically and socially, dedicated conservationists continue their battle to save the country's wildlife. This tiny antelope – an orphaned Sharpe's grysbok – is being cared for at Dambari field station, near Bulawayo, after it was found orphaned near Hwange National Park.
You might expect the Director of the Dambari Wildlife Trust, vet Verity Bowman, to have bigger things to worry about than this fragile fawn. She spends her working day guiding her charity through the stormy seas of Zimbabwean life and trying to combat the latest rhino poaching atrocity – a white rhino bull was shot just days before these pictures were taken. Perhaps it's a welcome distraction.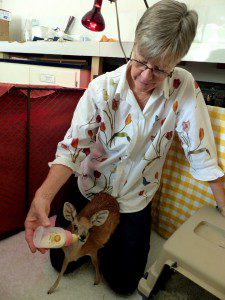 The fawn is currently living in her house; she feeds it before and after work and at lunchtimes. On warm afternoons he's put outside in a pen. In the long term it's hoped that he will pair up with DWT's resident female. The so far unnamed youngster sucks on cow's milk fortified with cream and egg yolk. Thankfully, all of these are still fairly easy to acquire in Bulawayo, if you have US dollars.
Sharpe's grysbok are shy, solitary antelope so small they can take refuge in aardvark burrows. Even adults stand just 20 inches (45 to 60cm) at the shoulder and weigh just a few kilos. Timid nocturnal browsers, they are seen infrequently, spending the day hiding in undergrowth and running at the first sign of anything unusual.
The Dambari Wildlife Trust is supported by Marwell Wildlife, Paignton Zoo and the Whitley Wildlife Conservation Trust. Dambari Field Station is a research centre for projects in the Matobo Hills World Heritage Site and the Matopos National Park. Among other things, the charity is involved in rhino monitoring and field operations in partnership with bodies such as Save the Rhino International.
The Whitley Wildlife Conservation Trust is the charity that runs Paignton Zoo, Living Coasts in Torquay and Newquay Zoo in Cornwall, plus several nature reserves in Devon. As well as Dambari, it supports conservation projects in Nigeria, Tanzania, Kenya, Indonesia and Vietnam, as well as work with native species in the UK.
The photographs were taken by Simon Tonge, Executive Director of Paignton Zoo and Chair of Trustees for DWT: "We spend a lot of time worrying about the bigger picture of funding and the capacity for conservation in the country, but we should always keep an eye out for the small and the helpless."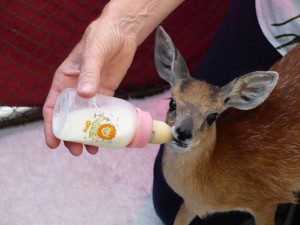 The months ahead may look uncertain for Zimbabwe and its people, but the image of Verity nursing this helpless youngster is a moment of precious humanity.