After an appeal on social media, Tommy the cat has been reunited with his owner.
Thousands of people shared a posted by the Cats Protection on Facebook asking for help to locate his owners after he was taken to the Warrington Adoption Centre and his microchip gave a Torquay address.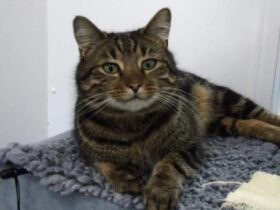 Cats Protection posted:
"Can you help us solve a mystery? Tommy was found in Warrington and taken to Cats Protection Warrington Adoption Centre – his microchip is registered to an address in Torquay, over 250 miles away! The numbers registered on his microchip haven't been updated and no longer work.
"Despite extensive advertising locally, noone in Warrington has come forward for him – this leads us to believe he's perhaps stowed away on a vehicle travelling from Devon to Cheshire.
"Do you recognise Tommy? Please call Warrington Adoption Centre on 03000 120 612 if you can shed any light on what's happened. Don't forget to share this post with your friends and family in the Torquay area!"
Tommy has been reunited with his owners… In Warrington! His owners have stated that his microchip has now been updated.
After thousands of people in the Torbay area posted about Tommy, we thought you may like an update that he is home.