Torquay in the year 2053 is a sun-bleached gangland nightmare in local writer Adam Nevill's novel Lost Girl.
The Guardian has called Adam, "Britain's answer to Stephen King" and, this time, it's not an exaggeration. He's also notable for being a Torbay resident and for basing some of his novels in our three towns.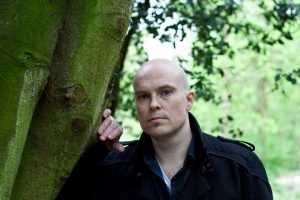 First a bit of background. Adam was born in Birmingham in 1969 and is the author of the horror novels: 'Banquet for the Damned', 'Apartment 16', 'The Ritual', 'Last Days', 'House of Small Shadows', 'No One Gets Out Alive', and 'Under a Watchful Eye'. His first short story collection, 'Some Will Not Sleep: Selected Horrors' won the British Fantasy Award for Best Collection – in 2016 'The Ritual' was adapted as a movie.
Now to the novel itself. Adam's 2015 'Lost Girl' is largely set in Torbay. It begins in 2053 in a Torquay that has been decimated by severe climate change, pandemics, and rising crime and violence. Billions have been left homeless and starving and immense refugee camps have been set up surrounding the Bay- Dartmoor and every other scrap of available land is given over to agriculture. The people are easy prey for the gangs and people-smugglers which thrive in the crumbling world where the criminal, and possibly supernatural, King Death gang reigns supreme.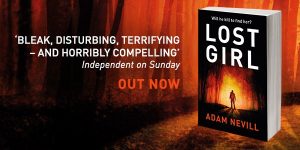 The Bay is defended from rising sea levels by a great wall, but the tower blocks around Torquay harbour have long since collapsed due to the raging storms brought by climate change.
The protagonist here is the unnamed father whose world went to hell two years before – his four-year-old daughter was snatched from his Shiphay garden when he should have been watching. The police aren't interested in just one more missing child so the father begins his search in a heat-blasted South Devon. Along his journey we have a shootout in the squalid tenements of Torre, a vigilante execution in the enclave of Cockington, and a very disturbing visit to a King Death church near Brixham.
In an interview with Literature Works, Adam tells us, "I did an enormous amount of research and at one point believed this should be a series of novels, in which I imagined, decade by decade, changes to the earth and civilisation. I used only a fraction of the research and cut 26 thousand words out of a late draft to preserve narrative tension and to avoid cognitive overload in the reader. As detailed as the novel is, I barely scratched the surface of what's potentially coming at us."
The book's tag line runs, "How far will he go to save his daughter? How far will he go to get revenge?" It's not giving much away to state that the father's rescue mission is very long and bloody. Some very dark things are to be found in Adam's imagination, and Lost Girl is certainly not for the faint-heartened.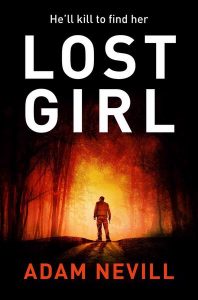 The Financial Times commented, "Nevill ornaments his tale of brutality and bloodshed with florid Gothic prose, like flock wallpaper gracing a torture dungeon. There's acute psychological insight amid Lost Girl's squalid inferno, and the author's vision of our near future is horribly plausible."
Lost Girl is more than traditional Horror – it's a personal journey, science fiction and an action thriller and certainly worth reading. Adam's novel is now part of the long heritage of Torbay Horror and Science Fiction – Shelley, Stevenson, Crowley, Lytton and Lumley.
And here's Adam being interviewed by the Bay's Arts magazine The Shorely:
https://www.theshorely.com/articles/adam-nevill-part2?rq=adam
You can join us on our social media pages, follow us on Facebook or Twitter and keep up to date with whats going on in South Devon.
Got a news story, blog or press release that you'd like to share or want to advertise with us? Contact us