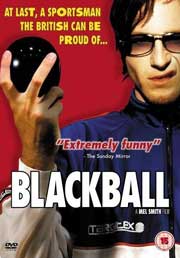 Imagine, if you may, that you are one of Hollywood's 'Frat Pack' of young comedy actors. You've been out with Jennifer Aniston, and you've been in a whole range of hugely successful movies, including Wedding Crashers, The Lost World: Jurassic Park, The Cell, Starsky and Hutch, Dodgeball, Mr and Mrs Smith, Into the Wild, Fred Claus, The Dilemma, Unfinished Business and many more.
And if you were Vince Vaughn – for it is he – wouldn't you leave a Torquay bowling comedy off your CV?
The movie in question was Blackball, filmed in Torquay and the Isle of Man during October and November 2002. It was released on DVD on 16 February 2004.
Written by Tim Firth and directed by Mel Smith, the fictional plot was based on local bowls player Griff Sanders, the self-styled 'John McEnroe' of lawn bowling. At the time Mel described the movie as "a cowboy film with bowls instead of guns" saying he was inspired by a 1998 article which described how Griff was banned from playing for 10 years after scrawling on his official scorecard that Devon's county secretary was "a tosser". Griff had also sworn in front of ladies, run "unnecessarily" across the green, pretended to be drunk and bowled with his left hand rather than his right while he was eating chips. The sport's elite justified the punishment on the grounds that 10 years only represented one-sixth of a bowler's possible career, so it wasn't that draconian a ban!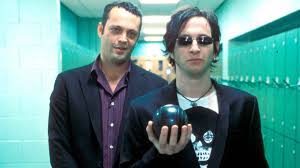 30 year old Griff, however, successfully appealed against his decade-long suspension and was put on probation for two years. An unrepentant Cliff said, "I come along and they probably think I'm a nutter. But I've probably done more for this sport than anyone. World champions get ignored and I've done double-page spreads and been on the front page of tabloids. Half the England people know nothing about the game. They try to drag the personality out of you and make you one of those manufactured clones, but if you get on with everyone you're two-faced. If I don't get on with someone, I just tell them to 'f*** off'."
"I've been banned loads of times for swearing and missing games," he continued. "But it's because I was winning. If you're crap, people let you get away with murder but if you're good, they'll bring you down another way. There are some who don't know one side of a bowl from the other, but as long as their tie's straight they're okay. I don't do anything outrageous but when you see the others it seems like I'm a bit wild. That's why the English are crap at sport, because we're not too bothered about losing. If I lose why can't I express myself, show that it hurts?"
In the movie itself, Griff Sanders becomes Cliff Starkey. Paul Kaye plays the lead, with comedian Johnny Vegas (pictured below), who actually plays bowls in real life, as his best friend.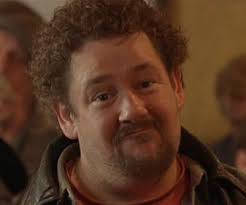 Here's the storyline: young rebellious bowls player Cliff dreams of playing for his country but sticks to his own rules of behaviour and so is disapproved of by Torquay bowls club. After winning a local competition, he is subsequently banned from competing in the sport for fifteen years. The head of the local lawn bowls association, Ray Speight, brought in the susupension as Cliff had written an expletive on an opponent's scorecard. In Blackball Ray Speight was played by James Cromwell who you may recognise from Star Trek: First Contact, LA Confidential, The Green Mile and I, Robot. He was also nominated for an Oscar for Best Supporting Actor in Babe. Along with Vince Vaughan, James also seems to have taken the eccentric decision to omit Blackball from his CV.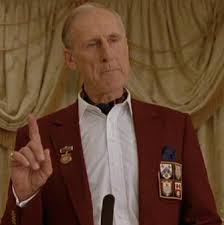 In the movie it's now that we meet sports agent Rick Schwartz (Vince Vaughn), who recreates the Torquay decorator as "the bad boy of bowls" and causes an unlikely international sensation – Cliff announces at the MTV awards that bowls is now "the new rock 'n' roll!" Here's a summarising quote from the promotional material, "Cliff Starkey, armed with his sexy bad-boy persona, a flashy American agent Rick and an army of screaming female fans, is a fresh and exciting new sex symbol in the game. In fact, he is fast turning Lawn Bowls into the biggest spectator sport in England – possibly the World!!! To add insult to injury, Cliff's biggest fan is his new girlfriend Kerry (Alice Evans)… Ray's daughter!"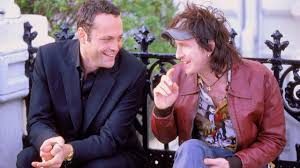 Rick and Cliff take on Australia's unbeaten Doohan brothers (one played by ex-Neighbour Mark Little) in 'The Ashes', a one off tournament in a custom made bowls arena in Torquay. We won't give much more away but you can probably guess the ending…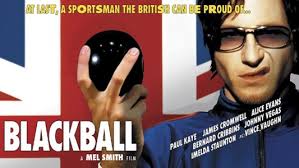 Fair enough. Blackball is a mild social satire with the humour coming from the social differences between Cliff – a poor decorator – and conservative and affluent Ray, seen here in the opening sequence:
So was Blackball any good? Well, not really. The reviews site Rotten Tomatoes gave it 4.8 out of 10, while one reviewer summed the movie up as, " another undemanding, join-the-dots comedy which stands a fair chance of commercial success with a beery Friday night crowd who find saying 'tosser' the funniest thing since farting in public."
Another, more enthusiastic reviewer, wrote, "In the sleepy seaside town of Torquay, on the English Riviera, the game reserved for geriatrics and pensioners is taken VERY seriously." See the image we've somehow acquired?

Anyway, here's the trailer, with the title bizarrely amended to National Lampoon's Blackball with an American audience in mind. Anyone expecting a Chevy Chase movie would presumably have been disappointed… although Torquay does look far nicer than anywhere the Griswolds ever went on vacation:
…