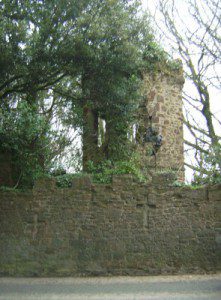 Torquay has some odd bits of architecture. One example is the 'medievil-style castle' which can be seen as you leave Watcombe on the coast road heading towards Teignmouth. As you drive along the A379 just past Brunel Manor,  on the right side of the road appears to be this small ruined castle. It's quite easy to miss as it's only a few feet away from the road.
Yet, rather than being an ancient ruin, this is actually a 'folly' which was built in the early 1830s by instruction of Mrs. Groves who lived in Maidencombe's Sladnor Manor House.
A folly is a building constructed primarily for decoration and pleasure. They were often designed to look like real buildings from the past and can still give the impression of being much older than they actually are. Follies began as decorative additions to the great estates of the late sixteenth and seventeenth centuries and they flourished over the following 200 years. During this time, gardens came to feature Roman temples which symbolised classical ideals. Estates also featured Chinese temples, Egyptian pyramids or, as in the Sladnor example, ruined castles. While these were examples of conspicuous consumption – indicating just how much wealth the owners actually possessed – many follies were also built as a form of welfare to provide employment for the local poor in times of real hardship.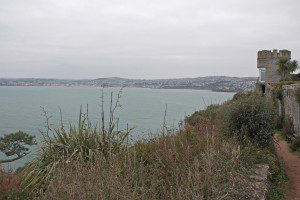 These structures came to be called follies as they were, "a popular name for any costly structure considered to have shown folly in the builder", and were often named after the individual who commissioned or designed them. On the other hand, few follies are without some practical purpose – in some cases, they may had a use which was later forgotten. The coastal footpath just along from Torquay harbour, for instance, takes you through the 'basement' of an 1840s castellated folly on Torquay's Rock End Walk (pictured above). This was originally a summerhouse.
Local historian Jim Campbell has produced a video tour of the folly at Sladnor Park. So, thanks to Jim, we have a tour of this piece of local history which has sadly been neglected over the years:

…