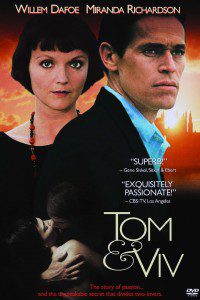 "April is the cruellest month, breeding
Lilacs out of the dead land, mixing
Memory and desire, stirring
Dull roots with spring rain." 'The Waste Land', by TS Eliot
The American-born poet Thomas Stearns Eliot, (pictured above) better known by his pen name TS Eliot, was "one of the twentieth century's major poets". He moved to England in 1914 at the age of 25 and was naturalised as a British subject in 1927 when he was 39, renouncing his American citizenship.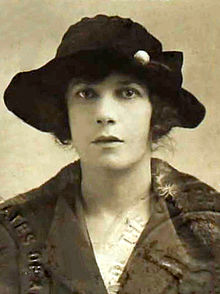 In 1915 Tom married Vivienne Haigh-Wood Eliot, (above) a governess and writer. They met in Oxford the same year, where Tom was studying philosophy, and were married after three months. They remained married until her death in 1947, but Vivienne's poor mental health caused difficulties for the relationship.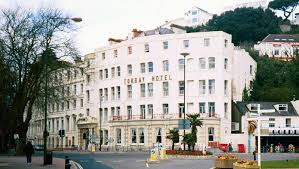 Their disastrous marriage may not have been helped by Vivienne's alleged affair with the philosopher Bertrand Russell, some of which took place in Torquay's Torbay Hotel, near the harbourside.
Bertrand, 3rd Earl Russell, (below) was a philosopher, historian, and prominent anti-war activist. He went to prison for his pacifism during World War I and then campaigned against Hitler, Stalin and later against the involvement of the United States in the Vietnam War. For decades he was an outspoken proponent of nuclear disarmament. In 1950 Bertrand was awarded the Nobel Prize in Literature.
Historians have been arguing about this for decades, but the evidence does suggest a close relationship between the three. In 1915, to help the Eliots with living expenses, Bertrand loaned the couple £3,000 – a huge amount of cash in those days. Bertrand also took an ailing Vivienne alone on a five-day holiday to Torquay. While in town, he received a letter of gratitude from Tom: "I am sure you have done everything possible and handled her in the very best way – better than I – I often wonder how things would have turned out but for you – I believe we shall owe her life to you, even."
After Bertrand was called back to London, Bertrand paid Tom's train fare and hotel expenses so that Vivienne would have company: "I went first with her to Torquay, and Eliot replaced me after a few days," writes Bertrand in his 'Autobiography'.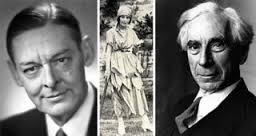 Tom later wrote to Bertrand thanking him again: "This is wonderfully kind of you – really the last straw (so to speak) of generosity. I am very sorry you have to come back – and Vivien says you have been an angel to her – but of course I shall jump at the opportunity with the utmost gratitude."
While none of this is proof of a sexual relationship, they were certainly close friends. Bertrand also gave Vivienne gifts of cash, family jewellery, dancing lessons and expensive clothing. This included silk underwear, which does seem a little intimate today, never mind in 1915.
The Eliot's returned to Torquay on a winter holiday in 1916, and this time Vivienne's health seemed to have improved. Tom wrote to Bertrand: "I have felt happier, these few days, than ever in my life."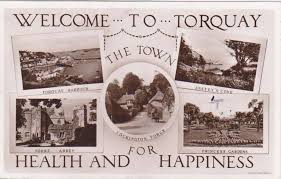 However, Vivienne's mental and physical health remained poor and the couple separated in 1933. Vivienne refused to accept that they were no longer together, and she pursued Tom for years. The modernist writer Virginia Woolf (pictured below) – no stranger to mental health issues herself – called Vivienne a "bag of ferrets" that Tom wore around his neck. Vivienne was finally committed to an asylum in 1938 where she remained for 9 years until her death.

It's been suggested that it was the difficulties of his marriage that inspired Tom to write 'The Waste Land', a poem widely regarded as one of the most important of the 20th century and a central text in Modernist poetry. Published in 1922, the 434-line poem first appeared in Britain in the October issue of 'The Criterion' and in the US in the November issue of 'The Dial'. It was published in book form in December 1922. The poem loosely follows the legend of the Holy Grail and the Fisher King and features vignettes of contemporary British society. Among its famous phrases are "April is the cruellest month" and "I will show you fear in a handful of dust".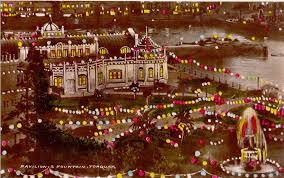 Tom's sister-in-law, Theresa, said, "Vivienne ruined Tom as a man, but she made him as a poet." Here's Tom reading The Wasteland:
In 1994 a movie based on the Eliot's was released. 'Tom & Viv' was directed by Brian Gilbert, and was based on the 1984 play by British playwright Michael Hastings. It starred Willem Dafoe (Tom), Miranda Richardson (Vivienne) and Nickolas Grace (Bertrand). Here's the trailer:

…