Visitors to Torquay can watch artists creating life-size model rhinos this Easter. Paignton Zoo's Great Big Rhino Project is launching a public painting space in the Spanish Barn at Torre Abbey, Torquay.
Following on from the successful Great Gorillas Project in 2013, The Great Big Rhino Project will put a free trail of painted life-size rhinos around the streets, parks and open spaces of Exeter and the English Riviera this summer. The auction of the artworks in November will raise money for rhino conservation.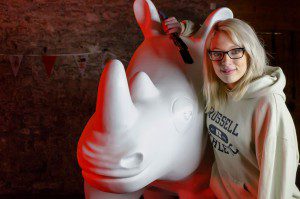 The Spanish Barn – a medieval tithe barn used briefly to hold prisoners from the Armada – makes an atmospheric studio. The first artist is Plymouth student Jess Miller, who is painting Dino Rhino for sponsors The Training Partnership.
Jess, who specialises in wildlife portraits, is currently studying painting and drawing at art college: "My rhino depicts a range of extinct and prehistoric animals, from the dinosaurs to the woolly mammoth. I wanted to highlight different lands and creatures that have been lost with time to hopefully make people think about the fate of all endangered species. Do we really want the rhino to be just another distant memory?"
Nadine Stroud, Training Partnership Business Development Director, said: "We're delighted to be supporting The Great Big Rhino Project and working with Jess. She's an incredible artist and I think will create a visually-stunning sculpture that will get people talking. We want as many people as possible to see the art taking shape, find out about rhino conservation and the work of Paignton Zoo and of course follow the trail when it arrives later this year."
The Great Big Rhino Project has provoked a range of artistic responses; some designs, like Jessica's, have a serious message, while others are full of fun and character. A good example of the more light-hearted side of the campaign is Sun's Out, Horns Out, by Kieron Reilly and Lynsey Brecknell for joint sponsors Alliance Building and Bay Roofing. Kieron and Lynsey, who follow Jess into the cavernous barn, have created a design that is a cheerful celebration of Devon's wonderful beaches. "He's the most stylish rhino on the beach!"
Targeted (for Radio Exe) is another hard-hitting design, illustrating the plight of endangered rhinos by covering the figure in dramatic red, white and blue targets. Artist Miss*C (Cleo Heard) is a graffiti artist who, like Jess, was involved in Paignton Zoo's Great Gorillas campaign.
RhinoBeta3107, by Itchier Itch for the Express & Echo, will be painted as an amazing mechanical rhino highlighting how human beings will never be able to replace real live rhinos if they go extinct. Mitch, originally from Torquay, said: "It's as if we're in the future in the year 3107 and if people carry on poaching and not working with animals there will be none left for us to admire and we will make mechanical copies which are not the same."
Other Great Big Rhino artists will be at work over the same period in a shop unit at the Harlequin Centre in the heart of Exeter. The Great Big Rhinos come alive on Saturday 30th July. Money raised will be channelled through Save the Rhino International. Twitter @Greatbigrhinos, hashtag #greatbigrhinos.