The community have come together to help with the rebuilding of Elsie's home and now they have a website…
You can find the website here: http://www.elsiesrebuild.org/ here you can find out more about the project, meet the team and find a photo gallery.
The project started shortly after a fire destroyed Elsie's home on 7th March. With no insurance, Elsie, 85 was left with few belongings and went to stay with a friend.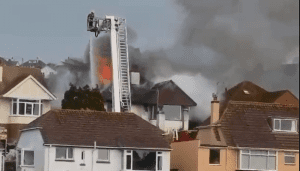 Her home was severely damaged but the community pulled together and Elsie's rebuild project was born.
Local businesses, individuals and organisations have been working together to rebuild Elsie's home.
A fund was set up to help pay for the rebuild and currently stands at £6237.
To donate, go to https://www.gofundme.com/Elsie-sfund/
To follow the rebuild on Facebook or to get involved, click here.