The study of the origin of words – or etymology- isn't an exact science.
Some Torquay names are obscure but fairly straightforward. For example, the various aristocratic titles and family members of the Carys, Palks, Ridgeways and Mallocks occur in the urban landscape: Sheddon, Lucius, Falkland, Vansittart, Lisburne, Vaughan, Rawlyn and Hesketh.
Combe is a valley, and ton/ham are settlements. Hence, we could have a personal name allied with a type of feature e.g. Paiga's settlement. It's also been suggested that 'ington' suggests a bigger place than 'ton', so Cockington was originally larger than Chelston.
For others it's often about educated guesses, but here are some local names and their proposed origins- comments and alternative suggestions are very welcome:
Anstey: common surname in the West Country; from Old English 'anstiga' – a short stretch of road forking at both ends
Abbotskerswell: held by the abbot of Dorset's Horton Abbey: Carsewelle: carse: watercress; wells/spring
Babbacombe: Babba's valley
Barton: beretun; barley settlement
Belgravia: prestigious part of London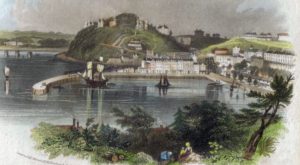 Berry Head: burg/burh; fortified place from the Iron Age hill fort
Brixham: Brioc's farm
Castle Circus: from the crenellated house, now the EF language school
Chelston: Chel's settlement (?)
Churston: Cercetone; church settlement
Cockington; Cocca's settlement
Corbyn: corvenasse/courbe: cut off headland: crooked headland
Cuthbert Mayne: Catholic martyr drawn and quartered in 1577, a "quarter" of his body put on a pole at an obscure place called 'Torquay'

Daddyhole: Devil's cave
Edginswell: Ecgwulf's spring/well
Ellacombe: alder tree valley
Falkland Road: named after Sir Lucius Cary, Second Viscount Falkland, died fighting for the King at Newbury during the Civil War in 1643.
Fleet: flete: estuary
Hele: hidden place
Hope's Nose: Hops Ness: hop or hoop; a hooked shape as a temporary anchorage for ships caught in south-westerly gales. Ness as a headland or promontory
Ilsham: Ils' farm (?)
Kents: coastal, border land
Kingskerswell: royal demesne: Carsewelle: carse: watercress; wells/spring
Lincombes: waterfall/ravine valley (?)
Livermead: laefer mead: meadow of the wild iris
Lucius Street: named after Sir Lucius Cary, Second Viscount Falkland, died fighting for the King at Newbury during the Civil War in 1643.
Lymington: elm river/marshy river settlement (?)
Marldon: Elizabeth Goudge suggests that the name comes from Mergheldonor/ Meargelle, 'the hill where the gentians grow'
Meadfoot: foot of the meadow
Newton: the new settlement (of the Abbots of Torre)
Orestone: horestane: the grey stone
Paignton: Paega's settlement
Petitor: little hill
Pimlico: disreputable part of London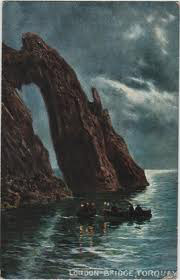 Palinmoor: pasture, upland heath
Preston: priest's settlement
Thatcher: from the silhouette of a thatcher working on a thatched roof
Tormohun: hill/manor belonging to Reginald de Mohun (1185–1213)
Sheddon Hill: from Emily Munro (1804-92), daughter of Robert Sheddon and wife of Henry George Cary
Sherwell: scire well; clear well/spring
Shiphay: sheep enclosure
Strand: shore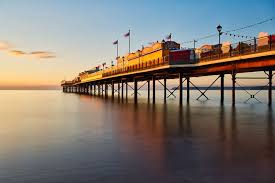 Upton: upper settlement
Warberries: berry: burg/burh; fortified place
Warren Road; monastic rabbit warrens of the Abbey
Watcombe: wheat valley
Wellswood: wildwood
You can join us on our social media pages, follow us on Facebook or Twitter and keep up to date with whats going on in South Devon.
Got a news story, blog or press release that you'd like to share or want to advertise with us? Contact us