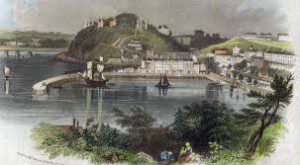 Torquay's history is all around us in names and places. There's a term used in archaeology – palimpsest. This word originally referred to a page from an old manuscript where the writing has been scraped or washed off and which is then used again. The term has now come to be used where a piece of landscape has different layers – from the ancient to the modern.
You can see a thousand years of Torquay's history in the names of the places where we live. So you can have a very modern road, such as Hamelin Way which is named after our German twin town. This runs past Gallows Gate which has signs of Bronze Age occupation and was Torquay's site for public executions. For over a thousand years it was a local boundary and a crossroad, with courts being held there from Saxon times.
Ancient sites can be seen in names. The term 'ton' refers to a settlement developed from an enclosed farm. Hence, Upton (upland farm); Cockington (the farm of Cocca's people). Combe means' in a valley', so: Ellacombe (elder tree valley); Watcombe (Wat's valley) and Babbacombe (Babba's valley).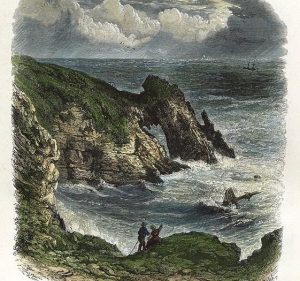 A few more: Strand means the edge of a sea or lake, while Daddyhole (above) was the haunt of the Devil – 'Daddy' being Old English for Devil or demon.
Here's a grisly link to the past. Cuthbert Mayne converted to Catholicism in 1570 and attempted to convert the Cornish. He was arrested for the crime of being a priest and on November 12 1577 was executed at Launceston. Instructions were given for a "quarter" of his body to be put on a pole at "Torquay". This appears to be the first mention of the name 'Torquay' for the town.
Roads are given names for a range of practical reasons. The most obvious are those named to indicate where they lead to. So heading out of Torquay, we have the roads that go to the nearby Saxon settlement of Babba's Valley (Babbacombe), or the New Town of the Abbots (Newton Abbot) – set up by Torre Abbey and given the right to hold a Wednesday market sometime between 1247 and 1251.
To illustrate how names can originate and evolve, take a walk starting from Torquay harbour.
If you wanted to journey to Paignton before the coast road was constructed in 1842, the safest way was to first travel along the fast-flowing stream called the Fleot, from the Saxon word 'fleot' meaning stream, which now runs beneath Union Street and Fleet Street.
When you reached the point where the roundabout now is, you need to head up the "road to the Abbey" (Abbey Road).
As you do, directly in front of you, until 1835, was the Fleete (or Brewer's) corn mill which stood on the site now occupied by WH Smiths. Meanwhile, to your right is Madrepore Road, named after the large amount of the mineral madrepore that was found in the cliffs. Beyond is Stentiford Hill where there was Robert Stentiford's stone quarry, held under licence from the Palk family.
Names of roads often suggest what activities once took place on a particular site. So, on the left as you ascend Abbey Road is Warren Road. This was where the medieval white-robed monks had their rabbit warrens.
The area around Castle Circus further reminds us of long-gone industries. Thus, Joseph Morgan's plant nurseries between 1839-74 lives on in Morgan Avenue, while you can still see the remains of pottery kilns way up on the walls that adjoin Factory Row.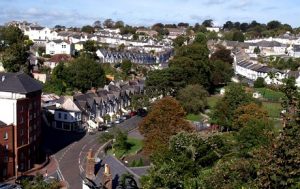 The now, perhaps ironically-named, Temperance Street recognises the Salvation Army citadel which became the evangelists' campaigning base during the 'Salvation Army riots' of 1888.
Incidentally, Torquay doesn't have a true castle. Castle Circus is named after the early nineteenth century building – a home to nuns – that now hosts foreign students, while Waldon Castle is a long-demolished Victorian stately home.
Much of Torquay is Victorian or Edwardian, from a time when the town claimed the title of the richest in England. We can see the domination of nineteenth century affluent and powerful local families in familiar names of our roads and parks: the Carys, Palks, Ridgeways and Mallocks.
Their various aristocratic titles and family members similarly occur in the urban landscape: Lucius, Falkland, Sheddon, Vansittart, Lisburne, Vaughan, Rawlyn and Hesketh. Lucius Street and Falkland Road are named after Sir Lucius Cary, Second Viscount Falkland. The Cary family, incidentally, usually ended up on the wrong side in England's conflicts – Sir Lucius Cary, for example, died fighting for the King at Newbury during the Civil War on September 20 1643. His body was found the day after the battle, "Stript, trod upon, and mangled, it could only be identified by one who waited upon him in his chamber by a certain mole his lordship had upon his neck". Sheddon Hill comes from Emily Munro (1804-92), daughter of Robert Sheddon and wife of Henry George Cary.
To make places more amenable to these elite locals and visitors, old names were replaced by those with more prestige. So Sand Lane – where the villagers of Torre took their pack horses and collected sand and seaweed to manure their fields – became Belgrave Road in 1856.
This tendency to transplant names from other places is most evident when the whole area became known as Belgravia, consciously to remind visitors of the exclusive London district named after one of the Duke of Westminster's subsidiary titles, Viscount Belgrave. As the capital's Belgravia includes the Grosvenor Estate, so we acquired the Grosvenor Hotel. We also get the similarly London-inspired Pimlico.
Names also change as long-known features are swept away.
Thus, Torre Abbey Sands was once known as Cause Way End Sands. This referred to the ancient causeway that ran between Torre Abbey Gates and the sea. It was built to cross marshy land to a "rude quay" and was used to bring goods and people from the beach to the Abbey. When the sea wall was built, the need for a causeway ended. This route, which was vital for centuries, is now buried beneath King's Drive.
Almost opposite is Corbyn's Head, from the Saxon 'corvenasse' (cut off headland) and the Norman 'courbe (crooked headland).
Between Kings Drive and the Bowling Green is where the Scirewell Brook finally finds its way to the sea. This stream was the manorial boundary between Torre and Cockington. A smaller tributary was Efride's Brook which shares its name with St Efride's Road: from the Saxon word 'efre' meaning constant ever flowing stream. There was no St. Efride, however. In 1867 a drinking fountain was placed on the old well opposite Torre Church.
Over the years, Scirewell Brook became Sherwell Brook, and has lent its name to the valley and hills where it began its journey. If you follow the Scirewell Brook inland from the sea – just before the gates of the Pretty Park – you come to where the Fulforde Mill used to stand until it was pulled down sometime between 1875 and 1880. The mill is remembered in Old Mill Road. As with so many places in Torquay, new technology destroyed a lifestyle, but traces remain in local names.
As has been noted, up until the late twentieth century thoroughfares had names for practical purposes, given by local people.
Now many place names are decided by 'outside' developers and often give little useful information. Accordingly, we have clutches of themed names – such as those which recall English naval heroes (Hawkins, Raleigh, Frobisher and Grenville) or rivers (Exe, Tamar and Torridge).
Torquay is rapidly changing and we're all part of that change. Names change too and we can guess the ages of locals when they still refer to the places they remember. For example, here's a set of directions that may or may not make any sense:
"Go past the Haldon Centre, turn left at the traffic lights, and right at the Job Centre. Go past the Pickwick, double back at the GPO roundabout, up the road past the Odeon – keep Zanzibar, the Falcon and the Mousetrap on your right – and keep going till you pass the Railway and the Pelican… and if you're out tonight, I'll buy you a pint in the Hope & Grope or see you in the Hideaway or Doodles". 
If any of that makes sense, you're a middle aged local!