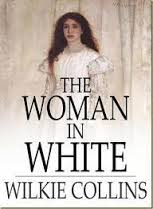 "No sensible man ever engages, unprepared, in a fencing match of words with a woman."
This weekend the BBC launches it latest costume drama. It's based on one of the most famous novels of the 19th century and was partly set in Torquay. That novel was The Woman in White by Wilkie Collins. Here's the BBC's trailer:
Author and playwright William Wilkie Collins (1824-1889) wrote 30 novels, more than 60 short stories, 14 plays, and over 100 essays. A lifelong friend of Charles Dickens, a number of his works were first published in Dickens's journal All Year Round. In 1859 the journal published the concluding instalment of A Tale of Two Cities and, immediately followed it with the opening instalment of a new novel with no author ascribed.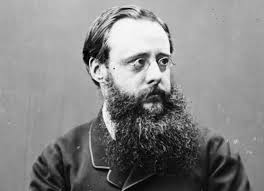 This was 35-year-old Wilkie's The Woman in White (1859) which went on to be published in book form in 1860. It's now considered to be among the first mystery novels. It's seen as the foundation of "sensation fiction" – a genre featuring exciting and sometimes horrific plots, along with themes of intrigue, jealousy, murder and adultery. In 2003, The Woman in White was named as number 23 in, "the top 100 greatest novels of all time".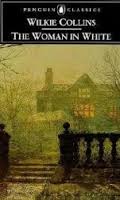 .
The Woman in White was an immediate sensation. This was partly due to Wilkie being a master of the 'cliff-hanger', and there are 40 or so of these in the book. He wrote that he held the, "old-fashioned" opinion that "the primary object of a work of fiction should be to tell a story". Dickens called the novel "masterly"; Thackeray sat up all night reading it; Gladstone missed a trip to the theatre to finish it; TS Eliot thought it "the greatest of Collins's novels"; Prince Albert admired it so much that he sent off copies as gifts; and Tolstoy and his wife Sonya read it aloud to each other. Not everyone was a fan, however. Torquay's own Edward Bulwer-Lytton dismissed it as "great trash" while Henry James disliked its "ponderosity" – though he did accept that the book had "introduced into fiction those most mysterious of mysteries, the mysteries which are at our own doors".
The serialisation inspired a series of imitators. Long before the Star Wars cash-ins, manufacturers produced Woman in White perfume, Woman in White cloaks and bonnets, and music-shops displayed Woman in White waltzes and quadrilles. Sinister-looking cats were called Fosco after the novel's villain, while babies came to be named after the main protagonist Walter.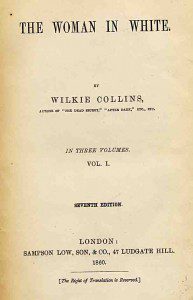 Sampson Low's first printing of 1,000 copies of the three-volume edition in 1860 sold out on publication day. When a £5,000 bid was made for Wilkie's next novel the following summer, the author wrote to his mother, "FIVE THOUSAND POUNDS!!!!!!". "Ha! ha! ha! Five thousand pounds, for nine months or, at most a year's work – nobody but Dickens has made as much."
The complicated story is around the identity of the Woman in White and a conspiracy to lay hands on an inheritance. Part of the narrative was based in Torquay, a place familiar to Wilkie. His first job was at the tea merchant shop of the Antrobus family. His family had a house in town where his mother stayed in 1845 and Wilkie also visited on a sailing trip in 1856, berthing on 2 July in a boat called RYS Coquette.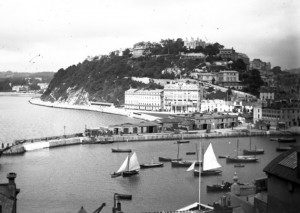 During the narrative the hero decides that everyone, "would benefit by a short residence first in the genial climate of Torquay. The great object, therefore, was to engage lodgings at that place, affording all the comforts and advantages of which they stood in need, and the great difficulty was to find an experienced person capable of choosing the sort of residence which they wanted."
In 1997 the BBC made a very loose adaptation of The Woman in White starring Andrew Lincoln as hero Walter Hartright – Andrew would later journey to the States to battle zombies in The Walking Dead.
In September 2004 a musical adaptation of the book opened in the West End, with music by Andrew Lloyd Webber, lyrics by David Zippe and it was directed by Trevor Nunn. It was noted for its set design, which employed the innovative use of projections rather than traditional scenery.
At the end of 2004 (in the show's fourth month), the star Michael Crawford was taken ill, as a result of over sweating in the fat suit he wore to play the obese Fosco. Michael Ball then took over the role till September 2005 and he was followed by Simon Callow. It received mixed reviews and in February 2006 the show closed in London after a run of 19 months just reaching its 500th performance. A shortened Broadway production opened on 17 November 2005 to mostly negative critical reaction – the New York Times review read, "It's not a terrible show, but it's an awfully pallid one" – and the production similarly closed in February 2006, having played 109 regular performances and 20 previews. Here's a short extract:

…