We often reach for a heat pack to ease aches and pains, with maybe a bit of a massage if we're lucky.
This is exactly the treatment 35-year-old Sophie is getting right now. The only difference is – she's a giant tortoise.Paignton Zoo's Aldabra giant tortoise Sophie weighs 106 kilos, 233 pounds or 16 stones. She's one of six confiscated by Customs from an illegal importation and handed to Paignton Zoo for safe keeping in 1986.
Individuals can live for 200 years. She could be the first giant tortoise ever to receive this sort of treatment.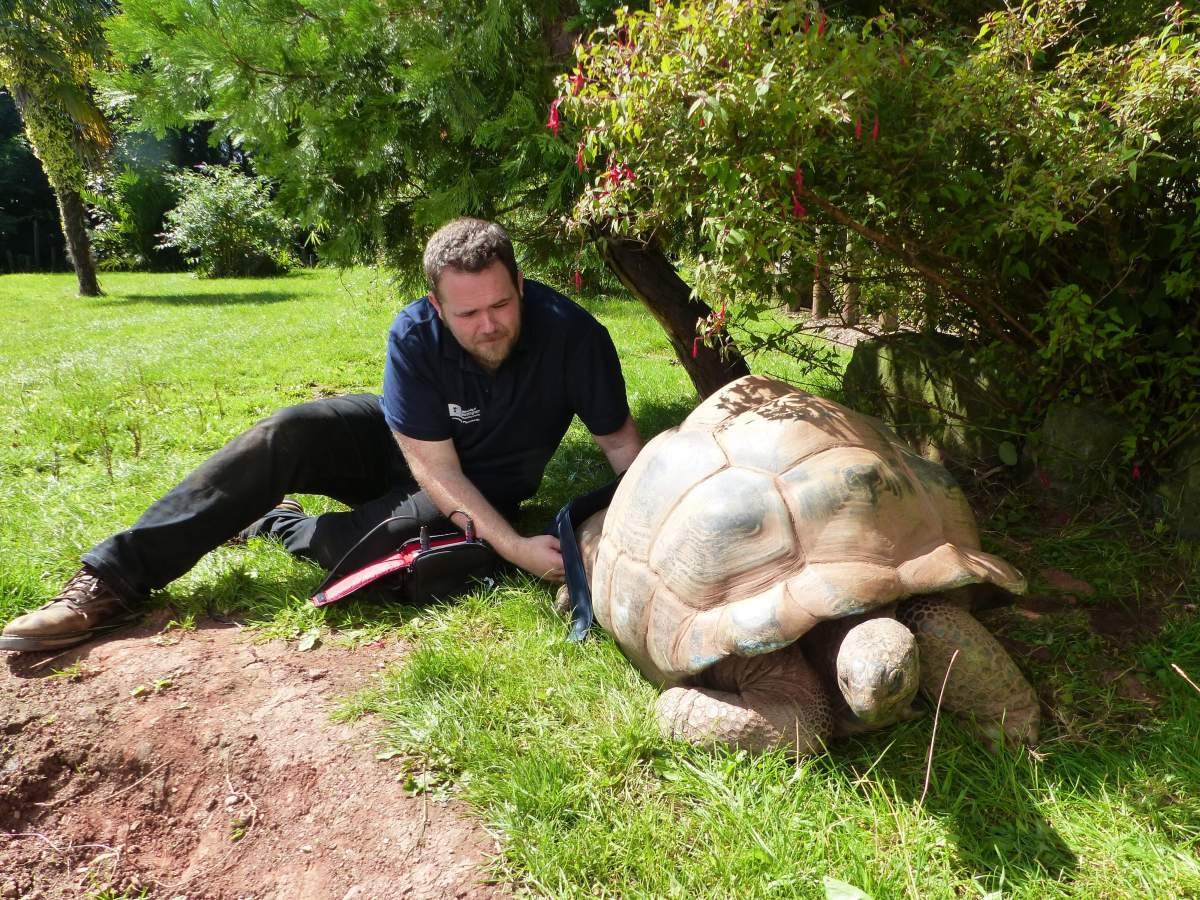 Paignton Zoo Head Vet Ghislaine Sayers: "Sophie has had a long period of illness starting with difficulty laying eggs and a fungal infection in her eye. She's been poked and prodded and has been more or less laid up for weeks. She's lost muscle and strength in her legs – which is why she needs physiotherapy."
Sophie's physio is Matthew Shackleton, a professional Veterinary Physiotherapist from Chester with many years of experience. However, there's one big problem with Sophie – her shell. Matthew explained: "Usually, you would manipulate tissue not just in the main area but in supportive muscles that help movement – for example, forelimb movement is supported by muscles in the neck and sides. Also, you would mobilise joints, to aid their use and health. Her shell stops access to a lot of joints and tissue.
"Most veterinary physios work on domestic animals, and can use lots of manual techniques directly on tissue, but this would be very likely to stress out a wild animal. Research has found that reducing stress helps reduce inflammation, so managing behaviour is an important part of her care. Thankfully, Sophie is amazingly relaxed, because the keepers have done lots of training with her."
Sophie has had phototherapy (commonly called laser treatment), used by surgeons, dermatologists and physiotherapists to help with blood flow and to give cells a boost during the repair process. Matthew has also used Pulsed Magnetic Field Therapy – PMFT – which uses very powerful pulsing magnetic fields to stimulate nutrients to move more freely in and out of cells.
"The phototherapy and PMFT allowed me to influence tissue that I couldn't reach because of the carapace."
Changes to Sophie's surroundings have also helped her. Keeper Lauren Lane: "We've restricted the size of her paddock, so she doesn't overdo it, and given her enrichment to stimulate her physically and mentally. She's changed the way she walks to minimise discomfort, but this can cause further issues, adding strain in different areas, so we have to return normal function and then make her stronger."
Keepers have also been applying heat packs and doing some very light massage to relax muscles and promote blood flow.
Matthew: "A lot of basic mechanisms that are understood in mammals aren't researched in reptiles, so physio has barely been done with these species. There are very, very few cases – I've never come across a tortoise receiving this sort of treatment."
Ghislaine Sayers, Paignton Zoo Head of Veterinary Services: "A huge amount of work had been put in by my vet colleague Jo Reynard, by our vet nurses and by Sophie's keeping team."
Paignton Zoo is a registered charity. For more information go to www.paigntonzoo.org.uk or ring 01803 697500. https://www.shackletonvetphysio.com/
You can join us on our social media pages, follow us on Facebook or Twitter and keep up to date with whats going on in South Devon.
Got a news story, blog or press release that you'd like to share or want to advertise with us? Contact us