Roman soldiers in full armour are coming to Torquay Museum on Saturday 3rd December from 10am to 4pm for a fun-filled Family Romans Day, when visitors will learn more about what it was like to serve in the Roman Army 2,000 years ago and be able to try on arms armour.
Visitors will encounter friendly and knowledgeable soldiers from the Roman living history group Legio Secunda Avgvsta, who will be dressed in impressive Roman armour, with weapons, as worn by soldiers during the 1st century AD.
The Roman soldiers will also bring a display of replica legionary equipment, from weapons to marching packs (rations, cooking gear, tools etc), and some of the survey equipment the army used to plan out its forts, roads etc. Visitors will be able to handle and wear helmets, armour and weapons, under strict supervision from soldiers, of course.
The Roman soldiers are coming to Torquay Museum as part of a stunning touring exhibition called Warriors of the Ancient World: Epic Movie Arms and Armour, which opened at the Museum in September and showcases costumes and weapons from some of Hollywood's biggest blockbuster sword and sandal movies.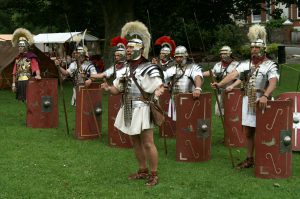 The exhibition includes a selection of full warrior costumes and armour containing 'screen used' props from some of the biggest blockbuster films of recent years, including: Gladiator, Troy, Hercules, Alexander, Centurion, The Eagle, King Arthur, and the hit TV series Spartacus. Much of the movie armour and costumes are historically based with many representing highly accurate reconstructions of warrior equipment and weapons from the ancient world.
Uniquely, the Warriors of the Ancient World exhibition also offers a range of interactive replica handling armour and movie props for visitors to experience, ranging from a gladiator's helmet to a hoplite's shield from the film Alexander. Visitors can get a taste of what it would have been like to wear armour from the ancient world.
The Family Romans Day at Torquay Museum will run from 10am until 4pm on Saturday 3rdDecember. Normal admission prices apply – pay once a have free access to the Museum for a year.
For more local news and info, return to our homepage.
You can also join us on our social media pages, follow us on Facebook or Twitter and keep up to date with whats going on in South Devon. Got a news story or press release that you'd like to share? Contact us.