It has been confirmed that the Avro Vulcan XH558 will be appearing at Dawlish Air Show this Saturday.
The money needed to confirm the booking was raised in a week, thanks to the generosity of people who are keen to see the Avro Vulcan Bomber, which will be a last chance to see her before she retires in the Autumn.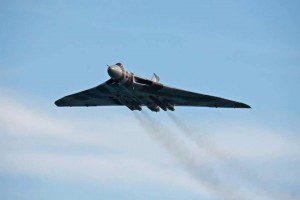 A spokesperson for Dawlish Airshow posted on Facebook yesterday:
"It is with great pleasure and gratitude to everyone who has donated to
#raisethe8
that we can officially announce that we have booked the
#Vulcan
@XH558 for this weekends FREE Dawlish Air Show, Saturday 22nd August.
"Our total today, on the 7th day of #raisethe8 for @XH558 stands at a whopping £7,077 – fantastic support.
"The Air Show Committee are overwhelmed by the support and funds raised to ma…ke this a truly memorable show.
"The Committee would like to give special thanks to the Brunswick Arms who donated the initial £2,000, leaving us to #raisethe8. Over 300 people in the last week have donated online and one of them being an anonymous donator of £1,000. In the last 24 hours Ashcombe Village Hall, Dawlish have also donated £1,000. Thank you.
"Everyone's contributions have truly added up, making the decision to book the Vulcan for its last display at Dawlish far easier, however, we still have just under a thousand pounds to raise, so please, when you visit the show, please put what you can afford into the collectors buckets, and by all means continue to donate online!
"Thank you so much"
For more details on the Dawlish Airshow, go to the website: www.dawlishairshow.co.uk