Fire crews remain at the scene and Cathedral Green remains cordoned off today, Sunday 30th October following a devastating fire in the city.
Fire crews are still tracking hotspots by thermal imaging cameras.
The cordons are likely to remain in place until tomorrow, maybe longer.
#ExeterFire
Cordons likely to remain in place until tomorrow earliest. For updates please folllow @DC_Police or @DSFireUpdates #Police ???

— PCSO Kirsty Down D&C (@SaltashPCSO) October 30, 2016
The fire, which started at around 5.15pm on Friday, 28th October saw over 150 firefighers at the scene during the height of the incident.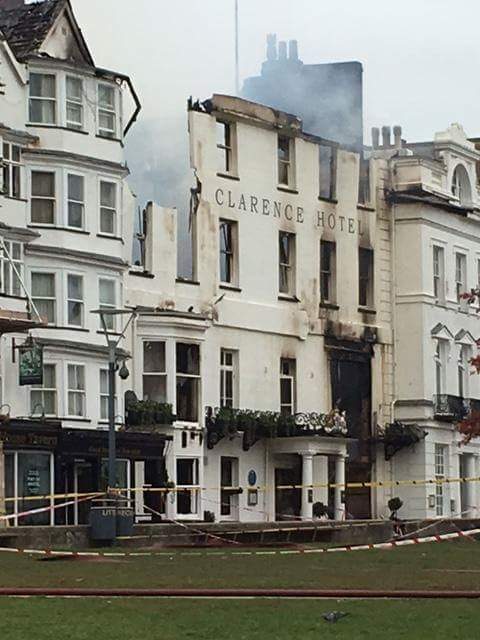 Starting in 'The Galleries' building, the fire then spread to the roof of The Royal Clarence Hotel, later tearing through the building which collapsed internally.
The area is quiet today, with a sense of sadness.
Shoppers are being diverted down the back roads in order to reach guildhall shopping centre which remains open.

Aerial footage from a Police drone has shown the extent of the devastation.
Silver Command visit to scene to help understand challenge still being faced by emergency services #exeterfire pic.twitter.com/Po9oIKUDdK

— Joanne Hall (@DCI_Hall) October 30, 2016
More here: https://wearesouthdevon.com/police-drone-footage-shows-extent-of-fire-damage/