Lovers of Mod, Ska, Two-Tone, Motown, Northern Soul and 60s music are in for a rare treat as popular local DJ duo, The Vinyl Avengers, will host a lively evening of music at Torquay Museum on Friday 2nd June from 7pm until late.
For fans and followers of the Vinyl Avengers this is an evening with a difference, as instead of their usual venue of a bar or pub, this night of fantastic retro music will take place in the atmospheric Torquay Museum, which will be thrown open to guests for the evening. There will even be a couple of entertaining tours, highlighting the Museum's stunning artefacts and paranormal activity that has been experienced there over the past few years.
Guests are encouraged to dress in Mod clothes, dinner suits, cocktail dresses or other retro 60s outfits.
The Vinyl Avengers are DJs Loadz and Lady Jade, who have been entertaining retro music lovers in and around Torbay since 2009. They both DJ'd full-time throughout the 1990s, taking a break to have children and now returning together as The Vinyl Avengers.
DJ Loadz is a member of the Torbay Mods Scooter Club and still rides his vintage Lambretta. He built a name for himself as a long-standing Mod/RnB/Soul DJ in Devon in the 1980s/90s. Lady Jade grew up in L.A. on a diet of NYD, Iggy & Soul Train. She worked for the legendary Kim Fowley in Hollywood, and then moved to London, where she was influential in the psychedelic scene of the 1980s. Lady Jade managed bands Miles Over Matter, Treatment & Bad Detective, along with staging the Great Mango party. She promoted and DJ'd the notorious Valley of the Dolls club in Carnaby Street, DJ'd in Tokyo and London, sharing a stage with the James Taylor Quartet, Bruce Willis and many other acts.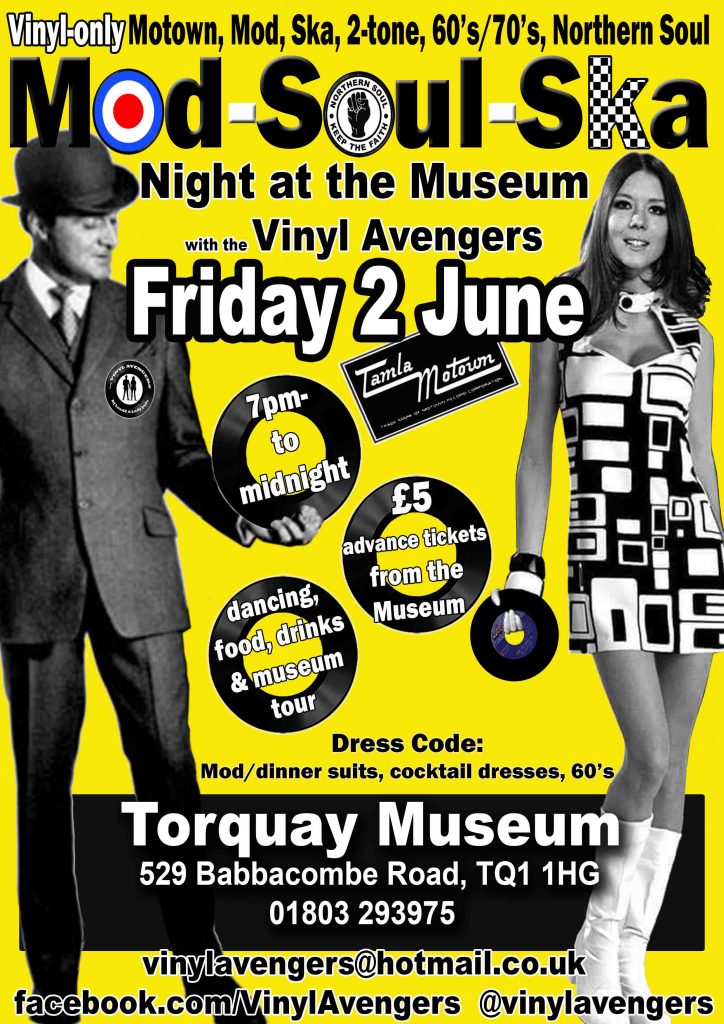 Tickets for the Mod-Soul-Ska Night at the Museum are £5 each and most of the money raised from this gig will go to Torquay Museum to help conserve and display some of the precious artefacts from its impressive collection of over 350,000 objects. Torquay Museum has a large dancefloor, a licensed café serving beer and wine, and hot food will also be available, so a lively and entertaining evening is guaranteed for lovers of classic Mod, Ska and 60s music. However, spaces are limited so fans are strongly advised to book their tickets in advance by contacting Torquay Museum on 01803 293975