Festival season has begun and for us it started at Lemonfest.
A one day festival held at Newton Abbot Racecourse, Lemonfest is now in its 6th year.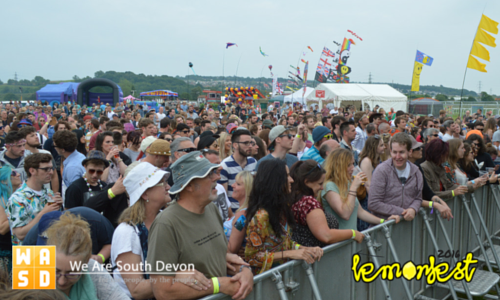 The first time we went to Lemonfest was 2012. We had a 3 month old baby and it was our first time out without her.
We didn't last long (through no fault of the festival) and returned home early.
Four years on and the mini one with her grandparents, we were out the door early and didn't return until late.
Only to get there and realise just how family friendly the festival is and feel instant guilt at not bringing her with us. Next year, there will be a 5 year old member of the team who can review it for us!
There was very little queuing, car parking was a stones throw from the entrance – very accessible and for those camping, not far to carry their gear.
Since the festival is at a racecourse, the area's are flat, meaning everyone can enjoy the festival with ease.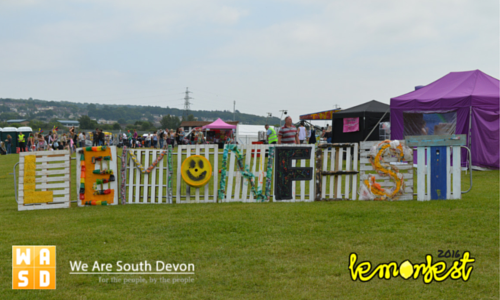 There was music for all tastes and plenty of choice. From the Hairy Beaver pub which had live music (and a wedding! Congratulations to the couple who got married in the morning and then headed to the festival for their reception) to the dance tents and main stage.
From folk to drum and bass to techno to beat boxing to a brass band… I don't think there could have been anyone that couldn't find an act they'd enjoy. A perfect combination – well done to the organisers.
Although we spent much of our time at the main stage, we made sure we experienced all the stages, including catching a drag act at the hairy beaver (the only point we were glad not to have the mini one with us, the language was er, interesting. Hilariously funny).
Wanting to get involved in every aspect of the festival, we sent two of the team up the climbing wall… both made it to the top. Well done ladies!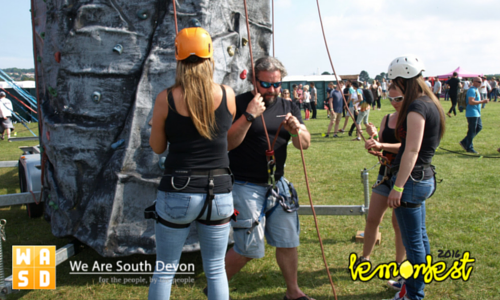 Later in the evening, our time was spent at the souloud and rinse:it dance tents, you could have been at any festival. When you were in amongst the crowd, it was easy to forget you were in fact at Newton Abbot racecourse. The weather was amazing, the atmosphere electric and everyone was loving life.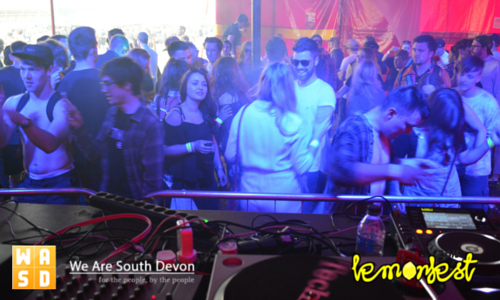 Highlights for us – Hot 8 brass band and Beardyman. All the acts we saw were awesome but these two acts really stood out for us. We'd not seen either before. We were all fans of Beardyman, so happy to see him on the line-up, we even forgive him for not knowing where he was (It took 15 minutes before he heard the crowd shouting 'No, it's Newton Abbot'). We looked up most of the bands we hadn't really heard of prior to the festival, Hot 8 Brass Band were clearly one we needed to catch – all the way from New Orleans, these guys are pretty awesome. Not surprisingly, they're a brass band – they blend jazz, hip hop and funk, something they do well. The crowd loved them as did we.
Another highlight worth a mention – The guy who got the tambourine during Mad Dog Mcrea's set. "Who wants a tambourine?" they asked. He sure did. We have seen Mad Dog Mcrea many times, they were, as ever, awesome!
Headlining the festival was Alabama 3, they need little introduction – the band, probably most well known for the The Sopranos theme song – Woke up this morning, closed the show in style.
The atmosphere was chilled, people were happy – there were security present but there appeared to be few incidents. Not bad for an event with thousands in attendance.
The weather was near perfect – rain had been forecast but the day remained dry. Would rain have affected the atmosphere? Probably not too much. It's one day, you can go home and get into your warm bed.
Toilets – Everyone always asks about the toilets… I've seen some pretty horrific sights in festival toilets. Fortunately Lemonfest wasn't too bad. On arrival we noticed that the portaloos were divided into ladies and gents. Perfect I thought (reverting to a school child and thinking 'good, no smelly boys') It seemed like a great idea – there was even security monitoring this. Only by late afternoon, this had gone out the window. A rookie mistake was not to take tissues (being parents, we're usually armed with this stuff. Excited at our first child free day in almost 2 years, we left the house without much thought!) A few more toilets may have cut the queues which developed later in the evening.
Over all, a brilliant festival. Well organised, brilliant location – we loved how accessible it is for people with mobility issues, wheelchair users and parents pushing prams.
The music was ace, there were plenty of choices of food, the queues at the bar were minimal and there was lots to do – bouncy castles, bungee run, stalls and fair rides.
Will we be going back next year? For sure. This is how we'll be starting our festival season every year. You should too, we think you'll love it.
Thanks to Lemonfest for a fab day.
Want to see more of our pics? Head over to our gallery: www.wearesouthdevon.com/lemonfest-2016-gallery