Sunday 21st June 2015 is a date for your diary and not just because it's Father's Day.  Preston Rotary Club will be running their Annual Family Fun Day on Paignton Green. This year it will feature lots more than before and something really special – the Paignton Pudding.
There will be a central arena with a Village Green atmosphere where, all day long, a programme of varied entertainment to suit the whole family will be running.
In the Sports arena there will be a Tug o' War Challenge for adults going on in the morning and a Father's Day Fun Sportsday in the afternoon. You really won't believe some of the games- the children will need to lend a guiding hand!
This year we are really pleased to welcome back the great spectator event from last year. Cub teams from all over Devon will be coming to take part in a Field Gun Run Challenge – just like the one made famous at the Royal Tournament. We expect over 160 cubs to be taking part with lots of supporters coming with them to cheer them on.
There will be all the fun of the fair – De Veys will have some of their fairground rides and food outlets at the event. There will be many other attractions including the Owl and Hawk display. Miss Torbay will be there to do the honours and you will need to keep your eyes open for the children's favourite lookalike characters who will be appearing all over the place for hugs and photos .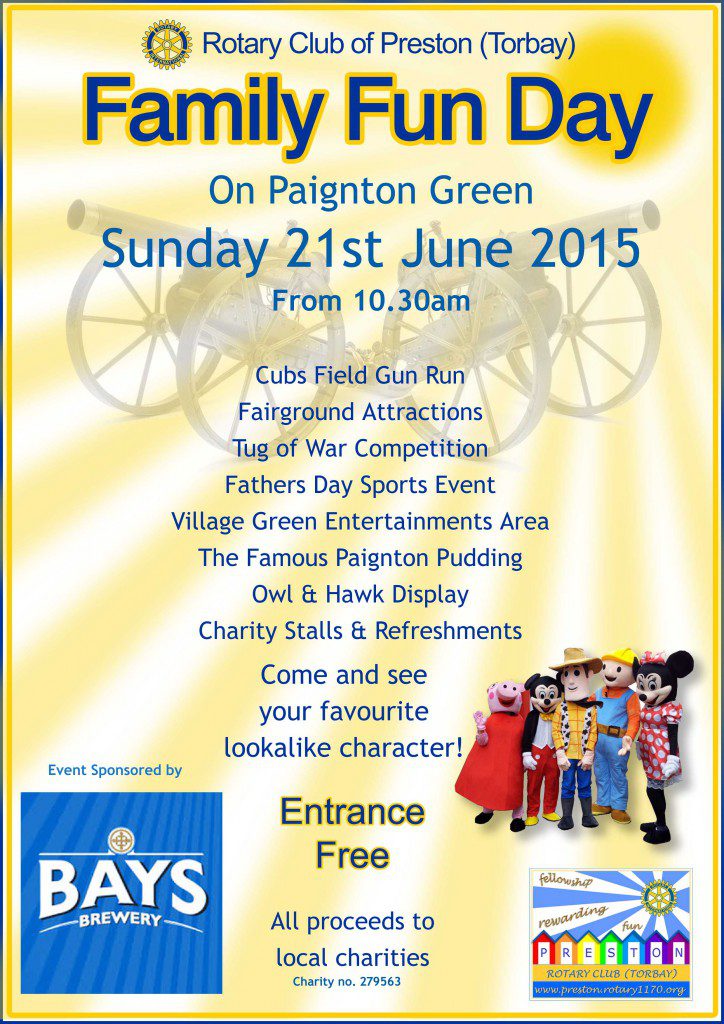 The event is created by Preston Rotary Club to promote charities – particularly local ones -who can run a stall to raise funds and increase awareness of their causes. Pitches are free to charities- please enquire if you would like one.
They are currently recruiting the teams for both the Tug o' War Challenge (teams of 6 adults) and the Fun Fathers Day Sportsday ( teams of under 11s and their dads) .
For more details or an entry form for Tug o War please contact Martin– 07825954658.(email: mandc.hanlon@sky.com.  For the Fathers Day Fun Sportsday contact Penelope on 01803553329 (email: zegersp@acumanage.com.)  Team numbers for the competitions are strictly limited so hurry.
The event is sponsored by Bays Brewery who will also be providing a bar at the Fun Day – so you can have the opportunity of sampling their award winning local ales. With their support together with other local businesses the costs of the event will be covered meaning that every pound donated on the day goes to local charities.