Another addition to the Torbay Airshow flying programme was announced today – Gyro Air Display.
With a breathtaking military and civilian flying programme planned and exciting on the ground activities for all the family on Friday 10 June, 2pm to 10pm, Saturday 11 June, 10am to 10pm, and Sunday 12 June, 10am to 6pm – this is an event you will not want to miss!
The Gyro flying display, also known as a Gyrocopter or Gyroplane, is described as a flying windmill or a rotating parachute which looks like a sycamore seed gently floating down as it spins.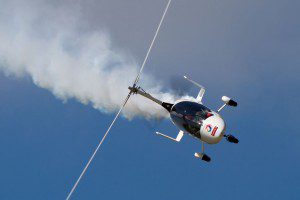 This display is unusual and the aircraft are great to watch and is described by the pilots as fun to fly. The rotor blades of the gyro are completely freewheeling in flight, being driven solely by the air going up through the rotor disk.
There is no mechanical drive to the rotors in flight, the phenomenon of autorotation drives them, once airborne the rotors just look after themselves and keep spinning, even if the airspeed indicator is showing zero.
The aircraft's propeller pushes the aircraft through the air for forward flight and the rotor is inclined slightly back with the air flowing up though the rotor disk to keep the rotors spinning. Stop the engine and the aircraft slows and descends, the air still flows through the disk and keeps them turning, even when flying sideways or backwards – birds don't even fly backwards deliberately.
As the rest of the aircraft is hanging from the rotor it acts like a pendulum giving the gyrocopter natural stability, the rotors wings are flying through the air at 350mph so turbulent unstable air and wind gusts are sampled. This makes the gyroplane much more stable that many other aircraft and capable of flying in the most challenging of conditions.
The military aircraft have been confirmed and so far the line-up includes the world's premier aerobatic team The Red Arrows, as well as the Eurofighter Typhoon FGR4, King Air B200, and the Battle of Britain Memorial Flight aircraft – the Hawker Hurricane, Avro Lancaster and The Spitfire as well as The Tigers Freefall Parachute Display Team, the flagship team for the Princess of Wales's Royal Regiment.
A brand new aerobatic team was announced last week – pyrotechnic formation flying team AeroSPARX. AeroSPARX is unique in airshow circles as it has special clearance to fly at night with pyrotechnics that light up the sky.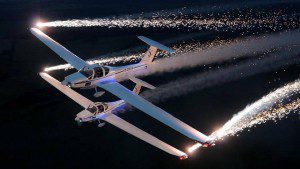 This year will be the first time Torbay has held an air show and over 150,000 visitors are expected to watch the action unfold over the weekend.
Sponsorship and exhibiting opportunities are still available, to find out more visit www.torbayairshow.com