Torquay Museum and Encounters Arts have partnered up to offer Torquay residents the chance to get creative together. The project, Museum of Now, combines museum exhibits with the real time creation of objects.
Next month at a free Museum of Now event at the Spanish Barn, Torre Abbey, people will be invited to take part and to discover how creating objects from materials around Torquay can help us come together around subjects that are important to us individually and collectively.
This will be a dropin, free, hands on event for all ages at the Spanish Barn, Torre Abbey on 14th June 2 – 6pm. Those joining the event will be able to make and take something precious away, and also be part of creating a larger piece for the ongoing project.
Toni Spencer, Project Leader with Encounters said: "Coming together in this way is a really fun and engaging way to express our hopes and dreams as well as explore our fears for ourselves, our family and the world at large. We've been so inspired by the collections at Torquay Museum. For generations humans have made sense of their lives and communicated their experiences through craft and the making objects and the Museum of Now invites us all to do this for our times."
A representative from Torquay Museum said: "We are really excited about the community in Torquay quite literally making museum objects out of materials from the local area. People often think museums are just about the past. Creating objects help us explore our own present times, and tells stories of Torquay and the world today."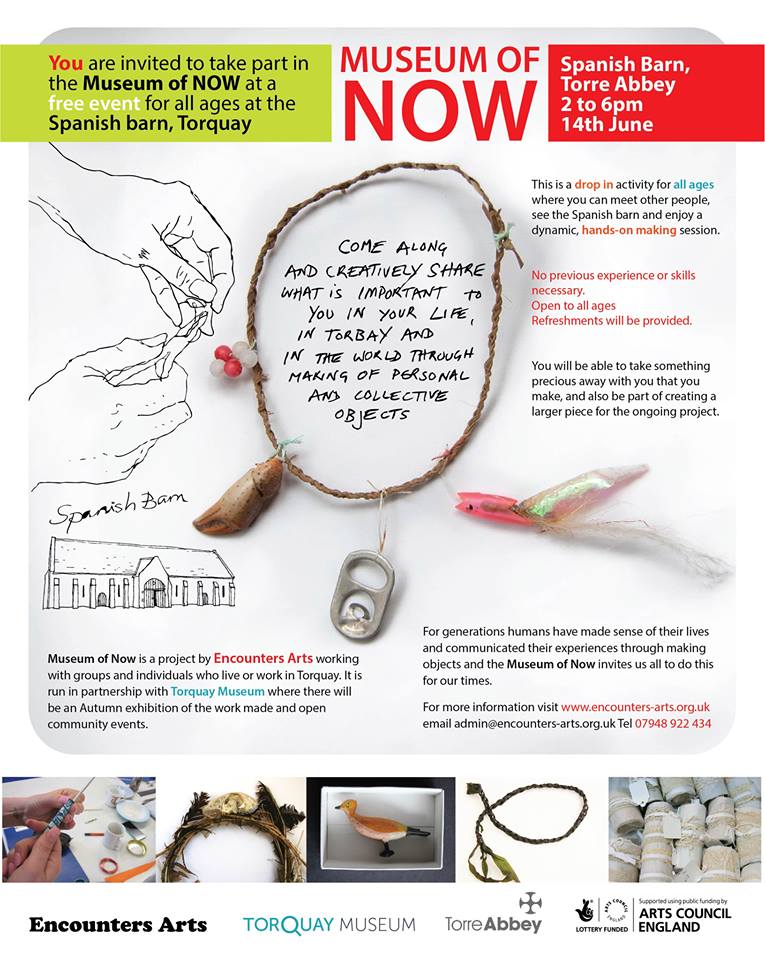 The event on the 14 th June is part of a longer project funded by the Arts Council. Some of the objects created by the individuals and groups attending these sessions will be on display at the museum from October to December 2015, and the culmination of the project will be accompanied by a number of public events.
For more information about the event at the Spanish Barn on 14th June visit www.encountersarts.org.uk email admin@encountersarts.org.uk or call 07948 922 434