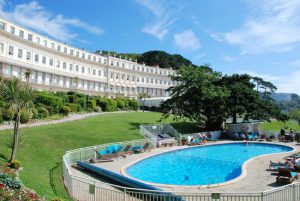 Here at WASD we recently ran an article – Big in Berlin – about how Torquay was a favoured location for a series of German TV movie romances. The Germans aren't the only Europeans to use the Bay as a location, however.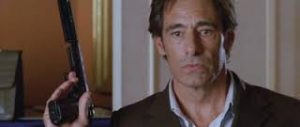 In 2004 the big budget movie San Antonio (also known as O Sumiço do Presidente) was released in France. This 1 hour 35 minute long action comedy was the fourth adaptation of one of a series of biggest-selling French novels and was shot in Chantilly, Paris, Rio de Janeiro, Bude, and Torquay.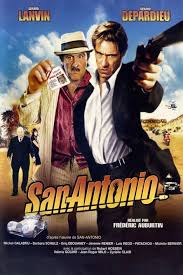 The San Antonio series was written by Frederick Dard but credited to Antoine-San Antonio, a fictitious police commissioner, who was supposed to narrate his own adventures. The series comprises a remarkable 175 books published from 1949 to 2001. From September 1963 to March 1975, Robert Mallat and Henry White also published 3,588 comic strips in the daily France-Soir on the adventures of Commissioner San Antonio.
Here's the plot of the movie: After terrorist attacks on world leaders, the commissaire San-Antonio and his partner, lieutenant Bérurier, have to escort the French ambassador to a British hotel – that's where Torquay comes in. The movie was filmed partly in the Osborne (pictured above), which occupies part of the Regency Crescent overlooking Meadfoot. Incidentally, his was originally called Meadfoot Crescent, and was renamed Hesketh Crescent in 1849. Commissioned by Sir Lawrence Palk, later Lord Haldon, it was designed in 1846 by William and John Harvey and completed in 1848. In 1861 Charles Darwin, who changed forever how we see the world, visited Torquay and stayed in the Crescent.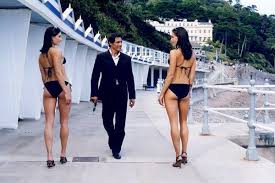 Anyway back to the movie. Due to Bérurier's negligence during a sexual dalliance, San-Antonio witnesses the ambassador's abduction, organized by an Italian woman. Back in Paris, San-Antonio is dismissed by the police chief and Bérurier gets promoted. But soon, the situation degenerates when the president of the Republic mysteriously disappears. San-Antonio is, of course, the only one who can save the day – he has 48 hours and a secret squad to find the president. There are multiple incidents including terrorists, unscrupulous banks, international criminals, dishonest politicians and attractive and generally underdressed women.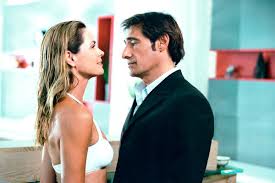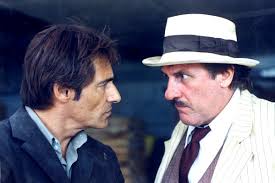 French icon Gerard Depardieu (pictured above)  was the first choice to play San-Antonio, but was more suited for the character of Bérurier. Overcoming his past as a young delinquent, Gérard Depardieu became the leading French actor of the 80s and 90s. He received an Oscar nomination for 'Cyrano' and a number of awards at international film festivals. In 1996, he was distinguished by the highest French title of 'Chevalier du Légion d'Honneur'. The other recognisable character in the movie is the Italian Valeria Golino (pictured below), better known for 'Rain Man' (1988), 'Hot Shots!' (1991) and 'Hot Shots! Part Deux' (1993).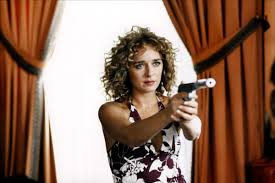 Here's the – badly dubbed – trailer. Spot a very exotic looking Meadfoot Beach:
But was it any good? Did it break the Torbay curse of movies filmed here being usually poor – with the exception of 'The System' (1964), of course? Depressingly…. no, it wasn't – IMDb reviewers gave it 3.6 out of 10. Here's a couple of contrasting reviews: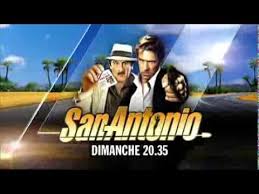 "San Antonio is a jewel to read, not to watch. A real mess, and the huge budget pushed it to the bottom of the abyss. Don't even think to compare San-Antonio with James Bond. San-Antonio is the archetype of a rude and sexually obsessed French macho."
"In this movie I saw action, fun, surprise, a great plot – guns/explosions, fast cars/pretty girls, good actors. That's why this is much better than most American action movies!"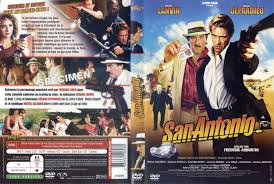 "The film is an uninspired, weak takeoff on the James Bond movies. The film goes beyond being sexist – it's painfully misogynistic in an unpleasant way that I didn't find funny."
And here's another trailer featuring lots of French people shouting:
Sadly, however, we may never be able to judge the quality of San-Antonio for ourselves. The movie was never released in the UK.